I speak only for myself as a Top Comments diarist, but I am more than happy to lend my 2 Top Comments diaries this week to topics related to the environment. That said, I wanted to write about a more local issue tonight - we hear a lot about national issues and even state-specific issues, but we don't always hear about the good stuff that's going on locally. I thought I'd try to change that up a bit.
I live in Iowa City, IA. Most of you know we had a catastrophic flood last summer - in June, actually. Last year at this time there were entire parts of Iowa City that couldn't be easily accessed. Diarist DemocraticOz had a great diary with excellent photos (I borrowed one) - these buildings are normally on an island. This was in Cedar Rapids, but it gives you a good sense of how bad the flooding throughout the entire area was.
The State of Iowa set aside money in the budget for energy efficient home construction in flood damaged areas. The goal is to help low and moderate income families replace homes that were lost in last year's flood. Flood damage victims weren't the only ones who could apply for the program though, it was also open to first time home-buyers.
The Iowa Department of Economic Development is responsible for giving out the grant money for this program. Several cities qualify for the grant funding. Iowa City had applications due on 6/15 (rules are here) and they had $2.2 million to approve loans for 40 families. An added benefit:
Homeowners who live in the home for five years or more will not need to repay the loan, but if they move before the five-year term has expired, they will be required to pay back a prorated amount.
You can see design plans for the homes they'll be building here.
The City is working with six builders/developers for the program. Each has submitted plans for energy-efficient homes that will sell for $180,000 or less and have accessibility features. The houses will include a mix of single-family detached homes, duplexes, zero-lot lines, row houses, and condominiums in six subdivisions in Iowa City.
There's more detail at iowalifechanging.com - including a PDF you can download about Green Criteria. Download that and take a look if you're really excited about this project - the level of detail is inspiring. They have literally thought of everything. The homes have to be made with a certain percentage of recycled content, the construction waste management, ventilation and Radon are thoroughly discussed, efficient lighting, and SO much more. This document is really good. Some of this is required and some is optional - but after looking through it, I wish they were all required - you can find a list of what's mandatory and optional within the document.
According to the AP, Dyersville will get $1 million for new home building. This is a pretty good amount of money considering the population of Dyersville is only 4000.
Affordable, energy efficient, green housing is on the way to towns all across Iowa. It's nice to be able to see our tax dollars being spent on initiatives that will help the environment and help lower and moderate income people find affordable housing. A friend of mine ended up being the lucky number 40 here in Iowa City. She and her husband are very excited about it and she says it's really nice because they can teach their daughter about environmental issues at a really young age and show her the impact that every person has on the environment.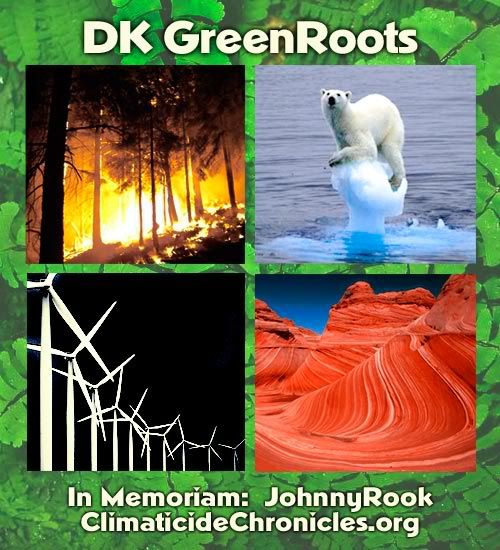 If you are interested in environmental issues, please join DK GreenRoots, a new environmental advocacy group created by Meteor Blades. DK GreenRoots is comprised of bloggers at Daily Kos and eco-advocates from other sites. We focus on a broad range of issues. We alert each other to important eco-stories in the mainstream media and on the Internet, promote bloggers at one site to readers at other sites and discuss crucial eco-issues. We are in exciting times now because for the first time in years, significant environmental legislation will be passed by Congress. DK GreenRoots can also be used to apprise members of discussions and strategy sessions happening in Meteor Blade's Green Diary Rescue thread, which is also our workroom.
And now, on to tonight's Top Comments!
From Land of Enchantment:

I like this from global citizen in Elwyn Tinklenberg's diary. (He's challenging Michelle Bachmann again in MN-06.)

dclawyer06 gives shrike a tip on ettiquette in the now second-to-last senator seniority-wise. Makes better sense if you start with ultrageek's comment.
From Indycam:

Jyrinx with a top comment.
From Hedwig:

While it wasn't technically a "comment" as it was in the diary...DowneastDem updated their diary with a humorous acknowledgement of making the Rec List.

(Diary title: "Scientists Visit the Creation Museum". Comment was, "Rec list? There is a God!")
From lineatus:

It's great, it's beautiful, it's luscious...It's Seneca Doane
From Tigermom:

This comment from msmacgyver on Mark Sanford gave me a good laugh.
From ninepatch:

Who ever would have believed there'd come a time where we could laugh about Joe Lieberman? In muzikal's diary this afternoon imamish gets the ball rolling and muzikal finishes it up. Priceless!
From MinistryofTruth:

Comment of the day, by RANT.
From Texas Revolutionary:

In clammyc's diary "John McCain concedes 2008 Presidential election", this whole thread, started by Salo, made me literally laugh out loud.
From Dump Terry McAuliffe:

In the current front page diary, "Sanford admits additional trysts
with lover," Bob Johnson kicked off a pun-filled discussion of the economic ramifications of the governor's "meet-up" in New York City.
From Its the Supreme Court Stupid:

Most kossacks have been introduced to the pessimism in a certain diarist's offerings. Turnover puts it all in perspective with this comment.
Schedule for DK GreenRoots week.

All listed times are PDT.
Monday June 29:
2 am: Now it's "Cleaner" Coal? by Zwoof
6 am: CBS Jumps a Whale Shark by DarkSyde

7 am: News from the Arctic: 29 June 2009 by billlaurelMD
1 pm: With Assistance, Foxaganda Finds Another Denier by Meteor Blades
9 pm: Obama Says Mountain Crimes Can Be Regulated by Jeff Biggers

Monday Series:
Science Tidbits by possum; Maccas Meatless Monday - Action Diary by beach babe in fl; Books by Kossacks by sarahnity; Got a Happy Story? by Eddie C); Labor Diary Rescue by djtyg, Overnight News Digest: Eco Week-O by jlms qkw; Eco-Diary Rescue by Meteor Blades

Tuesday June 30:
11 am: Ecotourism: Not an oxymoron by LaughingPlanet
3 pm: Walking Gently in the Footsteps of my Ancestors by Got a Grip
5 pm: maggiejean on redwoods

7 pm:  Magnifico
Tuesday Series:
Cheers & Jeers" Tuesday by BiPM; Healthy Minds & Bodies by RLMiller; The Left Wing by Texas Revolutionary; Top Comments by Elise; Overnight News Digest by wader; Eco-Diary Rescue by Meteor Blades

Wednesday July 1:
5am: A Siegel with energy meta
noon:  FishOutofWater
3 pm:  Asinus Asinum Fricat on bottled water
7 pm:  Mark H

Wednesday Series:
Bookflurries: Bookchat by cfk; Siglines! by Wee Mama

Full schedule can be found here.

Plus there'll be music on environmental themes in jotter's High Impact Diaries every morning, along with schedule updates.  Additional diaries will be filled in from amongst the following: faithfull, The Cunctator, and Turkana.  And we'll make more slots as needed - anyone who has an environmentally-related story they want to post this week, we'll create a place on the schedule for you.
And the fabulous brillig comes through with the Top Mojo!!! Love her, people. Seriously, love her. She deserves it.
Top 30 (plus ties) Comments excluding tip jars, first comments and stuff:
1) "I'll go into the crack house..." by MaximusNYC — 138
2) Just be sure to buy Winerev's book! by Julie Gulden — 121
3) This diary should be rec'd up. by flitedocnm — 116
4) I am so sick and tired of people by Christin — 110
5) ? by Rimjob — 95
6) asdf by BFSkinner — 91
7) If you didn't want to get preganant you shouldn't by MinistryOfTruth — 88
8) join me in congratulating Sen-elect Franken by Senator Kirsten Gillibrand — 87
9) The very end of the article. by Mike S — 85
10) I don't want to make the comparison, but by blue jersey mom — 83
11) Also ... by Joe Buck — 80
12) If Obama/Holder can dismiss Sen. Stevens' by Magster — 79
13) heh by Mike S — 79
14) No, right after he reversed on the Stevens case by importer — 78
15) Kucinich showed that renewables and efficiency by retro postmodernist — 77
16) As a black Woman, by secret38b — 76
17) Old (white) men don't approve by beltane — 74
18) Yeah, Considering the Opposition Party by JekyllnHyde — 74
19) Let's get the mojo on! Welcome Al!! by realwischeese — 71
20) asdf by BFSkinner — 70
21) From the profits of the Insurance carriers by Bloke — 68
22) let's assume that he was Taliban by teacherken — 64
23) DK Rocks by Kayakbiker — 64
24) This is BIG! Unfortunately it won't get by 99 Percent Pure — 63
25) America has entered into an era of by Nick Zouroudis — 62
26) Give it up already, Coleman. by elliott — 61
27) Is that 60 faces? cute! by RLMiller — 61
28) In Flint they're talking about growing real pot by moodyx — 59
29) I think the nuclear industry by tecampbell — 59
30) Meanwhile, the angry teabaggers by blue armadillo — 59
31) Odd that there's by johnmorris — 59
Top 30 Comments with no exclusions, aka the Tip Jar list :-):
1) Tip Jar by DowneastDem — 548
2) Tip Jar by Muzikal203 — 487
3) Tip Jar by Senator Kirsten Gillibrand — 477
4) Tip Jar by Deoliver47 — 413
5) Tip Jar by Ajax the Greater — 406
6) Tip Jar by David Swanson — 387
7) Tip Jar by Joe Buck — 374
8) Tips? Flames? Recs? by Something the Dog Said — 325
9) Tip Jar by Night Owl — 317
10) File this under: by JeffLieber — 310
11) Tip Jar by nyceve — 303
12) Tip Jar by plf515 — 289
13) It's unusual for me to post at this time of night by teacherken — 268
14) Tip Jar by thereisnospoon — 261
15) Tip Jar by drational — 255
16) Tip Jar by indepenocrat — 213
17) "I'll go into the crack house..." by MaximusNYC — 138
18) mojo jarjo by FleetAdmiralJ — 125
19) Just be sure to buy Winerev's book! by Julie Gulden — 121
20) This diary should be rec'd up. by flitedocnm — 116
21) Tip Jar by lowkell — 114
22) I am so sick and tired of people by Christin — 110
23) Day After Birthday Day Off C&J by Texas Blue Dot — 95
24) ? by Rimjob — 95
25) asdf by BFSkinner — 91
26) If you didn't want to get preganant you shouldn't by MinistryOfTruth — 88
27) join me in congratulating Sen-elect Franken by Senator Kirsten Gillibrand — 87
28) Fierce Advocacy Jar by Jyrinx — 86
29) No wonder they whine so much about... by KingOneEye — 86
30) The very end of the article. by Mike S — 85