I was looking on HCAN's healthcare event locator tool thingy the other day and noticed that there was a candlelight vigil in Portland across from Senator Wyden's office last night. I've kind of decided to make a habit of photographing and writing diaries about events like these so I figured what the heck I'll go down and see what's up. I expected to see a small group of mainly retired people with a few candles and signs, but when I got there something unexpected happened.
All in all there were about 300 people which I thought was a pretty good showing for a Wednesday night.

The event seemed to go along the same lines as the other vigils that have been diaried. There were some brief opening remarks and an update on the various pieces of legislation, followed by some truly heartbreaking personal stories about our broken system. The organizer, John, announced that he had word from Senator Wyden's people that he would be making a statement about supporting the public option as long as it was available to everyone with no conditions (It was kind of hard to hear but that's what I got out of it). I'm skeptical about this, but if it's true it is a step in the right direction. Why he won't just come out and state unequivocal support for the public option is mind boggling to me. The event ended with an excerpt from Ted Kennedy's "The Dream Shall Never Die" speech.
The Local media even came.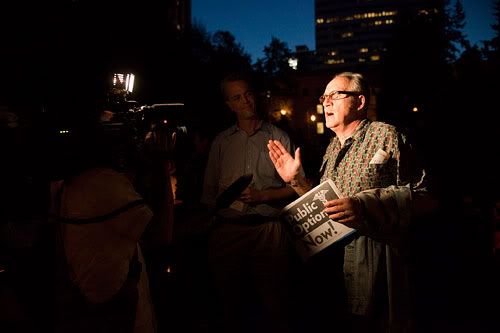 This is John Vareldzis he organized the event and did a really great job.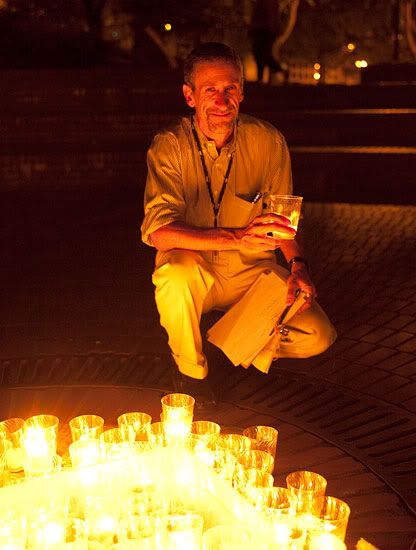 I have to admit I've never really been one to go to protests or rallies or that kind of thing ( I actually prefer to make phone calls and knock on doors), but I think that it's really important that we step out of our comfort zone and go to these events. The Tea Party people may be ignorant and selfish but you can't deny that they know the power of just showing up, it's working for them. As surprised as I was at the good turnout, I couldn't help but wonder what it could have been like if there had been a thousand people or more there. Senator Wyden might actually feel a little bit of heat if that happened.
As the event was wrapping up I was talking with John and a few other people when a young man said something that I think is really important. He said that he had decided to come out tonight because he figured that even if we lose this thing he wanted to "be able to look at myself in the mirror 30 or 40 years from now and know I did everything I could". Will you be able to do that? These people will.