To do this, first, we need messages! If you would like to have a message inscribed to BFSkinner (to fit within a 4.5" square patch), please write it in a comment below. I will write your message in archival ink on muslin and heat set it for permanence. He is really looking forward to having this quilt and all your support that is in it. Do not underestimate the power of your words and the love they project. It is awesome and it will help him.
Thank you all for contributing money for materials for BFSkinner's quilt and a bit of my time to make it -- I'm taking out the PayPal link now because we have enough for BFSkinner's quilt and Kitsap River's. We have 96 messages for BFS! (I have figured about $4 per message with the forty-four message minimum -- about the cost of sending a get well card, plus Priority Mail shipping).
Below are some photos of prior quilt projects (most of you will have seen them by now!).
Othniel's quilt (forty-four messages)
Exmearden's quilt (one hundred eighty messages):
MsSpentyouth's quilt (forty-eight messages):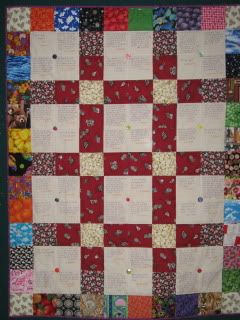 Moe99's quilt (forty-seven messages):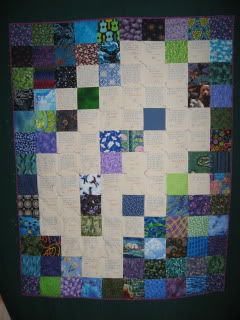 It is not too late to leave a message for Michelle Caudle, the woman suffering from ovarian cancer whose husband had to join the Army to keep her in treatment. That quilt is fully funded up to forty-four messages but we still need eleven messages for her. Please leave messages for Michelle Caudle here. If you would like to donate to the Michelle Caudle Benefit Trust go here.
We are also still collecting messages for Kitsap River, awaiting a kidney donor. The diary for her messages is here -- please stop by and leave some words of support for her.
UPDATE: WE HAVE ENOUGH MESSAGES NOW FOR BFSKINNER. BUT WE STILL NEED MORE FOR KITSAP RIVER!