Back with another update on America's energy future. I've got some video, some pics, some stories about a multitude of energy options. It's a cornucopia of alternative energy, a little something for everyone. Basically, it's a respite from the health care related stress.
Could solar energy be used to create hydrogen? One company, eHydrogen Solutions, seems to think so:
The H-Solaris Generator design does something the company calls "On Demand Hydrogen Production (ODHP)." The company stated that advances and funding in photoelectrolysis and artificial photosynthesis technologies have brought these processes to the point for use in its projects that, "together with advanced electrolysis technologies," they can be "integrated into a fuel cell, hydrogen powered generator and/or advanced battery storage, will enable sufficient hydrogen production to power a home; only using the sun and water."
Senator Udall of CO has introduced a solar energy bill:
Senator Udall's Solar Uniting Neighborhoods (SUN) Act of 2010 modernizes the tax code regarding solar energy, enabling homeowners who invest in community solar projects to take a 30 percent tax credit just like individuals who install PV cells on their houses. From Brighton and Burlington to Grand Junction and Cortez, communities and rural electric cooperatives are taking note of these emerging opportunities. And the SUN Act of 2010 will increase the market for solar energy products and services, helping boost Colorado as a world leader in the clean energy economy. Like other solar tax credits, it would expire in 2016 unless renewed.
Nebraska wants to get in on wind energy:
Nebraska lawmakers have given first-round approval to changes designed to lure wind-energy companies that would export the energy from the state.

The bill would allow the Nebraska Power Review Board to approve wind-energy operations designed to export energy. The bill would also ease concerns among private wind-energy companies about public power's eminent-domain authority.
Currently, NE is 4th in wind energy potential, but 22nd in production.
Michigan could be getting $4 billion in wind energy investment, courtesy of Scandia Energy:
Minnesota's Scandia Wind Offshore company proposed a $4 billion project to develop offshore and onshore wind farms on the West Michigan coast.

Scandia proposed building two offshore facilities in Lake Michigan with a combined output of 1,000 megawatts. An onshore wind facility associated with a wastewater treatment facility would deliver 150 MW of energy to the surrounding community, the company said.
Renewable energy investment as a whole could reach $200 billion in 2010. Much of this investment is thanks to government stimulus, as the governments of the United States, China, and those throughout Europe and other regions have earmarked $184 billion for clean energy projects, with 2/3 of that money expected to be spent through 2011. China invested $34.5 billion in low-carbon energy technologies in 2009, The U.S. spent about half as much last year, or $18.6 billion.
A San Francisco-based company has won a biofuel award:
South San Francisco's Solarzyme has just taken home the gold in the Sustainable Biofuels Technology category at the 2ndAnnual Sustainable Biofuels Awards held in Amsterdam. The international awards offer companies from around the world the ability to showcase significant accomplishments in the biofuels industry.
As I mentioned earlier, one company has used solar energy to create hydrogen. Another has reached a different breakthrough in producing hydrogen:
According to Genesys, "The principle of the technology relies on the unique properties of the oxygen-hydrogen bond. By using electromagnetic radiation tuned to the OH bond energy it is possible to break the bond with a minimum amount of energy. The rate of hydrogen production using this technology far exceeds that of electrolytic processes. RET is a continuous process technology that also operates at room temperature. RET is modular and easily scaleable as well as carbon neutral. As a result of this revolutionary approach, RET modules may be added or subtracted very quickly to respond to changes in hydrogen demand."
Here's a video:
GM is pushing forward with fuel cell research. Here's a video:
Finally, I'm a big believer in urban farming. Well, this proposal takes that idea to a whole new level. Here's a visual representation: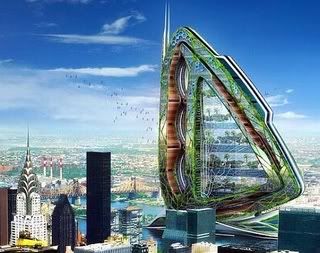 Imagine seeing that in the skyline of your favorite city.