The Bureau of Economic Analysis released Q1 2010 GDP today and it showed another increase of 3.2%. This follows on the heels of the Q4 2009 GDP increase of 5.6% and a Q3 2009 GDP increase of 2.2%. This number virtually guarantees that not only has the recession ended (likely to be dated to sometime in Q3 2009 when all is said and done), but that we are going to start seeing some substantial job growth numbers in the months ahead that will build on last month's gain of 162,000 jobs.
How about some recs to highlight what may help keep the Democrats in power and mitigate losses in the 2010 elections.
So, the next question is "exactly how strong will the employment recovery be now that we are finally creating jobs again"? To answer that I will show a comparison to the 1980's recovery (I will update the graph with today's data as soon as it is available in graph form):

This shows that while we are not going to approach the 1983 recovery, we are likely to eclipse both the early 90's and early 2000's recoveries in terms of both strength of the recovery and quickness of the recovery. The reason GDP growth is so important to our recovery is because it is highly correlated to job growth as can be seen below: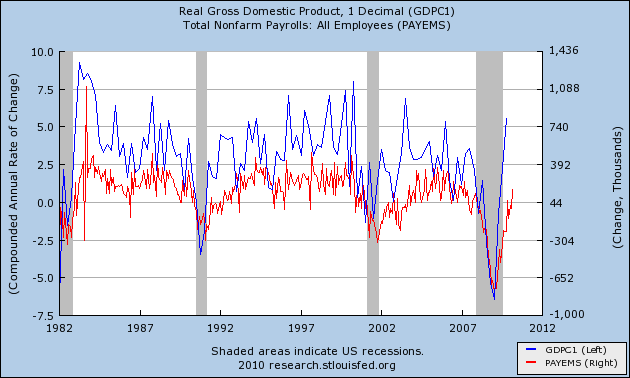 As we can see from this graph, job growth lags GDP growth by a few months, but is highly correlated to both the strength of previous GDP reports as well as the continuation of GDP growth. Thus it is highly likely that next Friday we will see a very strong employment report (ie job creation) even after we subtract out any census jobs that were temporarily added.
This was a really strong report (we cannot really expect 5%+ growth to be sustainable), as the report was lead by:
The increase in real GDP in the first quarter primarily reflected positive contributions from
personal consumption expenditures (PCE), private inventory investment, exports, and nonresidential
fixed investment that were partly offset by decreases in state and local government spending and in
residential fixed investment. Imports, which are a subtraction in the calculation of GDP, increased.
Also, an important point to note is the continued strength of auto sales following the cash for clunkers program, as motor vehicle sales added .52 to the GDP growth last quarter (a very strong number), which is important because we are still at very low overall sales levels, implying that this contribution could last as sales continue to recover.
Overall, this report should put the final nail in the doom and gloom coffin, as growth has continued now for 3 quarters and we are now going to see stronger job creation going forward as well. We still obviously need many changes made to the system and rules by which we play, but the economy is definitely solidly in recovery mode and the likelihood of a double dip gets reduced with every positive report like this one.