Important announcement: eKos Earthship diaries have moved to 10:30-11:00PM EDT on M-W-F-Su.
You may have noticed the tag, and perhaps even stopped by one of the eKos Earthship diaries. But what exactly is eKos? It is comprehensive effort to promote environmental writing on Daily Kos. In this diary, I'll attempt to explain what we are doing and how you can get involved.
For those of you who aren't interested in the details, here is how you can help:
If you see an eco-diary or front page story, tag it 'eKos' and inform the diarist.
Fix the tag if it is wrong (e-kos or ecos tags won't help).
Watch out for tag abuse. eKos is meant to be inclusive, but if you see writing that is clearly not friendly to environmental causes, or which breaks site rules that has been tagged, please remove it.
Don't tag diaries that call-out or criticize other diaries.
If someone removes the tag without justification, please put it back. If they persist, report them.
If there are any issues, please e-mail ekos350atgmaildotcom.
Now to the good stuff.
Software
Feel free to skip this section if you like. It is intended to give the community an idea of what we are actually doing, as well as serve as a guide to the eKos Rangers, in the hopes that they won't be afraid of the software. ;-)

Part of the reason I'm writing this diary is that I just finished the first version of the eKos database manager: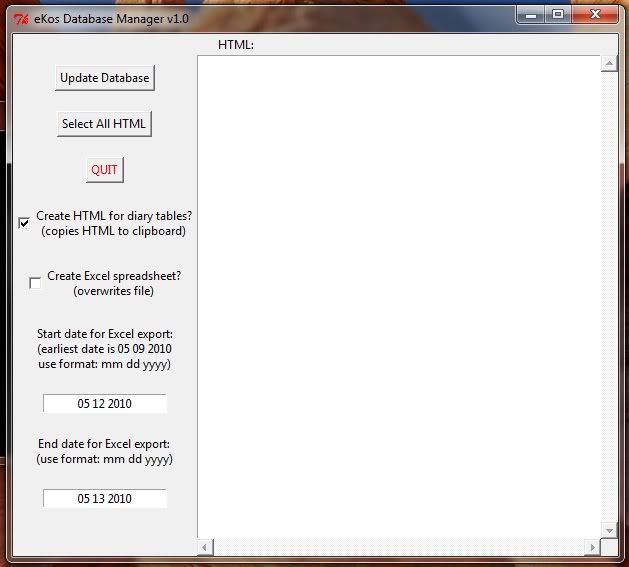 Looks simple, right? That's because it is! It bundles up a lot of tasks into one button.
Before pressing the update database button, the user would decide whether they want the last two days of diaries copied to the clipboard in the HTML table format. If so, they would check that box. The other check box allows the user to create an Excel spreadsheet file, with days separated into separate worksheets. The range of dates are entered into the appropriate fields.
Once the options are chosen, the user presses the 'Update Database' button. This performs a bunch of tasks in sequence. Before getting this far, the user would have noticed that a second, blank window popped up upon opening the manager:
This is because the program was written in Python. I'm not going to get into all of the details (many of which I don't understand). For our purposes, that black box is where the program let's you know what is going on after you hit the update button. (It didn't have to be programmed this way, it was merely expedient.)
I'm going to hit that button now. I'll check both buttons before I do. As the program begins to go to work, text will start to appear in the black box: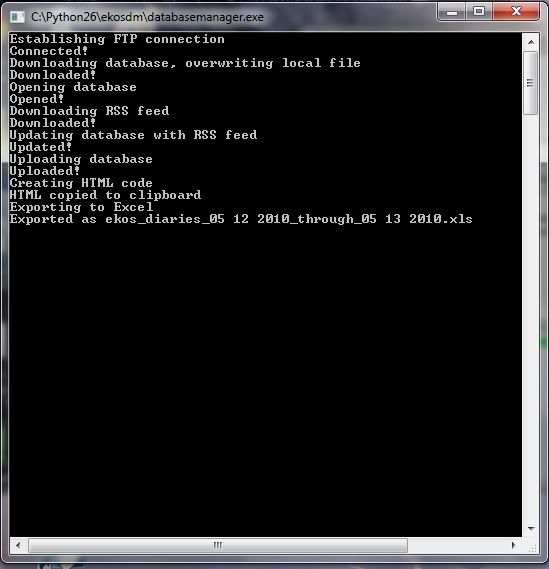 The whole process only takes a few seconds. Going through this sequence will help you understand what is going on. First, the program connects to an offsite data storage website via a File Transfer Protocol session. On this site resides the master eKos database. This will always be the most up-to-date eKos database available. Next, it downloads the file, and overwrites any local version with the online version. I will also keep copy of the master database file in a safe place, just in case anything happens to the online version (unlikely).
Next, it opens the database for use by the program. Then, it checks the RSS feed for new diaries. I decided to use the eKos RSS feed because it was simple to parse and readily available. The downside is that it only holds one or two days of diary info, so the database has to be updated on a daily basis. This is something that I'll look in to changing in the future.
Once it has the new diaries, it updates the local database and uploads it back to the remote storage site. The local copy will remain. In the future, this database file may get large, and the process cumbersome. I will probably break the file up in to smaller units as we accumulate more data. For right now, this works just fine.
If the user checked those boxes, as I did, the program will create the HTML for two days worth of diary tables. It will copy this info to the clipboard, so that all the editor has to do is paste it into the eKos diary wherever they want it. It also created the Excel file that I asked of it, and named it automatically. The file goes in to the same directory as the program (not ideal, but expedient) and overwrites anything with the same name. I plan to use this function to publish the full database as a Google Doc in the future, probably on a weekly basis.
Okay, now that we know what it did, let's take a look at the other window:
The HTML also pops up in a text box. This can be edited if so desired, and all of the contents selected with the 'Select All HTML' button. After selecting, the user can copy and paste the revised HTML to the clipboard. If no editing is required, the user can simply ignore the text box. The software's work is done, and the data can be pasted into a diary. The result is something like this:
Today's eKos diaries:
| Author | Diary | Time | Tags |
| --- | --- | --- | --- |
| jgkojak | BREAKING:  Superman to fix BP leak (UPDATED) | 05/13/10 01:33PM Eastern | snark, BP, oil leak, Superman, eKos |
| Shaviv | Gulf Coast Oilpocalypse "at least ten times worse" than previously estimated: NPR | 05/13/10 09:48PM Eastern | oilpocalypse, Gulf of Mexico, oil, BP, Transocean |
| rperks | Justin Townes Earle Joins 'Music Saves Mountains' | 05/13/10 10:28AM Eastern | appalachia, justin townes earle, mountaintop mining, mountaintop removal, MTR |
| Kristina40 | Can we stop repeating their lies for them? Updated w/ Congressional Inquiry | 05/13/10 09:42PM Eastern | Representative Joe Barton, TransOcean, BP, Environmental Disaster, eKos |
| longislandny | Renewable Energy, who should do it? | 05/13/10 09:43AM Eastern | Energy, BP, Windfarms, home energy, construction |
| jamesboyce | Evidently You Should Put A Cork In It. | 05/13/10 01:35PM Eastern | sustainability, eKos |
| don mikulecky | What about the "Clean Air" bill? | 05/13/10 10:54PM Eastern | CREDO ACTION, clean air, global warming, congress, petition |
| MsGrin | WH says: First Recovery Act Electric Vehicle Delivered Today | 05/13/10 06:39PM Eastern | white house, electric vehicles, Navistar, Wakarusa, eKos |
| A Siegel | The Contrasts are Stark: We need to help people see ... | 05/13/10 10:19AM Eastern | energy, ekos, energy efficiency, oil, videos |
| Crashing Vor | Tell Me Why We Shouldn't Nationalize BP's Well | 05/13/10 12:59AM Eastern | New Orleans, Louisiana, Gulf of Mexico, personal, oil spill |
| Devilstower | Live Q & A: Sierra Club Executive Director Michael Brune | 05/13/10 04:00PM Eastern | ekos, DKGreenroots, Energy, Climate, Economy |
| veritas curat | Poetry, the last refuge of the broken heart | 05/13/10 10:09PM Eastern | poetry, environment, activism, BP oil spill, seeking peace |
| Tyto Alba | oil leak volume estimates are dramatically low, analysis suggests | 05/13/10 09:32PM Eastern | oil catastrophe, Horizon, Gulf of Mexico, eKos |
| LaughingPlanet | How Big is the Oilpocalypse? Perspective. (Updated x2) | 05/13/10 03:27PM Eastern | Oilpocalypse, eKos, BP, environment, Recommended |
| Britethorn | Spill Baby, Spill! NEW BP Commerical | 05/13/10 03:03PM Eastern | ekos, BP, British Petroleum, Oil Spill, Gulf |
| ybruti | BP diagrams were flawed | 05/13/10 07:22PM Eastern | blowout preventer, McClatchy, BP, Transocean, eKos |
| Bruce Nilles | Exposing the Financers of Mountaintop Removal Coal Mining | 05/13/10 02:41PM Eastern | eKos, Sierra Club, coal, mountaintop removal coal mining, corporate accountability |
| FishOutofWater | "Oil Could Gush for Years": DK Greenroots | 05/13/10 10:46PM Eastern | DK Greenroots, environment, ekos, oil, Gulf oil spill |
| Meteor Blades | Open Thread for Night Owls: John Kerry on Climate Bill | 05/13/10 01:00AM Eastern | Opend Thread for Night Owls, John Kerry, American Power Act, eKos |
| BSmojo | Before the Tar Balls Come | 05/13/10 01:18PM Eastern | gulf oil spill, tar balls, off shore drilling, eKos |
| My EV World | Drill Baby, Drill! | 05/13/10 02:05PM Eastern | Palin, geothermal, deep, oil, drill |
| RLMiller | Climate Bill Offshore Oil Compromise Won't Work: Case Study | 05/13/10 09:13PM Eastern | climate change, American Power Act, eKos, Oilpocalypse, John Kerry (D-MA) |
| lowkell | Conference Call With John Kerry on American Power Act | 05/13/10 12:12PM Eastern | John Kerry, Energy, Environment, Global Warming, Climate Change |
| Adept2u | BP's Oil Top Hat Has Failed? | 05/13/10 04:26PM Eastern | BP, Halliburton, Transocean, ekos, oil spill |
| jovie131 | EPA enacts rule to regulate greenhouse gases! | 05/13/10 09:44PM Eastern | EPA rules!, eKos |
| MadScientist | Venezuelan Natural Gas Exploration Rig Falls Over and Sinks | 05/13/10 10:08AM Eastern | Offshore drilling, Oil industry, energy, current events, eKos |
| WarrenS | "Singing For The Planet" — MA Climate Action (06/12/10) | 05/13/10 12:59PM Eastern | climate action, 350, dk greenroots, ekos, music |
| Kaid at NRDC | Village Green: New Metro Area Commuting Data Reveal Best & Worst Environmental Performers | 05/13/10 11:59AM Eastern | environment, cities, transportation, commuting, public transportation |
| jamess | It's basically a giant Experiment: Corexit 9500, Oil, just Add Water Column | 05/13/10 06:44PM Eastern | Corexit 9500, Dispersant, Trade Secret, Ecosystem, Pollution |
Yesterday's eKos diaries:
| Author | Diary | Time | Tags |
| --- | --- | --- | --- |
| douglassmyth | Russian Roulette in the Gulf | 05/12/10 01:30PM Eastern | oil spill, oil leak, gusher, Russian Roulette, eKos |
| Crashing Vor | BP Terrified... of Morris Bart? | 05/12/10 01:00AM Eastern | Recommended, New Orleans, Louisiana, oil spill, eKos |
| JekyllnHyde | The Week in Editorial Cartoons - The Perfect Oil Clean Up Crew | 05/12/10 03:55PM Eastern | The Week in Editorial Cartoons, eKos, Goldman Sachs, Gulf Coast Oil Spill, Greece |
| Jed Lewison | Poll: Support for expanded offshore drilling drops | 05/12/10 12:56PM Eastern | BP Oil, Offshore drilling, eKos |
| beach babe in fl | Macca's Meatless Monday...Oil bla di, Oil bla da | 05/12/10 07:00PM Eastern | vegetarian, vegan, green, eKos, meat production |
| Project Omelas | A four storey Coffer Dam photos - how much oil again? | 05/12/10 09:59PM Eastern | BP, Gulf Gusher, Gulf of Mexico, Oil Leak, withholding information |
| ProgressiveSouth | Will there be real change in wake of Gulf disaster? | 05/12/10 02:15PM Eastern | offshore drilling, oil, energy policy, barack obama, facing south |
| Ellinorianne | UPDATE! Rescued Gray Whale in Southern Cal Harbor Swims to Open Seas | 05/12/10 05:13PM Eastern | Gray Whale, Biodiversity, eKos |
| Unenergy | The Gulf appears to be bleeding - Worse Than BP Admits | 05/12/10 03:10AM Eastern | Gulf of Mexico, Gusher, eKos, Disaster, BP |
| mwmwm | After the shores turn black and begin to stink | 05/12/10 02:55PM Eastern | eKos, gulf gusher, dk-greenroots, environment, green |
| o the umanity | Blowout Preventer Failed in Trial Run? Updated | 05/12/10 03:47PM Eastern | Oil Spill, Henry Waxman, Bart Stupak, Halliburton, BP |
| slinkerwink | As The Earth Bleeds, The President Speaks | 05/12/10 05:24PM Eastern | eKos, DK Greenroots, 2010, oil spill, President Obama |
| Bruce Nilles | Oil Disaster Doesn't Mean We Should Switch to Other Dirty Fuels | 05/12/10 02:47PM Eastern | eKos, Sierra Club, oil sands, tar sands, BP oil spill |
| beholderseye | BP Releases First Video of Oil Volcano (Update with leak estimations, new video) | 05/12/10 06:27PM Eastern | BP, video, oil spill, Deepwater Horizon, ekos |
| Jed Lewison | Few details in White House proposal to lift liability cap | 05/12/10 10:46PM Eastern | BP oil spill, eKos |
| FishOutofWater | Is Dispersed Oil in the Loop Current Heading for Florida? | 05/12/10 12:23AM Eastern | Recommended, Gulf oil spill, environment, energy, oil |
| My EV World | Corporate Welfare Wagons | 05/12/10 01:28PM Eastern | tax, cheats, corporations, offshore, electric car |
| LaughingPlanet | GOP ? Terrorists & Big Oil, Hate Jobs | 05/12/10 04:58PM Eastern | This Week in Climate Change, TWiCC, climate change, global warming, Climate Diary Rescue |
| Reverend Billy | Dis-invest-a-lujah! | 05/12/10 01:24PM Eastern | reverend billy and the church of stop life after shopping, mountain, mountaintop, gospel choir, removal |
| jamess | Where does the Buck Stop, when it comes to BP Oil? | 05/12/10 12:48PM Eastern | Blame Game, Oil Spill, BP, Transocean, Halliburton |
| Edger | "Not The End of the Gulf": Gulf of Mexico Foundation | 05/12/10 01:31PM Eastern | eKos, Barack Obama, BP, British Petroleum, Deepwater Horizon |
| Patriot Daily News Clearinghouse | EcoAdvocates: Let's Ushahidi BP! | 05/12/10 09:11PM Eastern | Recommended, EcoAdvocates, DK GreenRoots, ekos, environment |
| Jed Lewison | BP releases still image, but maintains tight control over video of oil gushing from leak | 05/12/10 02:10PM Eastern | BP, Oil, Deepwater Horizon, ekos |
| Meteor Blades | Open Thread for Night Owls: American Power Act | 05/12/10 01:15AM Eastern | Open Thread for Night Owls, American Power Act, eKos |
| DWG | The week in dirty coal: Earth Mother's Day edition | 05/12/10 04:51PM Eastern | coal, dirty energy, coal ash, coal combustion waste, Robert Byrd |
| davidseth | Taking Care Of Old Mom Earth | 05/12/10 07:49PM Eastern | BP, ecology, oil, oil spills, activism |
| zmom | Must Break the MSM Oil Disaster Semi-Blackout | 05/12/10 07:29PM Eastern | BP Oil Gusher, Fishgrease, Deepwater Horizon, eKos |
| Cardshark | The Oilman's Burden | 05/12/10 10:42AM Eastern | Deep Water Horizon, eKos, BP, Halliburton, Transocean |
| Something the Dog Said | BP Hearing - What The Traditional Media Did Not Report | 05/12/10 10:20AM Eastern | BP Disaster, Halliburton, Trans Ocean, Gulf Oil Spill, Energy And Work Place Committee |
| RedDan | B.O.P. Hydraulic leaks, well pressure tests, and lots of gas... someone's going to jail | 05/12/10 01:22PM Eastern | Deepwater Horizon, Gulf Oil Disaster, ekos |
You may have noticed that I limited the tags to the first five to make the data more compact. Keep this in mind when you are making up your tags for eKos diaries. The database holds and Excel sheets hold the whole set, along with all of the intro text (minus HTML artifacts and embeds).
Social Networking
But eKos is more than just diary tables and databases. eKos, as a part of the broader efforts of DK Greenroots and the newly established EcoAdvocates, is trying to take full advantage of Twitter and other platforms to promote the work of green diarists on DK.
The eKos Twitter account is eKos350 (as eKos was taken by a British polling firm). We are following over 700 people and organizations, and being followed by well over 200. The numbers are growing every day thanks to the hard work of Boatsie and RLMiller
We are automatically feeding the eKos RSS feed to the Twitter account, so that every diary title appears as a Tweet. All the more reason to tag those diaries! We also have a Tweetfeed page which is fed from the Twitter account. Soon we will be tapping in to other platforms such as Facebook.
RSS Widget and feed
I think that many Kossacks have seen this by now:
It is updated via the RSS feed. Feel free to use the code in your eco-diaries (or comments) by clicking on the link. You can also embed it into your own personal blogs, if you wish.
As a reminder, I'll add that to center the widget, you must use the space bar. I added the appropriate number of spaces on the Google Doc page. If you don't want to mess with centering, use the code that is deemed for comments.
Finale
You may ask, why all this effort? There are many on Daily Kos who believe that humanity is facing an ecological crisis of its own making. We are worried about the world that we will pass on to future generations. To me, this is a defining moment for our species, as well as for biodiversity on Earth as we know it today. DKos has many talented voices advocating for change. eKos is all about getting the word out.
I hope this diary gives a little more insight into what is going on behind the scenes at eKos. We have a dedicated group of Rangers who help out with tagging and editing. If you are interested in becoming a Ranger/Editor, e-mail ekos350atgmaildotcom. I want to emphasize that eKos is meant to be an integral part of the broader eco-community at DK, and is always open to suggestions. We will continue to do our best to build community and promote ecodiarists.
Here is the eco-series line-up:
(All times Eastern!)
About eKos
The Idea

This project was inspired by the Earth Day @ DKos Blogathon. In case you missed it, we had 31 participating environmental diaries, all of which were linked to in the Mothership. During the event we had several requests for an eco-mothership diary series in the mould of the Earth Day effort.

The Mission

eKos is all about promoting community eco-diaries. Daily Kos already showcases several series, but sometimes the work of dedicated green diarists pass off the recent diary list hardly noticed. Our goal is to make these diaries more accessible. In the process we hope to build community and bring in a broader audience to the exceptional environmental writing here at DK.

eKos Schedule

For now, look for us M-W-F-Su @ 10:30-11PM .

How eKos Works

If you want a diary included in the list, please let us know by leaving a comment. We'll do our best to search out green diaries, but are bound to miss a few. For eKos to live up to it's full potential, eco-diarists will need to post a link to the mothership at the end of their diary. This will provide readers with easy access to other recent environmental diaries.

Requirements

eKos is meant to be inclusive, but we will have standards for quality and content of listed diaries. (As long as you don't violate site rules and have a modicum of relevant, original content, you should be fine.)

'eKos' tag

If your diary gets listed, we'll ask you to add the eKos tag to your diary.

Contact

You can follow us on Twitter

If you are interested in becoming an eco-ranger for eKos, or just want some more info, e-mail ekos350atgmaildotcom

eKos Rangers

In no particular order:

Regina in a Sears Kit House
boatsie
Hopeful Skeptic
RLMiller
Ellinorianne
Earthfire
A Siegel
dRefractor
SolarMom

Please give them some mojo if you see them, they deserve it!