In this weekly series we have been discussing the benefits of a vegetarian diet including: better health, animal rights, food safety, global food crisis, frugal living and the immense contribution of meat production to climate change/depletion of resources.
If everyone went vegetarian just for one day, the U.S. would save:
100 billion gallons of water, enough to supply all the homes in New England for almost 4 months;
1.5 billion pounds of crops otherwise fed to livestock, enough to feed the state of New Mexico for more than a year;
70 million gallons of gas -- enough to fuel all the cars of Canada and Mexico combined with plenty to spare;
Greenhouse gas emissions equivalent to 1.2 million tons of CO2, as much as produced by all of France;
I was inspired to create this series by former Beatle and vegetarian advocate Paul McCartney (Macca) who partnered with the Meatless Monday campaign to promote less consumption of meat. We not only discuss the advantages of a vegetarian diet we also do some cooking, share recipes and listen to great Beatle/McCartney music!
Today at Macca's Meatless Monday we are celebrating our two year anniversary! Thank you lovely people, for helping us celebrate and for spending your time with us and sharing your wonderful recipes and Macca music.
I am happy to be joined today by Chris Elam, program director of Meatless Monday who has bravely consented to answer some of your questions and help us celebrate!
statement from Chris Elam:
I'm truly honored that Macca's Meatless Monday has asked me to help celebrate its 2-year anniversary. When I started at MM, about 1 ½ years ago, there were only 2 blogs doing regular MM features: MMM and Kim O'Donnel at washingtonpost.com. Now, there are nearly 100! There are MM programs in 10 countries, in cities from San Francisco to Sao Paulo, across entire public school systems in Baltimore and Oakland, in over 30 college campuses, in celebrity restaurants from Batali to Puck, etc. etc. The movement has indeed grown. And it's thanks to important voices like MMM that together we continue to get out this important message!
Wow, It's very exciting to be part of such an important movement! We are taking the future in our own hands to make this a healthier and greener planet and now have the opportunity to magnify our contribution using new tools created by Meatless Monday. There is nothing that activists appreciate more than to educate and these are tools that make it easy for you to bring the Meatless Monday movement into your own communities.

Here are the tools that can be used to bring the benefits of Meatless Monday into your schools, campuses and communities . We are being given the opportunity to be the change we seek knowing that there is nothing that can't be accomplished with a little help from our friends.
It's Party Time!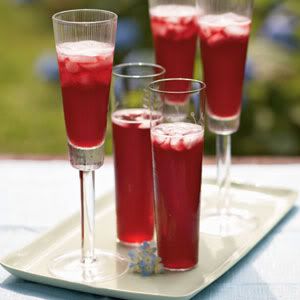 POMEGRANATE CHAMPAGNE COCKTAIL
Help yourself to a healthy and delicious Champagne Cocktail!
1 teaspoon fresh pomegranate arils, optional
4 ounces Champagne
1/2 teaspoon store bought pomegranate juice
1 teaspoon cassis
Place fresh pomegranate arils, if using, into a Champagne flute. Pour Champagne into flute, add pomegranate juice and cassis.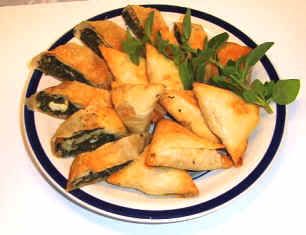 SPANAKOPITA
My favorite party food
1 stick (1/2 cup) plus 1 tablespoon unsalted butter or vegan butter
1 lb baby spinach
1/2 lb feta, crumbled (scant 2 cups) or soy feta
1/2 teaspoon freshly grated nutmeg
10 (17- by 12-inch) phyllo sheets, thawed if frozen
Melt 1 tablespoon butter in a 12-inch heavy skillet over moderate heat, then cook spinach, stirring, until wilted and tender, about 4 minutes. Remove from heat and cool, about 10 minutes. Squeeze handfuls of spinach to remove as much liquid as possible, then coarsely chop. Transfer to a bowl and stir in feta, nutmeg, 1/2 teaspoon salt, and 1/2 teaspoon pepper.
Preheat oven to 375°F.
Melt remaining 1 stick butter in a small saucepan, then cool.
Cover phyllo stack with 2 overlapping sheets of plastic wrap and then a dampened kitchen towel.
Take 1 phyllo sheet from stack and arrange on a work surface with a long side nearest you (keeping remaining sheets covered) and brush with some butter. Top with another phyllo sheet and brush with more butter. Cut buttered phyllo stack crosswise into 6 (roughly 12- by 2 3/4-inch) strips.
Put a heaping teaspoon of filling near 1 corner of a strip on end nearest you, then fold corner of phyllo over to enclose filling and form a triangle. Continue folding strip (like a flag), maintaining triangle shape. Put triangle, seam side down, on a large baking sheet and brush top with butter. Make more triangles in same manner, using all of phyllo.
Bake triangles in middle of oven until golden brown, 20 to 25 minutes, then transfer to a rack to cool slightly.
note: Pastry triangles can be formed, but not baked, 3 days ahead. Arrange in 1 layer in heavy-duty sealed plastic bags, then freeze. Bake frozen pastries(do not thaw) in same manner as above.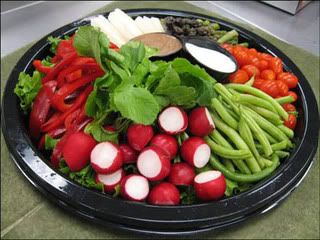 VEGETABLE TRAY with RANCH DIP
Use any chopped veggies you like for this tray
RANCH DIP
3/4 cup sour cream or soy 'sour cream'
1/2 cup mayonnaise or vegenaise which is yummy
1/3 cup chopped fresh flat-leaf parsley
1/4 cup chopped fresh chives
1/4 teaspoon minced garlic
1/4 teaspoon salt
1/4 teaspoon black pepper
Stir all ingredients together then allow to chill at least one hour before serving.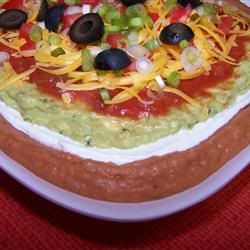 SEVEN LAYER DIP
Indulge is what we do at a party.
2 cups of vegetarian refried beans, either from one 15-ounce can or homemade
1 teaspoon of chipotle powder, Tabasco chipotle sauce, or adobo sauce, more to taste (or plain chili powder to taste)
1/4 to 1/2 teaspoon ground cumin
Salt
1 cup shredded cheddar or Monterey Jack cheese or use vegan cheese
1/4 cup chopped green Anaheim chiles (canned) OR a Tbsp of chopped pickled jalapenos (more to taste)
1 avocado, peeled and chopped
1 large tomato, cut in half horizontally, seeds and juice gently squeezed out and discarded, chopped
1/3 cup of sour cream, or if you can get it Crema Mexicana (Mexican sour cream) or use vegan sour cream
1/2 small can of sliced ripe black olives
Heat the refried beans in a medium sauté pan or cast iron skillet. Stir in enough water to get a creamy, easily dip-able consistency, about 1/4 of a cup. You can also use some olive oil, to help the consistency of the beans.
Mix in the chipotle chili powder (or Tabasco, or adobo, or regular chili powder) and cumin to taste. Note that the avocados and the sour cream will cool down the spiciness of the beans considerably, so you can afford to be a bit more spicy than you might think. Stir in salt to taste, depending on how salted your refried beans are to begin with, and depending on how salty the tortilla chips are that you are serving with the dip.
Once the beans are hot and bubbly, spread them over the bottom of a warmed serving dish. Immediately add the shredded cheese so that the heat from the beans helps melt the cheese.
Layer on the chopped green chilies, chopped avocado, chopped tomato. Spoon on the sour cream ( crema Mexicana or vegan sour cream). Top with sliced green onions and olives.
Serve immediately with tortilla chips.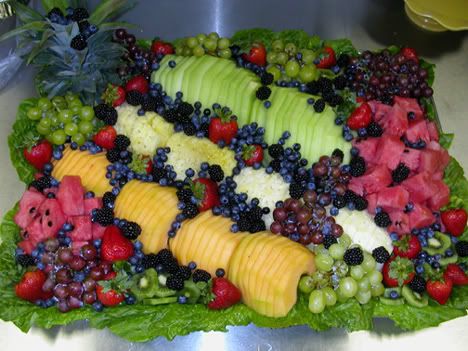 FRESH FRUIT TRAY
Beautiful fresh fruit is always welcome at my party..use your favorite in-season fruit.

POTSTICKERS
from Ming Tsai, yield 20-24
1 red onion sliced
1 tablespoon minced ginger
1 cup sliced shiitake mushrooms
1 cup white cabbage, shredded
1 cup carrots, shredded
1 cup chopped garlic chives or chives
1 teaspoon white pepper
1 teaspoon sesame oil
1/4 cup chopped cilantro
1 package round dumpling skins, also called gyoza )

Salt to taste
Canola oil
In a wok or large saute pan, add a little oil and saute onions and ginger. Add the mushrooms and stir. Add the cabbage, carrots and chives. Season. When mixture is soft, place in colander to drain. Add the sesame oil and cilantro when mixture is cooled. Check for seasoning. Using the gyoza skins, make half moon dumplings keeping the bottom flat. In a hot non-stick pan, coat with oil and place dumplings. When bottom gets brown, add 1/4 cup of water and immediately cover. This will steam the dumplings. Carefully watch the dumplings and completely evaporate the water so that the bottom gets crispy again and sticks to the pot.
Serve with dipping sauce.
SPICY SOY DIPPING SAUCE:

1/3 cup thin soy sauce
1/3 cup rice wine vinegar
1/3 cup sliced scallions
1 teaspoon sesame oil
1 tablespoon sambal
Combine all.


CHOCOLATE TRUFFLES
The most festive party food on the planet
1/2 cup chocolate soymilk
1 12-oz. pkg. vegan chocolate chips
1/2 cup unsweetened cocoa or 1/2 cup chopped nuts (your favorite)or both

1.Warm soymilk until hot to the touch. Set aside.
2. Melt chocolate chips in large metal bowl set over saucepan of simmering water, stirring until smooth. Stir in warmed soymilk until smooth. Cover, and refrigerate 4 hours, or overnight.
3. Place cocoa and chopped nuts (if using)on plates. Shape chilled chocolate mixture into 1-inch balls, and roll half in cocoa and half in chopped nuts.
"Here Comes The Sun" The Beatles George Harrison

"With A Little Help From My Friends" The Beatles with Ringo singing

Indeed friends, thanks for your support the past two years!
Now is your chance if you have any questions for Chris Elam. Also please share your recipes and fave Beatle/McCartney music here!