On November 4, with the gracious assistance, guidance and support of Nurse Kelley and Sara R, this diary was published explaining the plight of my 30 year old niece Elaine.
For a quick summary, Elaine has suffered from a liver bile duct disease called Primary Sclerosing Colangitis (PSC) for over 8 years. Liver transplanatation is the only eventual successful treatment.
When the time came for the liver transplant, cancer was present. She was treated, went through the agony of treatment. When the treatment was done, she had surgery to determine that the cancer was entirely gone so she could remain on the liver transplant list. When she was opened up, her gut was still filled with metastacized cancer. Her options are gone.
So what can I do??? I ponder helplessly. Follow me over the fold for the rest.
So this crazy auntie asked the very kind Nurse Kelley if I could get a project going to send Elaine some cards. Next thing I knew, we had a community quilt going with Sara R, a diary up by Nurse Kelley and my inbox filled with e-mails from wonderful people wanting to help.
The next thing I heard from the family was: "Elaine's room looks like a gift shop."
Read on to hear about how wonderful you are.
My inbox started filling immediately. I couldn't keep up with comments in the diary and the e-mails. I sat for 6 hours straight on the evening the diary was published, overwhelmed with people's kindness. People wanted to know what to say. They asked what might be offensive and/or acceptable to someone of Elaine's faith approach (evangelical Christian).
Some wanted her address and are still sending her cards. Others gave me pictures, readings, pictures. Each one has had everything but a first name removed and sent to Elaine. A few I transcribed. Elaine has it all and then some. Some sent trinkets, objects, religious symbols from their own traditions, kind words, poems, quotations: you name it, this creative group sent it.
As one who is hesitant to ever ask for anything for myself, it's very easy for me to ask for things on behalf of others which is why I didn't feel badly about asking for cards, but I was leery, admittedly so (Nurse Kelley can vouch) of asking anyone to donate money.
But Nurse Kelley would have none of my reluctance and in about a half hour after the diary was posted, sufficient donations had come in to not only obtain Elaine a quilt but to seed another one! The generosity was overwhelming, as is often the case with this amazing community.
And the quilt, oh, my yes, the beautiful quilt by Sara R.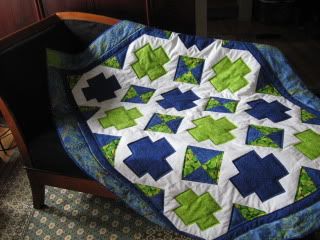 This lap throw is 40" x 61", made in shades of royal blue and spring green.
That's Sara's description. What her description doesn't include is the vibrancy of the colors when you see them in person. They are strikingly beautiful. The Greek crosses are an early symbol of Christianity, hence appropriately personal for Elaine, and we felt we had to select a quilt that was ready to go. It is beautiful beyond words.
How is Elaine doing is the question that people have? Do any of you remember playing jumprope and trying to figure out the best time to jump into a game of double hot peppers? Well, giving a report is kind of like that: when is it best when the game is moving so fast? Here's the best I can do:
Elaine is at home in a hospital bed. She started with a palliative care approach, which included a nurse. She acquiesced to a pump so she doesn't have to deal with oral meds, plus she can control her pain. In the last few days, she has decided to transition to home Hospice. The options are broader, there are less controls (as in none) on pain meds, items are more easily obtained, such as a bed board, at no cost to the family.
Her world is smaller and getting even more so. She remains in her room, letting in only a few. As a chaplain, I have experienced this many times. It's not unusual. Chatty visits become uninteresting. The ill one starts to separate, only wants comfort and often no chatter. And, yes, it's sad.
There have been some wonderful things that have happened, again all in the last 2 weeks. For one, she had a reunion with her mother, a successful one in which some bygones became, at least for now, bygones. That was an unanticipated miracle that no one could have anticipated. Yes, it was assisted and supported, but it happened. Elaine derived so much comfort from that; nothing is more important than her joy at a successful reunification that is still taking place with regular visits.
The other wonderful thing that happened to her was you. Elaine called me to tell me about all the wonderful things my friends had sent. Playing coy, I asked, "How do you know they're my friends?" She responded without missing a beat: "because they know how crazy you are." She told me to tell you
Thank you, thank you, thank you from the bottom of my heart!!!!
I said I would do that eventually and she said, "No, now!!! Tell them now. I want them to know now!!" (I don't believe that I ever revealed that she is capable of stating her opinions and desires.)
A week ago, the family made arrangements for a family portrait. Everything was all set up and Elaine, at the last minute, refused. No pictures. Zip. Zilch. Nada. Forget about it. Her self consciousness at what has happened to her beautiful body is too much for this young person to bear. She never lost her hair, but her father can encircle her calf with his thumb and forefinger.
What follows next may be hard to see but I can't tell you how much it represents her care for you, the kindnesses you gave her.
On Tuesday, her Uncle bh visited, mostly to support his brother. He knew that Elaine may not be up for a visit at all. But, surprise of surprises, Elaine allowed a picture so you could see the quilt.
She did not allow the picture to please us. She didn't allow it to please me for being a doting auntie. She didn't do it out of obligation; she's way past that point. But she gave you one of the hardest things for her to give: the sight of her that frightens and scares her. It comes to you out of her heart, the very bottom of it. It was hard for her to do, but it was the only way she could return the love you have shown this youngwoman who struggled all her life to learn that she was indeed loved.
For those who want to know if they should continue with the cards, that would be fine, but the pace of everything is changing as is her availability. She treasures the cards, she reads every one, but her focus is changing too. For anyone so inclined, feel free to continue and know that you have our deepest appreciation. For those who worry about offending sensibilities, especially religiously, don't. If your tradition is different than hers (heck, Uncle bh & I are UU's!), simply explain the differences or teach her the blessing from your tradition. If you prefer to remain completely secular, fine.
No matter what you do from here on, please know that this community has given a gift that this young woman could never have received otherwise: a gift of love. Or put in any kind word you like: comfort, peace, compassion, kindness ...
I can't begin to thank you individually for what you have done. At a time of my own hardship when I didn't know what to do, you made my life easier by giving something to this young woman.
So, I too, thank you from the bottom of my heart. You helped me keep my promise to her: I told her I would help her make happy memories and told her that, as expressed in the original diary I will not leave you comfortless. As it turns out, you were the ones who also game me great comfort and for that I will remain ever grateful.
Thank you from the bottom of my heart too.
b♥