I know all of us are focused on the current Wisconsin-led labor fight and budget wars at the state and federal level, but I think it's a mistake to not take a look at the bigger picture.
Our cash-strapped country and states aren't facing huge deficits in a vacuum. Republicans are using these deficits to dismantle this country's social safety net and attack labor unions in a time of unquestioned funding for a war without end or objective.
And how is that war going? Let's ask Defense Secretary Bob Gates.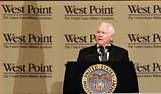 In my opinion, any future defense secretary who advises the president to again send a big American land army into Asia or into the Middle East or Africa should 'have his head examined,' as General MacArthur so delicately put it," Gates told an audience of West Point cadets last week.

Let's be clear here: the U.S. defense secretary is now telling West Point cadets that them fighting in Asia or the Middle East or Africa in the future is essentially pointless.
So why are we still presently sending them there?
Very interesting he refers to the need for folks to have their heads examined in light of reports that some military brass is screwing with the heads of Congress to keep the war going.
Pardon me now for appropriating much of the content from my previous diary on the war that went pretty much completely unnoticed in light of other events...
Congress and Obama, prove you're not brainwashed. Cut the war.

By now I'm guessing most folks have heard about the latest troubling story out of Rolling Stone regarding our flailing efforts in Afghanistan.
It has been laid bare to the public that some in military are so desperate to prolong this war that they are willing to resort to illegal and immoral means to manipulate the civilians that represent us citizens into continuing our Afghan adventure.
To anyone who has heard Dwight Eisenhower's farewell address warning of the military-industrial complex, this is not surprising.
From the Rolling Stone report:


The U.S. Army illegally ordered a team of soldiers specializing in "psychological operations" to manipulate visiting American senators into providing more troops and funding for the war, Rolling Stone has learned – and when an officer tried to stop the operation, he was railroaded by military investigators.

The orders came from the command of Lt. Gen. William Caldwell, a three-star general in charge of training Afghan troops – the linchpin of U.S. strategy in the war. Over a four-month period last year, a military cell devoted to what is known as "information operations" at Camp Eggers in Kabul was repeatedly pressured to target visiting senators and other VIPs who met with Caldwell. When the unit resisted the order, arguing that it violated U.S. laws prohibiting the use of propaganda against American citizens, it was subjected to a campaign of retaliation.

"My job in psy-ops is to play with people's heads, to get the enemy to behave the way we want them to behave," says Lt. Colonel Michael Holmes, the leader of the IO unit, who received an official reprimand after bucking orders. "I'm prohibited from doing that to our own people. When you ask me to try to use these skills on senators and congressman, you're crossing a line."

The list of targeted visitors was long, according to interviews with members of the IO team and internal documents obtained by Rolling Stone. Those singled out in the campaign included senators John McCain, Joe Lieberman, Jack Reed, Al Franken and Carl Levin; Rep. Steve Israel of the House Appropriations Committee; Adm. Mike Mullen of the Joint Chiefs of Staff; the Czech ambassador to Afghanistan; the German interior minister, and a host of influential think-tank analysts.

The Congresspeople involved seem to be adamant that their decisions on the war were not unduly influenced by any actions of the military. The military is acting seriously enough about this claiming Petraeus is gonna investigate.
Yet it seems there's one question that's really gone ignored by government in the wake of all the handwringing over the impropriety and unconscionability of this tactic to advance the war.
If the war is going so badly that it NEEDS PSY-OPS to keep it going, and official Washington is NOT being brainwashed into supporting it, then why the hell are we not getting the hell out this decade?
Today we stand on the brink of a disastrous federal government shutdown with tens of billions of dollars between acceptable budgets for Democrats and Republicans. Meanwhile, Obama's proposed budget plans for $110 billion spent on Afghanistan.
It's time to cut the budget without jeopardizing vital domestic programs and run from Afghanistan so our military can have some time to rest and recover from the strain of the last ten years. This will also give our military and diplomatic leaders a break to plan a way to adapt to the new anti-autocrat reality in the Middle East and Northern Africa.
Will the military let Congress and Obama see that?
Apparently Bob Gates knows the score. Can he get through to them?