Kasich tried to ban the media and the public from his inauguration.

He has warned opponents that they had better "get on the bus or get run over by the bus."
[...]

Polls are showing overwhelming support for public workers, in part due to the blatant attack on Ohio's police and firefighters who are now barred from negotiating on safety issues.

The bill bans binding arbitration used in the past to settle negotiations, and instead allows management to pick the settlement it wants. [Ohio Senate Bill 5] [pg 2]

It seems that many of Ohio's Republican Senators had second thoughts about Voting for this Union-busting Bill --
No worries -- the "Kasich Bus", just plowed ahead anyways -- without them -- ALL Aboard! ... you snooze, you lose.
[pg 1]

In order to vote the bill out of committee, Republican Senate President Tom Niehaus had to remove two key Republican senators who opposed the bill from crucial committees. Both Senators Scott Oelslager of Canton and Bill Seitz of Cincinnati were yanked from their posts. The removal of Seitz broke a committee stalemate and allowed the bill to come to the floor with a 7-5 vote.

Ultra-conservative Senator Timothy Grendell of rural Chesterland, Ohio demounced the bill as "unconstitutional" pointing out that it prohibits union members from talking with elected public officials during negotiations and labels such activity as an unfair labor practice. Seitz echoed this theme: "It's an unfair labor practice if they exercise their First Amendment right to call up their Councilman."
Corporate union busters draw first blood in Ohio
by Bob Fitrakis & Harvey Wasserman -- March 3, 2011
Where's Rambo, when you need him?



It's what the People want right? More Austerity; More Sacrifice?
When the People voted for Kasich, of course they knew they were asking for ...
A Bill that make Union Striking Illegal in Ohio ... that makes the "negotiation health care, sick time or pension benefits" Illegal too.
Yep, That's the Ticket! ... IF ONLY, we DID know!
3/2/11
COLUMBUS, Ohio (AP) - The Republican-controlled Ohio Senate has passed a measure that would restrict the collective bargaining rights of roughly 350,000 teachers, university professors, firefighters, police officers and other public employees.

Senators passed the legislation on a 17-16 vote on Wednesday, with all 17 'yes' votes coming from the GOP. Six Republicans voted against the bill.

The bill establishes fines and jail time for those who participate in strikes. Unionized workers could negotiate wages, hours and certain work conditions - but not health care, sick time or pension benefits.


2/27/11
COLUMBUS, Ohio (AP) - Ohio Gov. John Kasich says he's against joblessness, not unions, and is working on a state budget proposal aimed at creating jobs and economic growth.
Ohio Senate Passes Collective Bargaining Bill
wsaz.com -- news headlines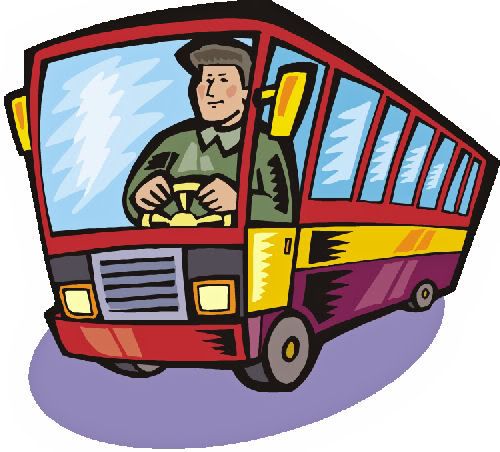 It's what the People want right?
A 'Bus Driver CEO' that only makes the stops for his 'Buddies' ...
[pg 2]

Kasich and the GOP have already moved to gut environmental regulations and turn the state's park system over to corporate extractors.
[...]

It's widely believed Kasich will next assault Ohio's pubic school system, whose funding mechanisms have been repeatedly ruled unconstitutional by state courts. Kasich is a cheerleader for private charter schools. The GOP is expected to push a voucher program that would use taxpayer money to subsidize private schools for the rich.

David Brennan, owner of White Hat Management, a chain of private charter schools, has consistently been the leading donor to the Ohio Republican candidates.
Corporate union busters draw first blood in Ohio
by Bob Fitrakis & Harvey Wasserman -- March 3, 2011

Who says 'Money Can't Buy you Love' ?
Apparently in Ohio, it can ...

We NEED even more Publicly-funded "Private School Chains" in Ohio, don't you think?
"White Hat Management" thinks so. It's their Business. And they Sent John Kasich one five serious Love Notes recently, to prove it:

KASICH, JOHN & TAYLOR, MARY
followthemoney.org
Noteworthy Contributor Years Records Total

WHITE HAT MANAGEMENT
Education
2010 5 $46,186

FIRSTENERGY CORP
Electric Utilities
2010 78 $89,950

AMERICAN ELECTRIC POWER
Electric Utilities
2010 59 $53,220

KOCH INDUSTRIES
Forestry & Forest Products
2010 5 $22,050

KOCH INDUSTRIES
Forestry & Forest Products
2010 5 $22,050

Surprise, Surprise!
The Koch Brothers are interested in John Kasich's career too -- Who knew!
Scott Walker did, for one. Scott and John talk everyday, so Scott says.

Of course Koch Industries have been influencing a great many Political Careers lately. They believe in "spreading their wealth around" apparently, for their 'Buddies', and the supporting cast of $1000's ...
Total KOCH INDUSTRIES Contributions in 2010
followthemoney.org

When faced with such Old-time Steamroller$, What are little old Labor Unions to do?
The Ohio Senate has passed a bill that restricts collective bargaining for public employees despite thousands of protesters crowding into the capital over the past three weeks.

Senate Bill 5 passed by a vote of 17-16 today (Wednesday). All votes supporting the bill came from Republicans, but six GOP Senators joined Democrats to vote against it. Among those who broke party ranks were Northeast Ohioans Scott Oelslager, Tim Grendell, Gayle Manning and Tom Patton.

Labor leader Tim Burga of the AFL-CIO is disappointed, but says the unions aren't done.
Protests did not stop Senate
Thousands protested the collective bargaining bill
by WKSU's STATEHOUSE BUREAU CHIEF KAREN KASLER
and Maranda Shrewsberry -- March 02, 2011

What "Legal Recourse" to the Union-supporters of Ohio have -- to slow down the Kasich-Koch Agenda to downsize and privatize their once-proud State?
Unlike Wisconsin, Ohio has no recall law. The only apparent route to overturning this union-busting legislation may be with a statewide initiative or a constitutional amendment. As the statehouse filled with union protestors, talk spread of how and when that might be done.
Corporate union busters draw first blood in Ohio
by Bob Fitrakis & Harvey Wasserman -- March 3, 2011

OK, "a statewide initiative or a constitutional amendment", those sound good ... especially given the Committee Hopscotch that it took to "push this Bill through" a very relutant Ohio assembly ...
Something's VERY Fishy about that whole process!? (Any Ohio Constitutional scholars in the audience?)

But how about some "boots on the ground actions" now -- in the meantime?
North Shore AFL-CIO Executive Secretary Harriet Applegate says the union is already planning two events in response to the budget -- a protest in Strongsville and a town hall meeting in Cleveland.
She acknowledges that passage of SB5 by the House is likely. So, her organization is mobilizing the state's three-hundred-thousand-plus public employees to get enough voter signatures to put a referendum challenging the bill on this November's ballot.

"(Harriet Applegate:)...If we put this on the ballot in November, we're gonna win it. I think there are people who would not sleep a wink between now and November [if] they see this pass..."
AFL-CIO reacts to Senate Bill 5
Labor leaders plan protests, referendum in response to collective bargaining issue
by WKSU's KABIR BHATIA -- March 04, 2011

North Shore AFL-CIO Federation of Labor
3250 Euclid Avenue
Cleveland, OH 44115
(216) 881-7200
Upcoming Events

Check the Union Calenders. Network. Share. Show up.

Even though Kasich can stop a High-speed Rail Project in its tracks --
It's not likely his "Faux-interest in creating all those Ohio Jobs" will delay the Steamrolling Agenda he's piloting now.

Unless the People of Ohio -- continue to Organize, and continue to Say Hell No!
"Kasich stop this Bus! Turn this Bus around -- NOW!
Or else, we'll Do It for you."

Dems need to STAND for Something -- Or else we'll just FALL for anything!
... and WHO can afford THAT these days?