For the past 6 months I have been immersed in an interesting form of therapy. Not that music is unusual as therapy but perhaps focusing on the music of just one band might be. Last August, on the heels of 10 months of pain - emotional and physical - I was persuaded to go to a concert by my husband. The show was the Time Machine Tour. The band was Rush. That night changed something in me. I don't know what or why or how nor do I question it. Gift horses and all that. But my life was jump-started. Because of the music. As I found out, with this band, it has always been the music.
Thirty years ago, I moved in with my soon-to-be husband and his roommate (oh noes, we lived in sin!!). Both of them were very much into Progressive Rock. I had worked at a Tower Records for awhile and was somewhat familiar with the genre. But I had a lot to learn and I did: Genesis, Yes, Emerson, Lake and Palmer and Rush became my main curriculum and I learned well. Then it came time for my first Prog Rock concert which (coincidentally to recent events) was Rush. I was unprepared for the richness of the experience. The music had always impressed me but seeing it played live was trans-formative. That human beings could play with such skill was eye-opening. I was flat smooth in love. And that continued when I saw Genesis and Yes (ELP came much later as they'd been disbanded when I discovered them).
But the years, as they do, went by. We moved to the Seattle area, bought a house, had a child. We still listened to music but it faded into the background. We went to a few concerts - ELP finally was added to the list - but generally concentrated on family. During that time, Rush had managed to get pushed down the list. The last album we bought was in 1986 and the last show in 1984 just before our move to the Northwest.
In 2009 several years of not-much-fun peaked with the loss of a close friend in March and then my Mother in November. That was followed almost immediately by a car accident that left me with a fractured sternum. Not easy to handle grief when one can't cry. So feelings were sublimated. Which leads us to last August and the breaking of the log jam.
As I mentioned, I was not unfamiliar with Rush. I've been a fan since I was seated on the sofa in front of the stereo and had Hemispheres played for me, blowing my mind. But only recently have I learned about the band's history and about the men who comprise what has been called "Canada's Greatest Export."
It began in the Toronto suburb of Willowdale. Alex Zivojinovich (aka Alex Lifeson - his real last name means "son of life" in Slavic) and Gary Lee Weinrib (the son of Holocaust survivors, his Mother's thick Yiddish accent rendered his name as "Geddy") met in Middle School and, along with another friend, John Rutsey, they formed a band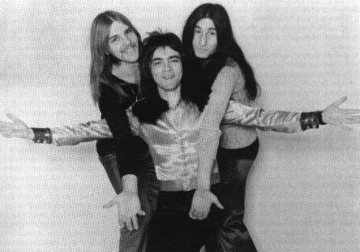 in 1968 which they dubbed Rush. By 1974 they were ready to cut an album... but no record company would take them on. So they formed their own label -- Moon records -- and their eponymous first album was made. Not until Cleveland radio DJ Donna Halper gave the song Working Man a spin did it garner much attention. Mercury Records finally signed the band due to this surge in their popularity, and a U.S. tour was quickly planned. But Rutsey wasn't healthy enough to tour nor was he inclined to go in the musical direction of his bandmates. So they found a new drummer. Neil Peart (pronounced "peert") joined Rush on Geddy's 21st birthday: July 29, 1974.
At some point on that tour, the two buddies noticed that "the new guy" did a lot of reading and philosophizing and it occurred to them to offer him the job of writing lyrics ("And we said, 'look how many books he reads, look at the words he uses. This guy is probably capable of writing lyrics!"). Peart agreed to give it a shot. This worked out quite well for all involved. When they were ready to record their next album, the bulk of the lyrics had been written by Peart and so it has remained. Fly By Night was released in February of 1975 and the band went back out on the road immediately to support it. Their third album, Caress Of Steel followed seven months after. With two epic tracks and a decidedly progressive feel, it was not well-received and Mercury wasn't happy. Dispirited, tired from all the touring, prodded by the record company to "write a single," yet wanting to follow their own muse and stay true to the music they wanted to create, the trio decided that if they were going to crash and burn, they would do so on their terms.
In April of 1976, they released 2112. The 20-minute title track, a story about individualism vs. a repressive society, found immediate popularity. The idea came from a combination of the band's feeling of being oppressed by the record company and their concurrent reading of Ayn Rand, though they are quick to avow their only sympathies with her lie in her "artistic manifesto." The theme and the music resonated with young fans and 2112 was certified gold in November. The band found themselves in the position of being able to make the music they wanted to make, without record company executives breathing down their neck. When their first live album, All The World's A Stage, also went gold in 3 months, their success was assured. They never looked back.
2112, Part One

Rush soon became known for fantastic and epic songs with literate, quirky lyrics. Geddy's voice became an attention-grabber with many critics disliking it vehemently. That didn't stop the fans, though, and his high tenor became a hallmark of the band and remains so to this day. Add to that their accomplished musicianship -- all three are held to be masters of their particular instruments -- and the alchemy was evident. Their next album, A Farewell To Kings was released in September of 1977 and went gold within three months. It also produced their first "hit single," Closer To The Heart, and the epic Xanadu which became a fan favorite. They followed this up with Hemispheres a year later, another album with a side-long epic story. January of 1980 brought the album Permanent Waves and their biggest hit to date; The Spirit Of Radio, with its searing arpeggiated guitar riff quickly became a rock radio staple.
The Spirit Of Radio Live

The next album was the massively popular Moving Pictures. Released in February of 1981, it reached Gold status in less than 2 months and spawned several Top 10 hits, including the anthemic Tom Sawyer. Reaching #3 on the Billboard chart, it provided the wide success that had eluded Rush so far. The tour and its accompanying live album and video, Exit… Stage Left, propelled the trio to stardom. [This was my first Prog concert as mentioned in the Intro]. The next several years saw albums released at the rate of about one every two years and Signals, Grace Under Pressure, Power Windows, Hold Your Fire, Presto and Roll the Bones were all certified Gold within a few months of their release date. In fact, Rush is only third behind the Beatles and Rolling Stones in the number of albums certified Gold.
Tom Sawyer (live from Exit... Stage Left)

During the 80s, the band experimented a lot, making their songs shorter but no less complex, adding more keyboards (to many older fans' disgust) and trying out different sounds. While this cost them some fans, it opened them up to others. Hold Your Fire marked the apex of their "keyboard phase" and with Presto in 1989, they began a return to their traditional, guitar-heavy sound; though Geddy could not be convinced to give up all of his keyboards, they were less aggressive. The trio also began making videos for MTV, as most bands had to do in the 80s. Luckily, they were all game for exploring this new outlet, including concert videos, three of which were filmed and released during the 1980s.
Prime Mover (Hold Your Fire) Live (from A Show Of Hands)

The 90s brought Rush back to a more "traditional" sound with Counterparts in October of 1993. With this and the next album, Test For Echo 3 years later, they took more time with writing and recording. Fans didn't seem to mind, though, and the tours that supported these albums were as well-attended as ever. The Test For Echo Tour came to a close in July of 1997 and the band returned to their home turf of Ontario to rest before starting the cycle again. But things didn't go as planned…
In August, Neil Peart's 19-year-old daughter, on her way to begin college in Toronto, was killed in a car accident. Her mother followed 10 months later, ostensibly of cancer but Peart believes that it was actually a broken heart that made her lose her will to live. With this burden of sorrow, Peart took off for a 55,000 mile motorcycle journey of mourning and reflection. He dubbed himself "the Ghost Rider" and spent over a year alternately riding and cocooning at his lake home in Quebec. The band was, naturally enough, placed at the bottom of the priority list for all three of its members. Peart chronicled this period in his book, Ghost Rider: Travels On The Healing Road (which I highly recommend).
By early 2001, newly married and ready to move on with his life, Peart was prepared to return to work with Alex and Geddy. They spent 14 months getting their drummer back up to speed and working on their next album. Vapor Trails was released in May of 2002 and was met with a sigh of relief from their fans. To announce their return, the first song on the album -- One Little Victory -- begins with Peart's solid, precise drumming. The tour culminated in a 3-night stint in Brazil that saw huge crowds turn out to support the band for its first shows in South America. The final night was filmed and released as Rush In Rio, their first DVD which went on to win the 2004 Juno Award for Music DVD of the Year.
One Little Victory (R30 Tour)

To celebrate their 30th anniversary, June 2004 saw the release of Feedback, an EP of cover tunes from their early influences such as Cream, The Yardbirds and The Who. That summer they launched the worldwide R30 Tour. This was also filmed for a DVD (I recommend the Blu-Ray which has the entire show, unedited). Two years later, they were at it again, writing and recording what became Snakes & Arrows, their 18th album together. The supporting tour, with two "legs" lasted a year. It, too, was filmed and released on DVD (again, get the Blu-Ray as it has extras from the Atlanta show).
Last year was a particularly busy one for Rush as on March 28, 2010 they were inducted into the Canadian Songwriters Hall of Fame. In an interview, Lee and Lifeson talked about new songs they were working on. These turned out to be Caravan and BU2B (Brought Up To Believe), part of a concept album with a steampunk theme, and were released on June first. The hectic schedule continued with Beyond The Lighted Stage, a documentary about the band, premiering at the Tribeca Film Festival and winning the Audience Award. June 25th saw Rush receive their star on the Hollywood Walk of Fame. A few days later, they were on the road again with the Time Machine Tour, the first leg of which ran from June 29-October 17, once again ending in South America. With barely a breather, they accepted the Marshall Classic Rock Roll of Honour Awards in the UK and the Billboard 2010 Legends of Live award for "significant and lasting contributions to live music and the art of performing live and reaching fans through the concert experience." They are now poised on the second leg of the Time Machine Tour, which begins in April (I have tickets for both the Vancouver BC and The Gorge shows). As part of this show, they perform Moving Pictures in its entirety, something they have never done before. This will be followed by the album, Clockwork Angels, early next year. Their star is as high as its ever been and, as they near 60, they show no sign of slowing down.
Caravan Live (Starlight Theater, Kansas City, MO)

That's their history and discography. But the story can't capture the feelings of a reborn fan. I have found, in conversations with other Rush fans, that many people have discovered the band during a time of crisis or at a crossroads in their life. Something about the music soothes and inspires, it exudes positivity. Maybe it's the deep, abiding friendship that the trio shares. Maybe it's the integrity they model or the honesty they communicate. Maybe it's some combination of that. For me, it is all of the above plus their musical virtuosity and the care and precision they apply to their music. I missed a great deal of their material during the late 80s and early 90s. Discovering it has been an emotional process; I've found songs that I fell in love with, some that made me cry and some that I had to giggle at. But all of it has been a joy. And learning to play some of it has been both fun and challenging. Yes, they inspired me to pick up my guitar again after almost 30 years. That's got to count for something!
Rush has grown from a group of kids playing in the basement to rock and roll legends. They did it on their own terms, changing and learning and growing as they went. Along the way, they have trusted their fans, never condescending or dumbing down the material. They have given back philanthropically as well, donating millions to charity. They do what they love with people they love – something we all wish we could do. Rush is sometimes dismissed as pretentious or weird or silly. But, as South Park creator Matt Stone said in Beyond The Lighted Stage, ""If you didn't give it up for them before, you gotta give it up for them now, or you're just being an old dickhead."
I'll leave you with my favorite Rush song, played live during the first leg of the Time Machine Tour. La Villa Strangiato appeared on the Hemispheres album back in 1978 but they play it better now than ever before. If I had to pick one song to listen to for the rest of my life, this would be it. Guitarists, this is why I love Alex Lifeson... (trust me here, the polka intro is just for laughs)
If you haven't seen Rush live, you are missing a real treat. The second leg of the tour starts in April. Do yourself a favor and try to get out to see it. You won't be disappointed - there's a reason they won the Billboard Live Legend award.
Thank you for staying with me through this journey. It's been uplifting for me and I hope it's been informative and intriguing for you.