Cross posted at Dirigo Blue
In 2007, Judy Taylor, an artist based on Mount Desert, won a competition to create a mural for the lobby of the Maine Department of Labor (MDOL). The work was to depict the "History of Labor in the State of Maine," and was commissioned by the Maine Arts Commission. Taylor's work is of 11 panels which you can find here; here are what panels 7-9 look like: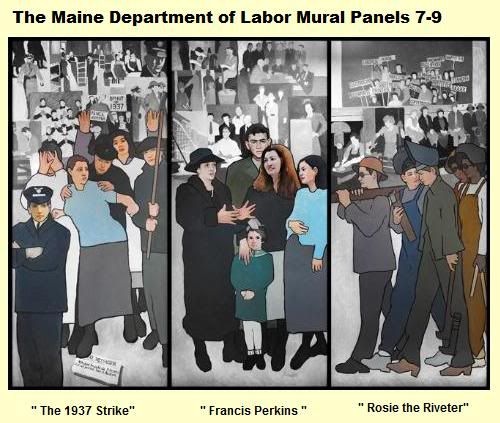 Today staff of the MDOL learned that this mural would be removed. In an email, Acting Commissioner Laura Boyett made the announcement, along with news that some of the names of meeting rooms would be changed, names like the "Perkins Room." Frances Perkins was, of course, FDR's Secretary of Labor.
The email is below. I have not been able to reach Boyett for her comment, nor has my query to Dan Demeritt been answered.
Update: I should add that Boyett had been the head of Maine's Director of Bureau of Unemployment Compensation before being asked to become Acting Commissioner of the MDOL.
Updatex2: One local paper had the story early this morning, with the headline [Maine Gov. Paul] LePage orders removal of labor mural, sparking outcry.
Updatex3: Here is the list of 8 room names that ME-Gov has ordered changed at Dept. of Labor.
From: Boyett, Laura L.
Sent: Tuesday, March 22, 2011 12:37 PM

Dear MDOL Colleagues,

The hunt for a new Commissioner is taking longer than anticipated but the search continues. However, the work of the Department of Labor is important, critically needed and cannot be put on hold until a new leader is found. When a new Commissioner is appointed, he or she will find a vibrant, progressive agency; staffed by people committed to delivering quality services to the citizens and businesses of Maine. I am confident of this because it is what I see when I come into the office every day and I am proud to be part of such an outstanding organization.

Maine has just come through one of the most difficult economic crisis in almost 75 years and we still face significant challenges as we recover. The Maine Department of Labor can play a pivotal role in this process. For the Maine economy to thrive, we need strong businesses and skilled workers. They are two sides of the same coin and neither can succeed without the other. The Department of Labor serves both constituencies. We assist businesses in navigating the complexities of the regulations they must operate in, help them to set up safe environments for their workers and connect them with workers possessing the skills needed for their businesses to succeed and grow. We help and support workers through the difficulties of unexpected job loss, connect them to new jobs and provide them with the skills needed to achieve their career goals and succeed in the marketplace. We bring workers and businesses together to build a strongMaine economy.

This is our charge and our vision for moving forward. The important work of this agency is not on hold or in limbo pending the appointment of a new Commissioner and I, along with the Acting Bureau Directors, are committed to leading us forward in this direction.

We have received feedback that the administration building is not perceived as equally receptive to both businesses and workers - primarily because of the nature of the mural in the lobby and the names of our conference rooms. Whether or not the perception is valid is not really at issue and therefore, not open to debate. If either of our two constituencies perceives that they are not welcome in our administration building and this translates to a belief that their needs will not be heard or met by this department, then it presents a barrier to achieving our mission.

I will be seeking a new home for the mural and we will be renaming the conference rooms in our administrative office at Commerce Drive in Augusta. However, I'd like your help in coming up with new names for the conference rooms. I'm holding a 'renaming contest' and will select from your suggestions. The names can be places, concepts or things but should not reflect a bias toward either business or workers – the names should feel welcoming to both. Although arguments can be made that some of the existing names do not reflect any bias, to keep things simple, we are going to make a clean sweep across the board and change all. Therefore, we need naming suggestions for 8 conference rooms. Send your suggestions to Neena Quirion by close of business on April 5th. There will be a small prize for the successful author or authors so put on your thinking caps!

As I hear news on the Commissioner search I will pass it on to you. In the meantime, businesses and workers are counting on us to help them during challenging times and after 17 years of working with you at MDOL, I know I can count on all of you to continue to do just that.

Thank you,

Laura Boyett, Acting Commissioner
Maine Department of Labor