The Storm Prediction Center in Norman, OK has issued tornado watches for vast expanses of Kansas and Oklahoma, with the one in Oklahoma having a rare "particularly dangerous situation" headline attached to it. The storms that form across and near the watch areas have the potential to produce very large, long track, violent tornadoes this afternoon and through tonight. As with the other Severe Weather Liveblogs, I'll do my best to keep you guys informed of what's going on. Don't rely completely on what I post here, and keep an eye on the National Weather Service, local news, The Weather Channel (or what they tell you between commercials), or radio reports.
If you have a NOAA All Hazards Weather Radio, turn it on, make sure its batteries are fresh, and keep it close by. This is going to be a long night. (See my rant HERE about weather radios and why you need one)
Please keep in mind that any Severe Weather Liveblogs posted are not places for tasteless cracks at other people's expense. Post cheap political/social shots towards those affected at your own risk.
I'm breaking stride with the previous liveblogs, in the way I format them. This is a serious enough situation that it requires a little more detail and attention than a "normal" outbreak would.
A tornado watch is in effect for a large swath of Oklahoma, as well as a few counties in extreme Northern Texas along the OK border. This watch includes the Oklahoma City metro area. This is a Particularly Dangerous Situation, which means that incredibly large hail, very strong winds, and violent, large, long-track tornadoes are possible (and, to be honest, likely) in this area.
A second tornado watch is about to be issued for all of western and central Arkansas, as the severe threat moves east later into the night.
I'll post radar images and updates as they happen. I'll probably post another diary in 3 or 4 hours if the action really gets going, to make reading the updates more manageable.
UPDATE 1 (312PM CDT)
Here's the initial radar for Oklahoma, showing showers starting to form along the dry line extending almost north-south from Ardmore, OK to Wichita, KS. Watch these...they will serve as the nuclei from which supercell thunderstorms will develop.
UPDATE 2 (321PM CDT)
Just as expected, the shower in northern Oklahoma quickly grew into a monster supercell. A severe thunderstorm warning went out as I was typing this, and the base velocity image is showing some rotation in the storm. Anyone who lives north or east of Red Rock, OK needs to keep a very close eye to the sky for the next few hours.
UPDATE 3 (344PM CDT)
More storms developing along the dry line in Oklahoma. Severe thunderstorm warnings for each of the cells you see on this radar image.
UPDATE 4 (403PM CDT)
Baseball sized hail with this storm in central Oklahoma, moving northeast.
UPDATE 5 (412PM CDT)
First tornado warning of the afternoon is in effect for Osage County in Oklahoma. Strong rotation in the storm near Burbank, OK, moving off to the northeast. The towns of Shidler and Foraker are in the path of this possible tornado.
Base velocity image, showing winds. Green is towards the radar, red is away. Bright green/red close to each other indicates rotation.
UPDATE 6 (416PM CDT)
Another tornado warning is in effect in Southern Oklahoma for Pontotoc, Murray and Garvin counties. The storm is moving northeast at 25 MPH. Here's the base velocity image for the storm. Same as above, green is toward, red is away. Rotation is very near Davis, OK.
UPDATE 7 (425PM CDT)
Very strong, very large tornado reported on the ground near Shidler, OK associated with this storm. NWS meteorologists and storm spotters on the ground have confirmed this tornado. If you live in northeastern Oklahoma or southeastern Kansas, keep a very close eye on this tornado.
UPDATE 8 (432PM CDT)
Two more tornado warnings, one for southern Kansas and one for central Oklahoma. The latter one has a very strong hook, indicating a good chance of tornado formation.
Radar on the left is the storm in KS, radar on the right is the one in OK.
UPDATE 9 (439PM CDT)
Not to leave out our friends in Kansas, there are some large storms popping up in Kansas. A few have severe thunderstorm warnings on them for quarter sized hail and 60MPH winds. Keep an eye on them, in any event.
UPDATE 10 (510PM CDT)
The warnings and storms are forming faster than I can keep up with them, but here's a look at the most dangerous situations at the moment (tornado wise).
They're both in Oklahoma, with the most dangerous one approaching southwest metro Tulsa at the moment (radar at left). The radar on the right shows a tornadic supercell in southern Oklahoma, with strong rotation.
UPDATE 11 (553PM CDT)
Tornado warning out for Tulsa and surrounding areas, as a storm exhibiting very strong rotation nears the southwest suburbs and side of the city...
UPDATE 12 (610PM CDT)
Nasty storm just south of Tulsa is keeping its rotation, and has a really nasty hook on it. Hooking in a storm isn't good, it denotes rotation and a possible tornado.
UPDATE 13 (616PM CDT)
Very strong rotation moving into McAlister, OK with this severe thunderstorm. Not only is the tornado threat large, but you can also expect very large damaging hail and strong winds with these storms, with or without a tornado.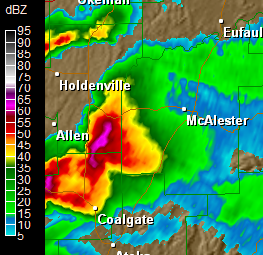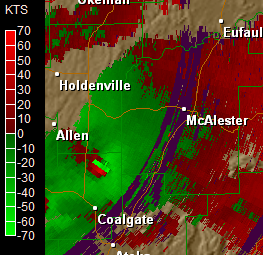 UPDATE 14 (720PM CDT)
Storms still down by McAlester, OK possibly producing tornadoes.
UPDATE 15 (742PM CDT)
From the NWS:

AT 735 PM CDT...A LARGE...VIOLENT TORNADO THAT HAS PRODUCED DAMAGE WAS LOCATED JUST SOUTH OF ATOKA...MOVING NORTHEAST AT 35 MPH. PERSONS IN AND NEAR ATOKA NEED TO TAKE IMMEDIATE TORNADO PRECAUTIONS! THIS IS A LIFE THREATENING SITUATION!
Here's that storm: