If you are to the east of these storms, please sleep with one ear open. I'm calling it a night-cross your fingers that the weather.com simulation is correct!
Update 10:11pm Nothing new on the funnel cloud near Grand Forks. Radar indicates some weakening in that area. The most intense part of these storms is down in Nebraska, just passing through Hastings. Some reports of damage to farmsteads in that area.
Oddly enough, the only warning still in existence is the one for Grand Forks. I expect the one for SE Nebraska to be reissued soon. (10:18 Maybe not? The weather.com 6-hour prediction tool has this entire line of storms shriveling into nothing in just a couple of hours.)
Update 9:14pm Warnings moving into N Dakota and Minnesota areas.
Update 9:03pm Funnel cloud spotted 8 miles SW of Grand forks, ND.
Update 8:51pm Tornado on the ground in N Dakota-near Barney west of Wahpeton, tornado STILL on the ground 10 mi north of Kearney. New warnings for North Dakota and Minnesota.
Update 8:25pm CDT Tornado on the ground Amherst NE, 14mi NorthEast of Kearney.
Update 8:09pm New warning issued for Kearney, NE and surrounding area.
And oh, look at the newly-expanded danger zone from weather.com: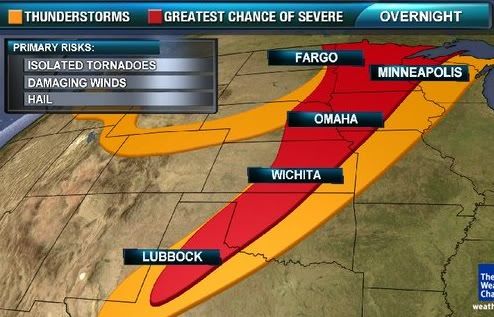 Did I mention that it is 87 degrees with a 64 dewpoint here right now?
And to top it all off-a winter weather advisory in Montana!
Update 9:49 More wunderground close-up maps of the other warning areas: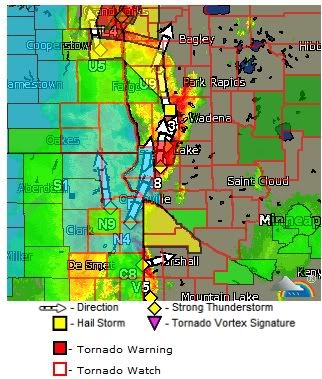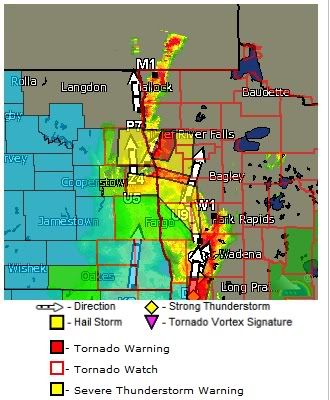 Update 9:42pm Here is an interesting map from wunderground, regarding SE Nebraska. It can be hard to tell where you are in relation to a warning-this is a good closeup. Omaha is in the path of the storms but not in the path of the tornadic cell: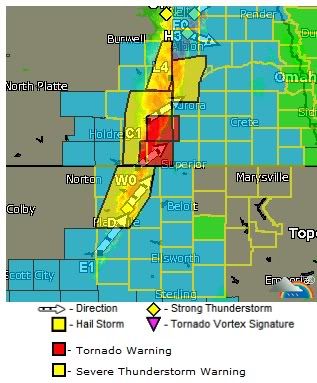 Update 9:27pm New warnings Adams and Clay counties, Nebraska.
Update 9:22pm new warnings-Franklin and Webster counties in Nebraska
Update 9:15pm New warnings, Minnesota-Fergus Falls??
TORNADO WARNING FOR...
GRANT COUNTY IN WEST CENTRAL MINNESOTA...
* UNTIL 1000 PM CDT
* AT 910 PM CDT...NATIONAL WEATHER SERVICE DOPPLER RADAR INDICATED A
SEVERE THUNDERSTORM CAPABLE OF PRODUCING A TORNADO. THE STORM WAS
LOCATED 5 MILES SOUTH OF HERMAN...OR 37 MILES SOUTH OF FERGUS
FALLS...MOVING TO THE NORTHEAST AT 50 MPH.
* THE TORNADIC STORM WILL BE NEAR...
ELBOW LAKE...WENDELL AND BARRETT AROUND 930 PM CDT.
ASHBY AROUND 945 PM CDT.
Update 8:57pm CDT Here is the latest map of tornado warnings from wunderground.com: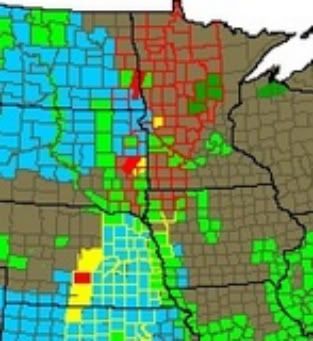 The solid red blobs indicate areas under tornado warnings. If you are located east these areas, be prepared to take shelter immediately.
Update 8:28pm New counties under warning in S Dakota: Brookings, Kingsbury, Lake, and Minor.
Update 7:12pm These are all from a relatively small line of storms. I'm knocking wood now.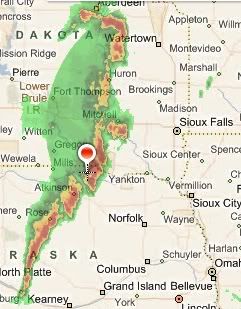 Update 6:50pm Warnings for Buffalo, Hand, Hughes, Hyde, and Lyman Counties have been allowed to expire. Warnings still up for Beadle, Bon Homme, Charles, Douglas, and Hutchinson Counties in S Dakota.
Update 6:44pm CDT
TORNADO WARNING FOR...
CENTRAL HOLT COUNTY IN NORTH CENTRAL NEBRASKA...
* UNTIL 715 PM CDT
* AT 638 PM CDT...TRAINED WEATHER SPOTTERS REPORTED A FUNNEL CLOUD
NEAR ONEILL. A TORNADO MAY DEVELOP AT ANY TIME. DOPPLER RADAR
SHOWED THIS DANGEROUS STORM MOVING EAST AT 50 MPH.
* THIS DANGEROUS STORM WILL AFFECT MAINLY RURAL AREAS OF CENTRAL HOLT
COUNTY...INCLUDING THE FOLLOWING LOCATIONS HIGHWAY 281 MILE
MARKER 190. INCLUDING ONEILL.
Update 6:06pm CDT Another warning for SD-"storm capable of producing" for Buffalo, Hand, Hughes, Hyde, and Lyman COunties. Storm is moving 60mph-these storms are increasing speed.
Update 5:51pm Tornado on the ground in South Dakota, Bon Homme and Charles Mix Counties.
Update 5:43pm-Multiple warning for Nebraska.
TORNADO WARNING FOR...
NORTH CENTRAL HOLT COUNTY IN NORTH CENTRAL NEBRASKA...
* UNTIL 545 PM CDT
* AT 506 PM CDT...LOCAL LAW ENFORCEMENT REPORTED A TORNADO NEAR
ATKINSON...OR 20 MILES WEST OF ONEILL. DOPPLER RADAR SHOWED THIS
TORNADO MOVING NORTHEAST AT 40 MPH.
* THE TORNADO WILL BE NEAR...
MIDWAY AROUND 540 PM CDT.
OTHER LOCATIONS IMPACTED BY THE TORNADO INCLUDE HIGHWAY 11 MILE
MARKER 160 AND HIGHWAY 11 MILE MARKER 170.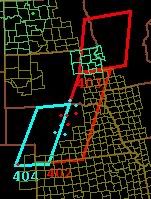 Other affected counties are Brown, Loup, Rock
Update 4:16pm CDT, this warning is in effect for another 15 minutes.
... A Tornado Warning remains in effect until 330 PM MDT for extreme
south central Weld... north Central Adams and southwestern Morgan
counties...
At 312 PM MDT... National Weather Service Doppler radar indicated a
severe thunderstorm capable of producing a tornado. This storm was
located 7 miles west of Hoyt... or 26 miles southwest of Fort Morgan.
This storm was moving northeast at 20 mph.
Locations remaining in the warning include but are not limited to
Hoyt and Adena.
+++++++++++++++++++++++++++++++++++++++++++++++++++++++++++
I can't speak for the weather in the watch area-I can tell you that here in Minneapolis it thunderstormed all morning, then the humidity went from perfectly comfortable to steam bath in about 20 minutes.
I'm putting this up in case something breaks and I want to post about it quickly.
TOR-CON Forecast for Monday, May 30, as of 3:38pm CDT
ND southeast, east-central - 6
SD east - 7
MN northwest - 6
MN southwest - 7
IA west, north-central - 3 to 4 night
NE central - 6
NE east - 3 night
KS west (strip near Dodge City, Hays) - 5
Update 4:08pm CDT-additional tornado watch area posted
Looks like my instinct about Minnesota was correct: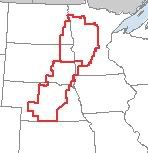 Two things, if you are reading this:
#1 Should there be a separate weather blog to track smaller scale tornado outbreaks? This particular one isn't a Particularly Dangerous Situation (not as of 2:33pm CDT, anyway) but I'm keeping an eye on it anyway. Should there maybe be a "weathernerd" group, open to everybody, for this stuff?
#2 I wanted to post a screen cap of the watch area without grabbing the entire page-how do I select an area from a screen grab and save it as something that I can put out on photobucket??