Come one, come all. Science talk is here. New discoveries, new takes on old knowledge, and other bits of news are all available for the perusing in today's information world. Over the fold are selections from the past week from a few of the many excellent science news sites around the world. Today's tidbits include new normal temperatures for the U.S. as climate change continues, domed dinosaur king of the head-butt, plastic in 'garbage patch' fishes, growing plants on oil contaminated land, new insights into human evolution, and the physics of Tibetan singing bowls. Gather yourselves around. Pull up that comfy chair and bask in the sunshine. There is plenty of room for everyone. Get ready for one more session of Dr. Possum's science education and entertainment.
Featured Stories
With the rising temperatures of the last 20 years U.S. averages are up 0.5F.
Normals serve as a 30 year baseline average of important climate variables that are used to understand average climate conditions at any location and serve as a consistent point of reference. The new normals update the 30-year averages of climatological variables, including average temperature and precipitation for more than 7,500 locations across the United States. This once-a-decade update will replace the current 1971–2000 normals.
Some species of today's creatures use head-butting as a form of combat but a dome-headed dinosaur may have reigned as king of this process.
Head-butting is a form of male-to-male competition for access to females, said Dr. Jessica Theodor, co-author and associate professor in the biological sciences department at the University of Calgary. "It's pretty clear that although the bones are arranged differently in the Stegoceras, it could easily withstand the kinds of forces that have been measured for the living animals that engage in head-butting."

(snip)

The Stegoceras had an extra layer of dense bone in the middle. Stegoceras was a small pachycephalosaur about the size of a German shepherd, and lived about 72 million years ago.

Llamas would crack their skulls head-butting and giraffes aren't very good at it. "They swing their necks at each other and try to hit each other in the neck or the side," said (researcher) Snively. "If giraffes do manage to butt heads, they can knock each other out because their anatomy isn't built to absorb the collision as well as something like muskox or big horn sheep."
The Great Pacific Garbage patch is affecting local fishes as they ingest plastics. About 9 percent of fish were found to have ingested plastic.
The new study focused on the prevalence of plastic ingestion, but effects such as toxicological impacts on fish and composition of the plastic were outside of the study's goals.

The majority of fish examined in the study were myctophids, commonly called lanternfish because of their luminescent tissue. Lanternfishes are hypothesized to use luminescence for several purposes, including counter-illumination (thwarts predators attempting to silhouette the lanternfish against sunlight), mate attraction and identification and illumination of prey. Such fish generally inhabit the 200- to 1,000-meter (650- to 3,280-foot) depth during the day and swim to the surface at night.

Removing oil from soil is a difficult and time consuming process but certain plants may aid that restoration effort.
A first part of the oil is washed out by using a water solution of biosurfactant, and subsequently separated. The collected oil can even be used again. The biosurfactant solution used in the washing process can be applied up to ten times and is easily biodegraded into a common natural compound.

The oil that is still bound in the soil can then be treated with specially selected micro-organisms to lower contamination concentration to a level when phytoremediation can start.

Phytoremediation consists of decreasing pollutant concentrations in contaminated soils, by growing plants able to degrade to an acceptable level or render harmless the contaminants in the soil.
The process is still time consuming and much research remains to be finished but at least steps are being taken to move forward.
New findings show a human ancestor to be older than thought shining a new light on the process of human evolution.
Homo erectus is widely considered a direct human ancestor—it resembles modern humans in many respects, except for its smaller brain and differently shaped skull—and was the first of our ancestors to migrate out of Africa, approximately 1.8 million years ago. Homo erectus went extinct in Africa and much of Asia by about 500,000 years ago, but appeared to have survived in Indonesia until about 35,000 to 50,000 years ago at the site of Ngandong on the Solo River. These late members of Homo erectus would have shared the environment with early members of our own species, Homo sapiens, who arrived in Indonesia by about 40,000 years ago.

The existence of the two species simultaneously has important implications for models about the origins of modern humans. One of the models, the Out of Africa or replacement model, predicts such overlap. However, another, the multiregional model, which posits that modern humans originated as a result of genetic contributions from hominin populations all around the Old World (Africa, Asia, Europe), does not. The late survival of Homo erectus in Indonesia has been used as one line of support for the Out of Africa model.

However, findings by the SoRT Project (Solo River Terrace Project) show that Homo erectus' time in the region ended before modern humans arrived there. The analyses suggest that Homo erectus was gone by at least 143,000 years ago—and likely by more than 550,000 years ago. This means the demise of Homo erectus occurred long before the arrival of Homo sapiens.
Fifth centuryHimalayan instruments often used in religious ceremonies are now serving the interests of science and technology.
A Tibetan bowl, generally made from a bronze alloy containing copper, tin, zinc, iron, silver, gold and nickel, is a type of standing bell played by striking or rubbing its rim with a wooden or leather-wrapped mallet. This excitation causes the sides and rim of the bowl to vibrate, producing a rich sound.

The unique singing properties of Tibetan bowls were utilised as a way of investigating a liquid's interaction with solid materials – a situation that arises in many engineering applications such as the wind-loading of bridges and buildings.

When a fluid-filled Tibetan bowl is rubbed, the slight changes in the bowl's shape disturb the surface at the water's edge, generating waves. Moreover, when these changes are sufficiently large, the waves break, leading to the ejection of droplets.

The new findings could benefit processes such as fuel injectors and perfume sprays where droplet generation plays an important role.
Other Worthy Stories of the Week
Most distant quasar found
Bright galaxy sheds light on early universe
Climate change could spread disease
Bugs penis makes loudest animal sound
Ultimate marine library holds millions of fishes
NASA research offers new promise of water on Mars
Making a spectacle of star formation in Orion
Planes cause more precipitation near airports
La Niña's exit leaves climate forecasts in limbo
Warming ocean layers will undermine polar ice sheets
Pigeons never forget a face
Climate change could change oxygen free seas from a blessing to a curse for zooplankton
For even more science news:
General Science Collectors:
Alpha-Galileo
BBC News Science and Environment
Eureka Science News
LiveScience
New Scientist
PhysOrg.com
SciDev.net
Science/AAAS
Science Alert
Science Centric
Science Daily
Scientific American
Space Daily
Blogs:
A Few Things Ill Considered Techie and Science News
Cantauri Dreams space exploration
Coctail Party Physics Physics with a twist.
Deep Sea News marine biology
Laelaps more vertebrate paleontology
List of Geoscience Blogs
ScienceBlogs
Space Review
Techonology Review
Tetrapod Zoologyvertebrate paleontology
Science Insider
Scientific Blogging.
Space.com
Wired News
Science RSS Feed: Medworm
The Skeptics Guide to the Universe--a combination of hard science and debunking crap
At Daily Kos:
This Week in Science by DarkSyde
Overnight News Digest:Science Saturday by Neon Vincent. OND tech Thursday by rfall.
Pique the Geek by Translator Sunday evenings about 9 Eastern time
All diaries with the DK GreenRoots Tag.
All diaries with the eKos Tag
A More Ancient World by matching mole
Astro Kos
SciTech at Dkos.
Sunday Science Videos by palantir
NASA picture of the day. For more see the NASA image gallery or the Astronomy Picture of the Day Archive.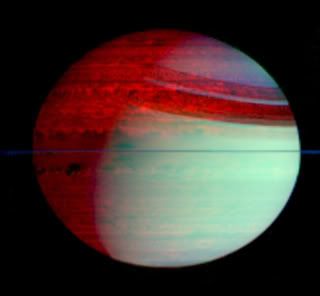 Saturn's clouds, NASA, Public Domain