Last night was fun! It was the very first NYC Dkos Meetup (contrary to whatever Armando wants to try and claim) and we all met at Yaffa Tea House in TriBeCa. To be honest, I thought it would be me and maybe three Kossaks so it was pretty nice to get a turnout somewhere between 20 and 25 people.
JBilger (Joe--who gets extra props for once helping to build the cafe and let Yaffa know we'd be coming. Thanks again Joe) asked me why I wanted to have a meetup, and I told him in no uncertain terms, "I wanted to get more people than Seattle did at their meetup." I think it's safe to say that we've gotten past that first hurdle. What's next is anyone's guess, but we ARE going to continue to meet. This was too much fun not to. Take the poll below on location location location for the next one.
This is JBildi (those are torture images he's holding), Garibaldi and Ask: wonderful fellas one and all.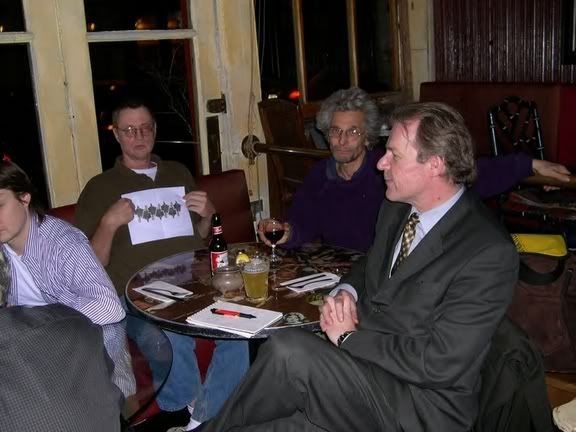 More photos below:
This is Liza and DefJef. Liza is a blogging force to be reckoned with. Keep on eye on this girl, she's got all sorts of great ideas cooking and is organizing a blogger meetup for folks of color in April. DefJef is a very interesting dude. Ask him about his sailing days. Oh the tales he can tell!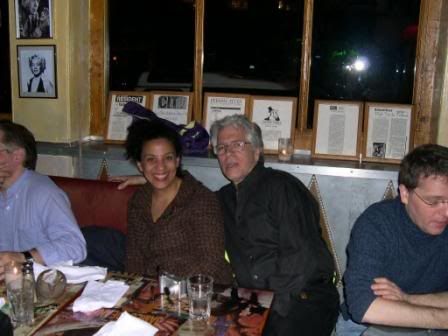 This is my friend KK and a poster here, who wishes to remain an international woman of mystery. KK is the one that Kos barked at for not knowing what a blog is. Well, he really didn't bark, but it's fun to say he did. Actually there were other posters there who left early and talked about what an incredibly nice first impressision Kos made when they met him at The Tank during the RNC. That and that he looked like he's about 14 years old.