[I am reposting this because of the server mishap and diary timestamp mixup, to get this out... thanks!]
SF/Bay Area Kossack's Fiesta Sunday Night
Calling all San Francisco Bay Area Kossacks to join us!
As promised, the location is on the Peninsula. I hope more South Bayers can make it. There are many of you we haven't met.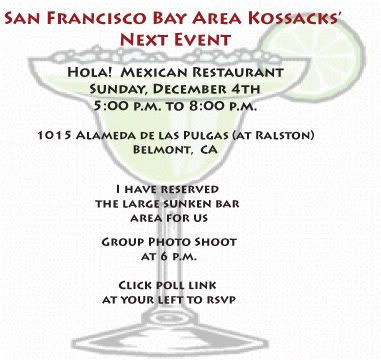 Visit our Yahoo Groups page to use the RSVP poll.
Our next event will be in the East Bay. Please use the thread to make location suggestions.
Past Events:
San Francisco Kossacks Toast Marchers (photos)
SF Bay Area Tilden Park Picnic (photos) recap
28 SFBayArea Kossacks Party in Park! (photos)