Today, President Bush in what was described by the NY Times as an unusual, question-answer session, said he believed that 30,000 Iraqi citizens had died since the start of the most current US war with Iraq. In a later update, the president's spokesman said that the president's estimate was based upon news accounts rather than US government figures.

I recently heard Les Roberts, the author of a formal study of Iraqi civilian deaths, talk about his study. He described how right-wing blogs, corporate media, and a neocon spokesmen for the government trivialized the results of his study. Below the fold I will share the lessons learned from this important study that is ignored in the US media yet cited by the rest of the world as the accepted standard for representing the number of civilian casualties in Iraq.
The president has admitted he doesn't read the
news
, including news weeklies, so he probably got his estimate from someone who reads only US newspapers. US newspapers often cite 30,000 as the number of Iraqi civilian deaths, a number that all scientists agree is a gross underestimate. This number is based on a compilation of published
media
reports. During a war reporters tend to stay clear of the action, and stay holed-up in a (relatively) safe place like the Green Zone. It's hard to count civilian deaths when no one is present to observe.
The only scientific study designed to estimate the number of Iraqi civilian deaths was published just prior to the US presidential election last November. Its estimate placed the number of Iraqi civilian deaths at 100,000 - and this was a conservative estimate that excluded a data sample from Fallujah. If this sample had been included the estimate of the number of deaths would have been closer to 200,000. For context, keep in mind that this study was completed before the US assault on Fallujah and another year of steady fighting.
Several years ago, Dr. Roberts used statistical sampling methods to estimate the number of
war deaths in the Congo.
He and his colleagues sampled clusters of homes in different regions to obtain these estimates. Their findings, which were
cited by Colin Powell and Tony Blair
, were published on the
front page of the NY Times and Washington Post
. Among their findings, they reported that roughly 3 million persons had died as a result of the war and that for every person who suffered a violent death, nearly two persons died from diseases due to displacement by the war. These diseases included primarily malaria and diarrhea. There results and methods were accepted nearly universally.
The study of Iraqi war deaths by the same author, using methodology identical to the Congo study, found a different result for the cause of deaths. This study found that a majority of deaths was due to violence, and that this was true in most provinces in Iraq. Most of these deaths were attributed to strikes by the coalition. The conservative estimate of civilian deaths obtained from these sampling methods was 100,000. 50,000 were estimated to be women and children; the study did not claim to separate fighters/soldiers from the rest of the population.
In contrast to the Congo study, US media essentially ignored or even misrepresented the results of the Iraq study.
The Washington Post on page A12 cited Marc E. Garlasco, senior military analyst for Human Rights Watch, who said that the number of 100,000 appeared to be inflated. They cited his criticism of the study even though he had not seen it. Mr. Garlasco was interviewed by CNN and NBC. None of the study authors was interviewed by television media.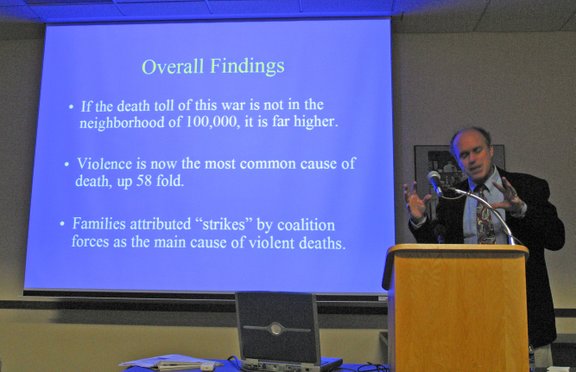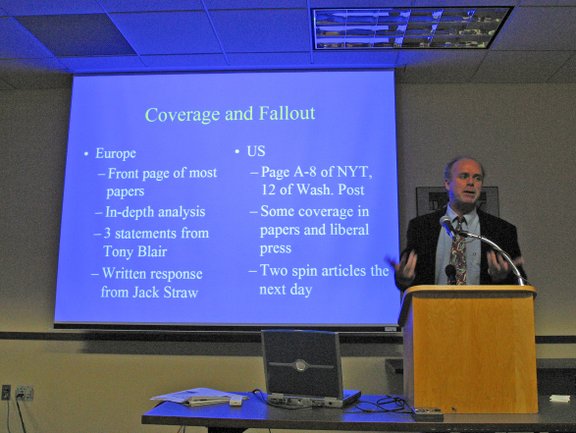 The US government had a quick response to the article as well. Within hours after its publication, a Harvard statistician and
signatory on the PNAC responded with his criticisms of the study on behalf of the Center for Disease Control.
Dr. Roberts, in his talk, noted that the press had not asked President Bush about civilian deaths in Iraq. Given the administration's rapid response to the study it's disappointing that GW Bush has not addressed the issue of civilian deaths in Iraq until today.
Dr. Roberts said he would disseminate his research findings differently than he did if he had a second chance. An important finding of his study -- the finding that the coalition forces are responsible for MOST war deaths in Iraq -- is not disputed. But instead of focusing on this fact, newspapers and right-wing blogs highlighted the confidence interval in the study representing a range of possible deaths. The confidence interval spanned from 8000 to 194,000 casualties. What many persons fail to understand when they hear this wide range is that numbers at the extreme end are highly improbable. And, more importantly, this estimate also does not include the Fallujah data.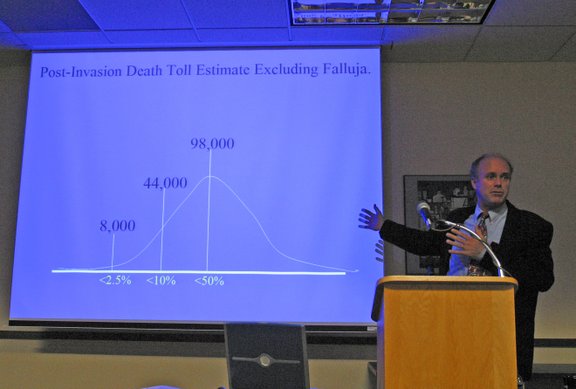 Dr. Roberts said he did not respond to the right-wing blogs because his paper, which was reviewed four times and had every sentence carefully vetted, spoke for itself. His article was published in a highly respected journal, The Lancet. He thought that if he joined in a discussion with the blogs that he or his colleagues might misrepresent an important fact. He now believes that that strategy was a mistake. He believes he should have armed a cadre of colleagues who were experts in his methods to defend the scientific integrity of his work.
Hopefully, someone will conduct a second study which will effectively reduce the confidence interval and give us a better estimate of Iraqi civilian casualties. US and Iraqi citizens deserve to know this information. A study of Iraq war deaths serves several purposes. Dr. Roberts noted that the US government (USG) is responsible according to article 4 of the Geneva Convention for the safety of the Iraqi people. A comprehensive study shows whether the USG is meeting its responsibilities. He believes also, as a US taxpayer, that it's important to assess the effectiveness of policy. Any cost-benefit analysis of pre-emptive war should include an analysis of civilian deaths, especially when the cause de jour is to promote "freedom". And perhaps that's why President Bush's handlers are promoting a figure of 30,000 civilian deaths. A more accurate number would provide US citizens with yet one more piece of evidence that the war with Iraq was a mistake.
Below is a link to an audio file containing the presentation given at the University of Minnesota last November by Les Roberts, one of the authors of a formal study of civilian deaths in the Iraq war. I got the "scoop" on this important story. The media did not attend his presentation. The audience was comprised of about 15 demographers and a handful of members of Women Against Military Madness. The file is large and may take considerable time to download, even with a fast hookup. Most of the statements in this diary are based on the content of this .
MP3 file
.