Jobs in America Volume III - Jobs Growth by Industry
Crossposted at My Left Wing
This is obviously the third in a series of explorations of Job data graciously published by the Bureau of Labor Statistics, therefore here are the requisite links to the two previous posts, which might be of some interest. Volume I covers Unemployment statistics. Volume II looks at employment by age, the fastest growth in employment is in the over 75 crowd, now there is a surprise. Perhaps Medicare D will change that. Yeah right.
Jobs in America - Volume I (or Bush has lost 4.1 Million Jobs)
Screw the Young, they're just lazy Gamers anyway)
On to today's topic, Job Growth (or lack thereof) by industry. Not quite as exciting as exposes of the criminal activities in the Royal Family in the Kingdom of Bribealot, but for those of us peon's who must work for a living, this is reasonably important stuff.
Still with me? There are pretty pictures below, really, I mean it. Want some candy?
Ian Welsh over at BOPNews, had an interesting post on the
"Conservative" Economy
a couple of days ago, in which he compared the effects of the economic policies of the US and Canadian governments on domestic industries. The analysis of data below firmly backs up his assertions. I'd recommend reading the article. Then of course, letting out a little pity sob for the future of our friends to the North (or South in my case), as they appear to be voting in a clone of Buscho. But they are Canandians, eh, and I am a self centered Amuriken who thinks the world revolves around Paris Hilton's post lunch purge, so its back to the US data.
I'm sure when you read the paper or watch the news or have your brain in any way polluted by the statements and press releases from the Royal House of Bush (or it's minions) and see the endless repetition of the evidence of the "success" or "strength" of the economy, your first thought is "Can it really be true".
Of course not dummy. Trust your instincts. The job market has slowed its decline, but has certainly not grown under the reign of King George the II. (Unless, of course, you are a right wing nutjob commentator for CNN) Perhaps, this is the natural outcome of having a King Anointed by 5 old twits in black robes.
More critically, the decline continues in the sectors that will provide a foundation for future economic strength. I of course refuse to back this up with anything, I'll just present the data and let you draw your own conclusions (not cat doodles).
A note on methodology: In order to eliminate the various effects of Unemployment and Labor Force participation classifications, all stats are presented in the form of the ratio of employment to population in the 16-65 age range. This takes into account the increase in population over the reign of King Georgie and eliminates the political machinations, manipulation and mental masterbations which determine who is actually looking for a job. See Jobs in America - Volume I for details and comparisons of various methods. (of data analysis, not masterbation, you gutter minded librul blogger)
So here we go:
A look at the overall Market:
The overall portion of the population employed had declined by 4.8% since January 2001. Service providing industries (including Government Employment) have not faired as poorly, employment has only declined by 2.5% and is beginning to improve a bit. Employment in Goods Producing industries has declined by a whopping 15% and is showing no sign of improvement.
First we'll look at the so called "Supersectors" then below will be more detailed breakdowns by Industry. Bear with me, I know the coffee hasn't really kicked in yet.
Industries doing Well (sort of)
All the news is not truly depressing, there are some industries doing well, or at least climbing back to pre-Bribealot levels.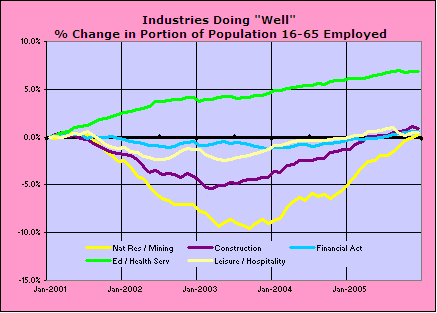 Education and Health Services is booming. Up 7% from 2001 levels.

Natural Resources and Mining have rebounded from a drop of nearly 10% to about even with January 2001, hooray for high fuel prices.

Construction employment is climbing back to 2001 levels, not unexpected given the housing "boom", but surprisingly stagnant.

Financial Services is holding reasonably steady, though not really growing.

The Leisure and Hospitality sector has grown from initial declines in 2002 and 2003, but is showing signs of weakness.

So that was the good news, now we'll work on increasing the sales of Zoloft.
Industry Sectors Performing like King George II thinking on the fly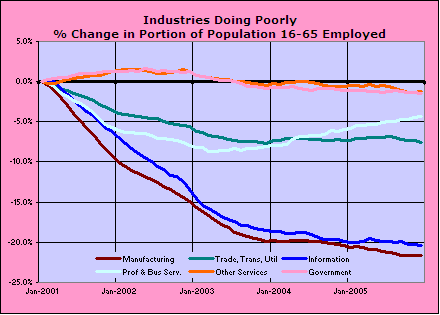 Government and "Other Services" sectors initially increased but are dropping a bit.

The Professional and Business Services Sector initially fell by almost 10%, but is beginning to grow.

Trade, Transportation and Utilities have dropped by about 7% but seem to have stabilized in their decline.

The bottom fell out of the Information Services Sector with a decline of 20%, which has slowed but is still showing signs of further decline.

Of course my favorite, the Manufacturing Sector has dropped by over 22% and continues to decline. The breakdowns below call into question the theory of "productivity gains" at least from an employment standpoint.

Of course, some of the losses in one sector are made up in gains in others, this however, is not always a "good thing". We will explore this further in the next episode, Jobs in America Vol. IV - Income. Plus as seen in the first chart, the overall portion of the population employed has declined significantly.
Now on to some detailed breakdowns. Hit the potty, hit the Fridge, smoke'em if you got'em, check on the kids and let the dogs out. I gotta make some more charts. Which do you want first, the good news, or the bad?
Screw all you gluttons for punishment, we're going to look at the good news first. You'll have to wait until the bottom of the page for the bad news.
Booming Industrial Sectors(or kinda sorta at least showing some signs of life)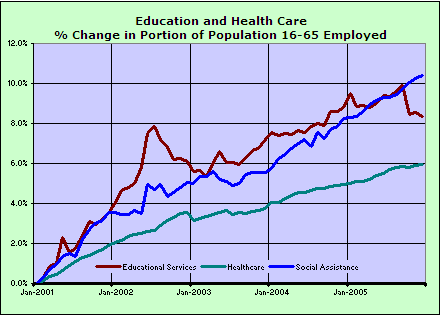 So Healthcare industries are no great surprise, yet Educational Services and Social Assistance Services are growing at a more rapid pace. A fair chunk of this is demographics, we have a growing population of older Americans and a growing set of K-12 aged Americans. There are reductions in post secondary education. If I get around to it I'll break those out as well.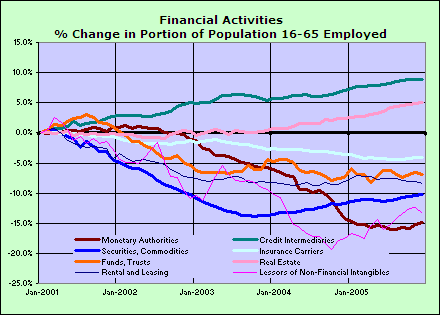 Given the Housing "Boom" (for those optimists around), or the Housing "Bubble" (for those of us who see the bottom of the glass as very weak and are expecting it to break and let all the water out), the increase In Real Estate Services is no great surprise. With all the debt Americans are carrying, the rise of Credit Intermediary Services is no real shocker. All other segments of the Financial Services Sector are not doing quite so well. Given the spew coming out of the right wing talking heads, I'd expect more of a recovery in the Securities and Commodities Sector, but it seems as though the current employment levels can handle the "phenomenal growth" in the markets.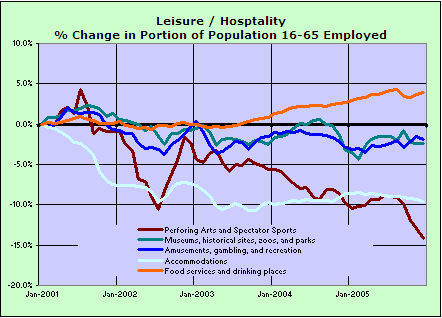 Other than Food Services and Drinking Establishment all other Sectors declined early in the reign of King George II, but are more or less holding their own at this point. Since this is probably the lowest paying Industry sector, too much growth here would be a very bad sign. I, like all patriotic Amerikuns, am of course doing my best to forget who's running this country and by doing my part to support further growth in the Drinking Establishment sector, are you? (No? yorra pinko and ima gonna report youse to the ennsssssay, hey yur kinda hot wanna dance??)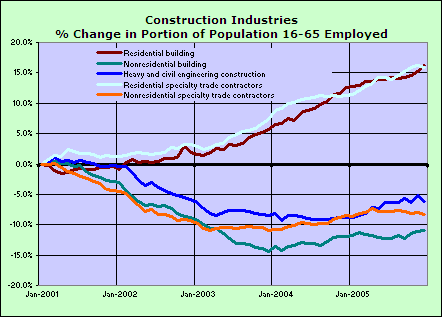 Residential Construction is booming, no surprise there. It would be logical to assert the declines in Commercial and Heavy Construction is due in part to workers shifting to residential, where there is more opportunity at this point. Of course, in general, Residential Construction pays far less than Commercial, Industrial and Heavy Construction. Not to mention this level of employment is dependent on a continuing boom. Which I'm sure shows no signs of weakness whatsover and will continue until global warming reverses and hell freezes over.

The industries extracting natural resources for consumption are a mixed bag. Support activities are increasing at a substantial pace, yet employment in the actual extraction work has remained stagnant after an initial drop early in the reign of the Chimpster. Much of the stagnation in Coal and Non-Coal mining is due to productivity increases. Stagnation in Oil and Gas is most likely due to reserve depletion. Significant declines in logging are due to steep declines in Wood product manufacturing and limited reserves.
Ok, enough good news, now let's light up some clove cigarettes, put on black lipstick and bemoan our lost teenage angst by looking at the industries in decline. Please join me on the dark side.
Manufacturing
Not exactly doing well under the Royal Primate's tutalage.
First the "Woody" Industries (pervert)
Perhaps we really are moving to a paperless society after all. Furnitureless too it seems.
Now on to "Textiles and Apparel" (or for the perv's out there, Coverings for the woody)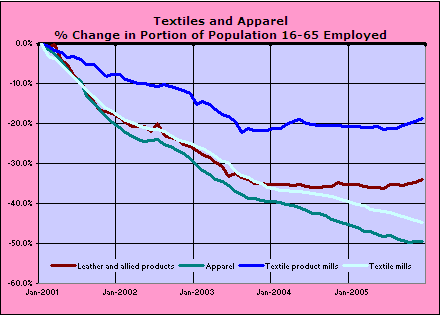 Not exactly a career choice I would recommend. Something about sweatshops in the third world and forced labor and prostitution in the Marianas. It is truly amazing how well this industry has fared under George II.
Process Industries

Going Gangbusters, they've only lost half the workforce as the apparel sectors. The Primary Metals decline is somewhat surprising since steel is selling quite well at the moment. Must be productiity gains, union busting and a lack of investment. Love that supply side theory.
Food, Beverage, Tobacco and Misc
Wow, not even a 20% decline in the bunch, must be hard to import some of the perishable stuff. (I wonder what the #'s would like if the BLS included the "Wacky Tabaccy" industry)
Ok, so those were all some "Traditional" Industries, lets look at some high tech manufacturing, it'll be much better. (Notice how the chart backgrounds are the "Rose" color)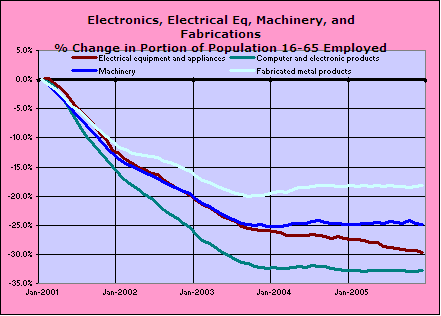 Oops, never mind.
Ok, so High Tech manufacturing isn't going to save us, lets look at Transportation, I'm sure this will give all the union busters out there a lot of ammunition.
What, just about a 10% drop in Light Vehicle manufacturing, I must have partaken in too much of the the output of the "wacky tabaccy" industry. Actually it does make some sense. It costs a lot to ship cars across the ocean, plus logistically its very difficult to offshore and entire operation. Auto parts, on the other hand, are easier to offshore. That of course does not explain the dramtic drop in heavy truck manufacturing. To be honest, I'm not sure why this has occured.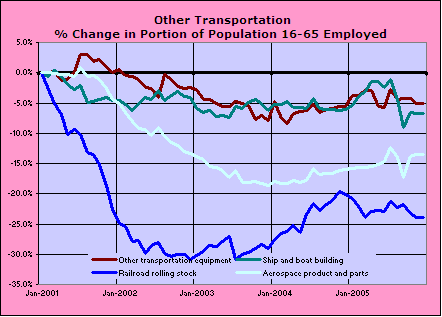 Other transportation manufacturing industries are not quite so healthy. Especially rail.
Ok, so that was the worst of it, this is the information age after all, lets look on the bright side and see how all this innovation in the "New Economy" is going to lift us out of the doldrums and create a new utopia.
Information Sectors
These are combination of what I randomly classify as Traditional and New Economy. Traditional is generall paper based or Broadcast, New would be the internets.
Well dem internets ain't gonna do it folks.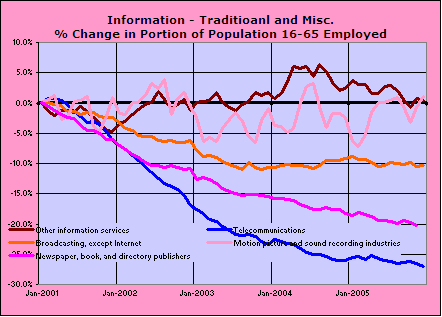 Telecommunications ain't gonna do it either.
So, now that we've burst the New Economy Bubble, lets look at Professional and Business Services. This must be stronger as it's a knowledged based sector, right?
Professional Services is not doing as poorly as some of the rest of the sectors, however I would not consider it to be showing stellar performance.
At this point my eyes are crossed and my head is fried. I'll just blow off the other sectors for now. (Trade, Transport, Utilities, Government and Other Services) No big surprises there anyway.
Next week, wages.