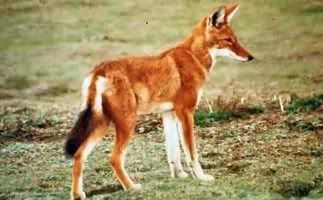 (Canis simensis, 500 individuals left (?) and known by almost as many names: any combination of Ethiopian/Abyssinian/Simien and Wolf/Fox/Jackal. Click photo to enlarge)

Ethiopian red fox needs more protection to survive
An endangered species of red fox found only in Ethiopia may be wiped out unless it is protected from domestic animals bringing rabies into national parks, a senior wildlife expert said on Thursday.
More news on the other side.
The same Reuters article, continued:
Kumela Wakjira, senior expert in Ethiopia's Wildlife Conservation Department, said there are fewer than 500 red or simien foxes in the Horn of Africa country, most of them found in Bale Mountains National Park.

He said over the past two months five out of a population of 200 red foxes had died in the park, suspected of being infected with rabies from dogs accompanying livestock to the area.
This animal is apparently more closely related to the European wolf than to any other species.
More on the world's rarest canid:
Ethiopian Wolf Conservation Programme
A fascinating site.
The man who would save them:
Claudio Sillero-Zubiri
Wolves aren't doing so well in New Mexico either:
Government Reduces Endangered Mexican Wolf Numbers for Third Year in Row
The number of endangered Mexican gray wolves that could be confirmed in the wild declined for the third successive year in 2005 as a result of trapping and shooting of wolves by the U.S. government, conservationists charged today.
~~~~~
"The bureaucracy has spent millions of dollars producing hundreds of pages worth of reports, holding countless meetings, and `controlling' dozens of wolves to placate the livestock industry, and yet it is incapable of following the simple directions of scientists who in 2001 recommended urgent regulatory changes to recover this critically endangered animal," said Michael Robinson of the Center for Biological Diversity.
~~~~~
"The wolves know instinctively how to survive. . .But government wolf control continues to hammer them. The Fish and Wildlife Service hides behind the rest of the interagency anti-wolf bureaucracy and refuses to institute reforms that would bring the Mexican wolf reintroduction program up to the standards of other endangered species recovery programs.

The lobo needs less political management and more scientific management if it is to recover," Robinson added.
From dogs to cats. There is some extremely good news for devotees of Wild Bolivian Pootie. The Andean Mountain Cat has been spotted again. There is an article about the sighting on a Conservation International page. If you google "andean cat" it will pop up. (I've never seen anyone so bitchy about being linked to.)
A little more on the Andean Mountain Cat.
Some of the work being done on the AMC and other small cats is funded by Ian Anderson. Yes, that Ian Anderson.


In India the news has not been so good for cats. They are simply disappearing. Despite the sensational title, an excellent article worth reading in full from the Seoul Times: Indian Tigers Butchered in Broad Daylight
Overnight, 26 tigers in the Sariska Project Tiger Reserve in the northern Indian State of Rajasthan seem to have vanished. India's worried Prime Minister Manmohan Singh, has called for an urgent probe into this mystery.

In Sariska, no tiger has been spotted for the past six months, and the World Wildlife Fund-India has said that most of the 26 tigers that were counted in the last census could have been lost. An intense search recently confirmed the WWF's statement.

In Rajasthan's other Project Tiger Reserve, Ranthambore, it is feared that there cannot be more than 12 tigers against the official figure of between 35 and 47.
The response has been confusion, finger pointing, and of course a new census with new methods:
India's tiger count to bring bad news for big cat
The count comes after the government was slammed by environmental activists following reports last March that the entire population of up to 18 tigers in a sanctuary in western India had been killed by poachers.

"You are right. It is likely to be reduced," Additional Director-General in the Environment Ministry, R.P.S. Katwal, told Reuters when asked if the new count would show fewer tigers compared to the 2002 population of 3,642.

"Their habitat is under pressure as the population (of humans) is increasing," Katwal added.

Some environmental groups believe there are less than 2,000 tigers in India today due to rampant poaching and say the new census figures, if accurate, could show a shocking drop.
(Siberian tiger, Panthera tigris altaica, 400 left (?). Photo © Greenpeace/Daniel Beltra. Click photo to enlarge.)
From North Korea, grotesque snuff films of Siberian Tigers and other endangered animals, apparently with the blessing of Kim Jong Il:
North Korea: Red in tooth and claw
But the tigers are not the only endangered species from the peninsula featured in the film. A lioness is matched with an Asiatic black bear, called by Koreans a half-moon bear because of the white crescent on its chest. The destruction of the native population of half-moon bears is a dark chapter in Korea.

Traditional medicine believes the bear's gall-bladder bile imbues vitality and good health. The bears have been hunted for centuries to the point of near extinction, with only 10-20 left in South Korea. The number of bears in North Korea is unknown but considered low. Currently, South Korea ranks as the world's largest market for imported bear parts.

Another scene shows a clash that ends with a cinereous vulture's talon slashing through the eye of a red fox. The current world population of cinereous vultures is thought to be about 4,000, and they are on the IUCN (International Union for Conservation of Nature) "red list of threatened species". The Korean red fox is thought to survive in small numbers in North Korea but were extinct in the South by the 1960s from poisoning and poaching. However, a South Korean hiker found one dead in a poacher's snare in the Gangwon province in March 2004, and the Ministry of Environment estimates there might be about 100 in existence.
Do we need any more evidence? Something, make that everything, is seriously amiss in North Korea.
A couple quickies from Australia. This is just sad: Call to list koala as endangered species
The Australian Koala Foundation's chief executive officer Deborah Tabart said Australia Day. . . .was the perfect occasion for Senator Campbell and his scientific committee to announce that the national icon was endangered.

She said koala numbers had plummeted to fewer than 100,000 due to urban sprawl, domestic pets, traffic and loss of habitat.

"The clock is ticking for wild koalas, they cannot afford indecision," Ms Tabart said.

"The minister's response to the vulnerable listing has been continually delayed.

"If the scientific committee has made their recommendations, why does the minister need to wait any longer to make his decision?"
And this is sadder:
Fears for devil program
The Tasmanian Devil facial tumour disease that has devastated parts of the island has now been found in the north, near the area from which "insurance populations" were taken for quarantine. The fear is that the doomsday specimens may be contaminated with the disease, which has defied expectations and killed up to 100% of infected adults in some areas.
In Kuala Lumpur, a welcome spirit of cooperation: Nations back elephant action plan
All nations with wild populations of Asian elephants have met as a group for the first time to discuss the species' future survival.
~~~~~
The wild population of Asian elephants is estimated at 30,000 to 50,000.

The three-day gathering was convened by the Malaysian government, and facilitated by IUCN, the World Conservation Union, in an attempt to agree on the best way to protect the remaining elephant populations.
More news from the tropical Asia hotspot: Genes record orangutans' decline
The dramatic collapse of orangutan populations has been linked to human activity, new genetic evidence shows.
~~~~~
Professor Michael Bruford, a senior author on the Public Library of Science journal paper and a conservation biologist at Cardiff University, told the BBC news website of his surprise at the results.

"The genetic diversity of the population showed a very strong signal of a massive population decline," he said.

"This was interesting because we didn't expect it to show that the decline has happened so recently - within the last 200 years."
For those interested, the
PLoS Biology
article:
Genetic Signature of Anthropogenic Population Collapse in Orang-utans
The Public Library of Science is fantastic!
A crash effort begins:
WWF and Honda join forces to save Sumatran rhinos
According to WWF, Sumatran rhino numbers have declined by half in the past decade as a result of poaching. It is believed that fewer than 300 Sumatran rhinos exist in the world, with the last significant populations found only in Malaysia and Indonesia.
~~~~~
"The rhino project will focus mainly on increasing efforts to protect the Sumatran rhino's habitat and reduce poaching through close cooperation with local communities and organizations," added Kavanagh. "We will also focus our attention on research efforts to gain a further understanding of the ecological and biological needs of the rhino."
Did you notice that
local communities
bit? That leads us to our really good news of the week, from Amazonia. Some might put this in the "No, duh" department, but it's my fave of the week:
Satellites Show Amazon Parks, Indigenous Reserves Stop Forest Clearing
In a paper recently published in Conservation Biology (2006, Vol 20, pages 65-73), an international team of scientists, led by Daniel Nepstad of the Woods Hole Research Center and the Instituto de Pesquisa Ambiental da Amazônia, used satellite data to demonstrate, for the first time, that rainforest parks and indigenous territories halt deforestation and forest fires.
~~~~~
While previous studies had queried park managers about reserve performance, this study is the first to evaluate the effectiveness of tropical protected areas against forest clearing using quantitative analysis of satellite data. The group used satellite-based maps of land cover and fire occurrence between 1997 and 2000 to compare parks and indigenous lands. Deforestation was 1.7 to 20 times higher along the outside versus the inside the perimeter of reserves, while fires were 4 to 9 times higher. Indigenous lands clearly stopped clearing in high-deforestation frontier regions: 33 of 38 indigenous territories with annual deforestation greater than 1.5 percent outside their borders had inner deforestation rates of 0.75 percent or less. Few parks are located in active frontier areas (4 of 15 in the sample) than indigenous lands (33 of 38). But parks' and indigenous lands' ability to inhibit deforestation appear similar.

Indigenous lands occupy one-fifth of the Brazilian Amazon - five times the area under protection in parks - and are currently the most important barrier to Amazon deforestation. Some conservationists argue that with acculturation to market society, indigenous peoples will cease to protect forests. But the authors found that virtually all indigenous lands substantially inhibit deforestation up to 400 years after contact with the national society. There was no correlation between population density in indigenous areas and inhibition of deforestation. In much of the Amazon, not only can protecting nature be reconciled with human habitation - it wouldn't happen without the people.

Extensive intact forests on indigenous territories are central to large-scale conservation in the Amazon.
For purposes of visualizing the area being discussed: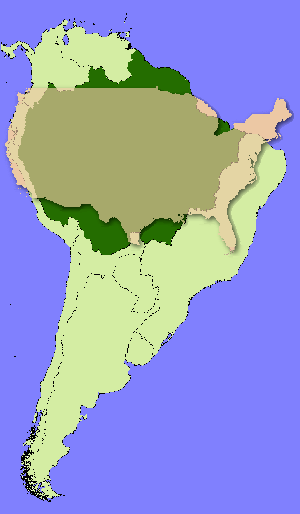 (click to enlarge)
Speaking of the US,
Judge says recovery plan for Colorado River fish inadequate
A federal judge has ruled that a recovery plan for an endangered Colorado River fish isn't good enough.

U.S. District Judge Frederick Martone rejected the U.S. Fish and Wildlife Service plan for the humpback chub, ruling it didn't lay out a timeline for the fish population's recovery and didn't allocate any money to get the job done.

The lawsuit brought by the environmental groups Grand Canyon Trust and Earthjustice sought a more comprehensive recovery plan and argued that the federal government had not met the requirements of the Endangered Species Act.
~~~~~
The humpback chub population in the Grand Canyon has gone down by about two-thirds in the past 13 years, from 10,500 in 1989 to 3,500 in 2002.

The groups suing strongly opposed a part of the plan that would count the population as recovered if there were 2,100 adult fish, lower than when the species was listed as endangered.
Gee, that Act sure came in handy.
I liked this article for reasons that will be obvious: Zoo offers animal lectures
This week's program, "Saving Beetles & Butterflies," deals with the Karner blue butterfly and the American burying beetle, both endangered. Zookeeper Lou Perrotti will discuss efforts by the zoo to save the species.
(Karner Blue, photo USFWS. click to enlarge)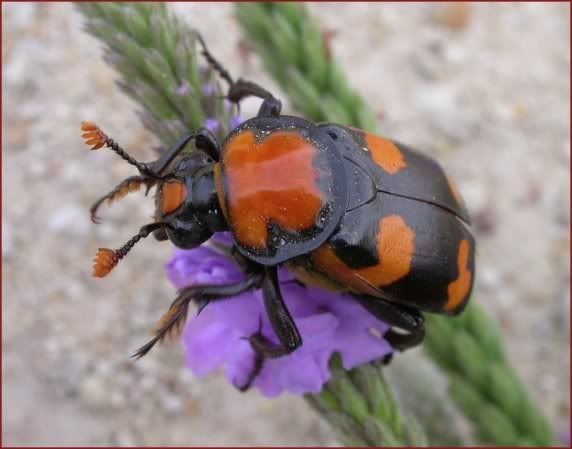 (American Burying Beetle, click to enlarge)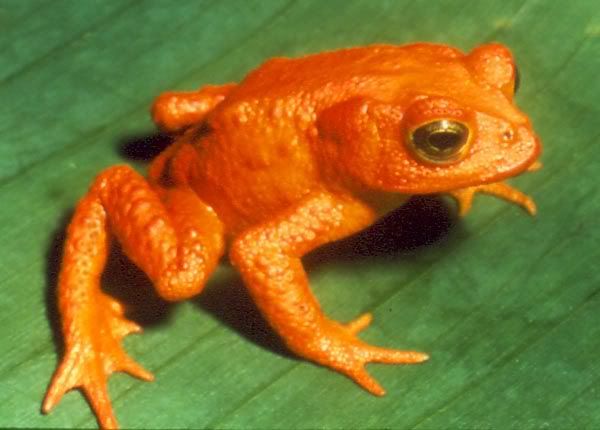 (Golden Toad, one of the first to go. click to enlarge)
And finally (about time, melvin), from Britain, a rather depressing article by Tim Halliday, who studies amphibians: All is silent down at the pond
It is clear that the mainstay of conservation, the protection of habitat, is no longer sufficient to ensure the survival of many species.

There is a widespread culture of denial about this situation, not least among conservationists, who must take a lead in alerting humanity to the current extinction crisis.

The reality is that many thousands of species will become extinct in the near future; so perhaps it is time to face this reality and to replace the 'conservation paradigm' with the 'extinction paradigm'.
~~~~~
What we can and must do is document the decline and disappearance of species that cannot be saved, so that at least some kind of record of them will be preserved.
Updated
Except I don't know how to do it right, and I'm stuck here now. Brought over from an
old diary,
a list of organizations devoted to wildlife and conservation:
Center for Biological Diversity
The Endangered Species Coalition
Natural Resources Defense Council
Global Resource Action Center for the Environment
The Red List of Endangered Species
SavetheEndangeredSpeciesAct.org