Crossposted from
MY LEFT WING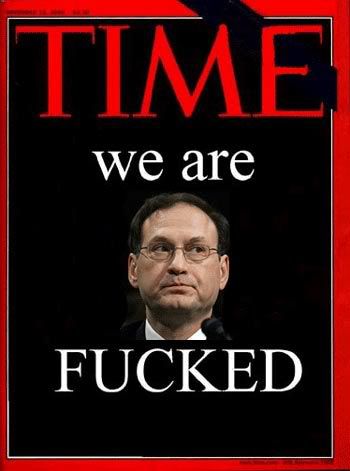 The original text is blockquoted below, but it seems cruelly, viciously ironic to keep it up right now.
What I want is a complete list of every Vichy Democratic Senator who voted for Cloture. That's what I want.



THE VICHY DEMOCRATS


Courtesy of Booman:


Akaka
Inouye
Cantwell
Rockefeller
Byrd
Bingaman
Lieberman
Nelson (FL)
Nelson (NE)
Baucus
T. Johnson
Dorgan
B. Lincoln
Salazar
Conrad
Landrieu
Pryor
Carper
Kohl



I don't know what to DO with this list, not yet -- but I know for GODDAMNED sure I won't be VOTING for any of them, lt alone sending them any goddamned MONEY.
Frankly, right now I'd like nothing better than to torpedo the entire lot of them. Just dump them like so much worthless, leaden, VICHY MOTHERFUCKING BALLAST.
I got nothin', folks. Don't look over here if you want comfort or a nice, uplifting LIVE TO FIGHT ANOTHER DAY speech.
I'M DONE WITH THEM. They are DEAD to me.
Yeah. CANTWELL and BYRD and LANDRIEU and BINGAMAN and every last motherfucking one of them, I'm DONE with them.
I'm registering Independent tomorrow. You're welcome to join me.
ORIGINAL TEXT OF THIS DIARY:

Crossposted from My Left Wing



I just got an extraordinary challenge from a staffer in Jeff Bingaman's office:

2000 calls against cloture to his office in the next 20 minutes and Bingaman will be goddamned impressed enough to reconsider his Yes vote on Cloture.

It didn't occur to me to leave him my name, but I did tell him I'd be making an appeal on the Internet.

Here's the toll-free number (though they'll probably tell you the line is busy): 888 355 3588

Here's the direct number to Jeff Bingaman's office: 202 224 5521

Don't bother arguing, just tell them:

"I'm one of the 2000 people from the Internet one of your recent callers promised you'd hear from in the next 20 minutes, and I'm demanding/requesting/asking that Senator Bingaman vote NO on cloture."

Let's see if this means ANYTHING. Make the call.

202 224 5521