[Cross-posted at
My Left Wing
]
Good morning, and if you have balls, may you not freeze them off. Welcome to Saturday Morning Garden Blogging.
The arctic express has arrived in Denver -- since last Thursday, it's been cold as hell (a phrase which, now that I think about it, makes absolutely no sense). The high yesterday was 12; the low last night was -12, smashing the previous record of -3 set in 1880 -- we're not expected to get above freezing until sometime next week. This is very late for an arctic blast; generally the start of February marks the end of the threat of severe cold.
But before the snow started falling, I caught a couple of early bloomers outside.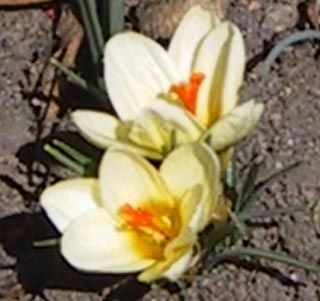 That makes me feel so much better, I think I'll do it again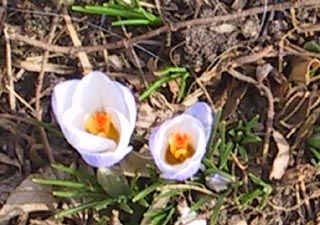 When I go outside, I can see these little purple buggers glowing under the dusting of snow.
A combination of the nasty weather and inconsiderate scheduling played havoc with my plan for this week's garden blogging. On Wednesday, as I only work a half day, I loaded up the camera and took it to work with me, and planned on going to the home and garden show at the convention center when I left work at 10:30 -- the convention center is just a couple of blocks from my parking garage. And then I would have had lots of nice pictures to post, and my excellent narrative on the ridiculous "home improvement" crap I saw (because the "home and garden show" is more about hiring people to do make over your home and do your hardscaping projects, rather than enjoying digging about in your own dirt). Except... the damned show didn't open until 3:00 in the afternoon. There was no way I was going to hang about, or make a separate trip downtown, as the weather worsened, to visit a home and garden show which likely had few displays I was actually interested in (well, except I did want to get some ideas for replacing the railroad tie retaining walls around our front beds).
Rather than waste the opportunity of having my camera with me, I took pictures of some of the art work currently being displayed in our office building, as part of the "Corporate Collection" show.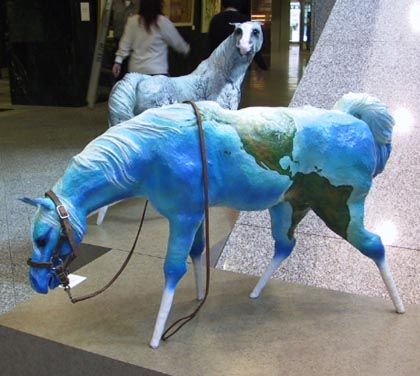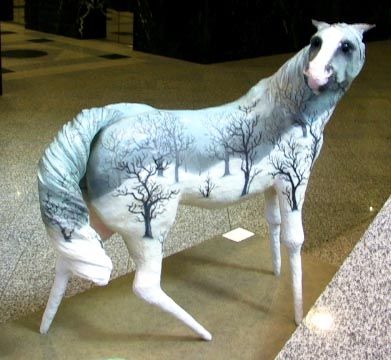 On the left is One World Horse; on the right Bare Trees Horse. The artist is DeDe LaRue (sounds like a stripper, huh?). I was acquainted with her many years ago in the mid-1980's, when she was spray-painting pink flamingos and silly frogs on Capitol Hill dumpsters. She now is a professional artist, and you can see some of her other work at The Dog Gallery. Yeah, I know -- totally off topic. But I've been thrown totally off-kilter by this weather.
Since I couldn't go to the home and garden show on Wednesday, I went to the grocery store instead, and got the stuff I needed to make chicken noodle soup; yup, gotta have a big pot of chicken noodle soup on a cold, gloomy, snowy day.
Mr. Frankenoid says I should stop calling it "soup" -- that it's really chicken and noodles. Perhaps. But I'll persist in calling it "soup". And perhaps you'd like to make a pot of your own, and then you can decide what to call it.
Now, this is 100% homemade soup -- broth, noodles, the whole shebang. And it takes a while to cook. But you don't even need bouillon or canned stock to get a rich broth. I do rely on a food processor and a pasta machine (non-electric) for the noodles, but you can do it without.
Franki's Chicken Noodle Soup

Serves 4 very generously

1 ginormous package of chicken thighs (12 thighs or so)
2-3 large carrots, roughly chopped
1 large onion, roughly chopped
2-3 stalks celery, roughly chopped
2 cloves garlic, crushed
Thyme, basil, oregano, salt and pepper.

Place chopped vegetables into a large roasting pan. Place chicken thighs on top, and roast in a 350° oven for one and a half to two hours, until chicken skin is deep, golden brown. Dump the excess fat off the chicken. Place chicken and vegetables into a large pot (I use my spaghetti pot, with the strainer insert; it makes removing the chicken at the end of cooking easier). Deglaze roasting pan with water, dump in with the chicken, then add enough water to the pot to cover the chicken. Add garlic, herbs, salt (it will take lots and lots of salt) and pepper to taste (I just dump until it looks right; I have no idea of the actual measurements).

Bring to a boil on stove top, then reduce heat to maintain a simmer. Cook uncovered (so you get that great smell all over the house) for at least 2 hours -- 3 or 4 is better -- adding water if necessary to keep chicken covered.

Remove chicken from stock and let cool. Remove meat from the bones (you really don't need to get too excited about that -- just take the easy stuff), and cut into ½ inch chunks. Return to broth and bring to a boil.

Homemade Egg Noodles (machinery assisted method)

6 eggs
drizzle of olive oil
flour

Break 3 eggs into a food processor with dough attachment. Add a drizzle of olive oil, and pulse for a few seconds. Add 1½ cups flour, and mix until flour is incorporated. Continue adding flour a few tablespoons at a time, until dough "falls apart" into small pellets -- keep processing, and it will come back together in a minute or so (if not, add a few drops of water). Repeat with remaining 3 eggs. Divide each mound of dough in half.

Using the pasta roller, feed the noodle dough through, adding flour as necessary, until it forms a smooth sheet. Then run through successive rollers to level 4 (mine is an Atlas roller; I don't know about other brands of machines. Level 4 on an Atlas makes a pretty thick noodle). Cut noodles using a wide cutter, and drop directly into boiling broth. Because the noodles are quite thick, it will take about 20 minutes for them to cook through (although probably not as long at lower altitudes).

Homemade Egg Noodles (hand method)

This takes several hours to do, because without a pasta machine, you have to let the dough dry to a consistency where it can be cut. You also have to have a big table or counter space. I was taught to make noodles this way, so I know it can be done (although machinery makes it soooo much easier and less time consuming).

Mix eggs, olive oil and flour to make a thick dough. Divide into 2 or more sections. Heavily flour a working surface, and roll to approximately 1/16 inch thickness, flipping dough so both sides incorporate flour. Repeat with remaining sections of dough. Cover with light dish-toweling and allow to dry for 2 or more hours, until the dough is dry to the touch and the edges are just beginning to crack.

If the dough is dry enough, you can stack sections on top of each other to cut (if it's not dry enough, the noodles will stick together). Using a large knife, cut dough into ¼ inch strips. Drop in boiling broth. It will take at least ½ hour for the partially-dried noodles to cook.
Gads, that was a hard recipe to write down; I've never thought about how I make soup before. I just throw stuff in and cook it to death.
In the fall, I can't wait for chicken soup weather; now, I just wish the cold would go away. Ah well, guess I'll get my eggplant and cucumber seed ordered, along with some poppies and sweet peas from Select Seeds. Now where did that catalog go?
So, what are you up to this week?