Hi I'm Bob, Bob the Cat. You may know me as the cat that tried to buy Hunter's Rant in the eBay auction. But now in solidarity with LondonYank in her recent diary I've decided to show who I really am and ask for your support for YearlyKos.
Here I am. Aren't I handsome in a Ricardo Montalban kind of way? Don't I look busy in my office?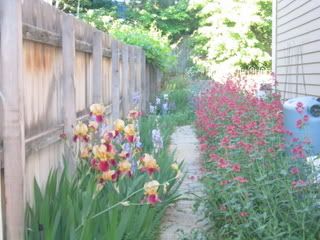 But I digress.
To give you some background I'm able to stay on top of the news because my human watches a lot of CNN, Countdown or is engrossed in the newspaper when she should be petting me. I've come to realize that our country is really going in the wrong direction. I've only been able to sleep 18 hours worrying about it.
But I've got an answer. See my human (the one who keeps talking about how "dreamy" this Olbermann human is) is working on something called YEARLYKOS. As I sit on her lap as she is working on this conference I've learned there are a lot of good reasons you should support and attend this seminal event in the blogosphere (that's a big word, by the way for a cat to type, especially with no opposable thumb to use for the space bar.) Anyways, here are some of those reasons:
* Because face time matters and Yearly Kos is getting ordinary progressive folks face time with our leaders! This isn't a meeting where others control the agenda or where only moderate, concilatory Republican-Lite voices will be heard! This is where you can be heard by leaders, movers and shakers!
* To amplify the voice of the blogosphere during an election year!
* Start building face to face networks with other progressive organizations. Yearly Kos creates another part of our own Left Wing Noise Machine to counter the Wurlitzer of the Right.
* Learn from other bloggers about subjects as diverse as campaign finance reform to progressives and faith.
* Get to know your fellow Kossacks and have fun!
Why You Should Donate Even If You Are Not Going:
* Because you will be helping contribute to live webcasting that you can be a part of. Even from your home you can attend Yearly Kos!
* Your money will go towards legitimizing the Left Wing Blogosphere!
* You are supporting the efforts of your fellow Kossacks to Make a Positive Difference in the World!
* This convention is going to have the Right Wing Blogosphere whining for weeks. Especially when it is a huge success and we announce that next year's will be bigger and better with more raw, untamed liberalism!!!
Okay, you got me. I copied this from AndyT's diary of a couple of days ago. I told you it's hard to type without an opposable thumb.
Anyways please:
BECOME A SPONSOR. Ask for a sponsorship packet by emailing YearlyKos at sponsors.yearlykos at gmail.com
DONATE TO THE EBAY AUCTION Email Hyperbolic Pants Explosion (hey, I once knew a cat in Jersey named that!) at auction.yearlykos at gmail.com
BECOME AN EXHIBITOR Do you have cat toys or Fancy Feast you would like to sell? Then have a booth or tabletop at the YearlyKos Exhibit Hall! Send an email to exhibits.yearlykos at gmail.com for an Exhibitor's Prospectus. (Ed. Note - um, you don't have to have cat related items to be an exhibitor)
And remember, cats rule, dogs drool. (more Ed. Note - this last comment does not reflect this username. At least that is what my dog said.)