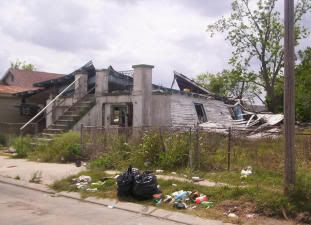 This is what FEMA considers habitable. According to an article in
The Houston Chronicle
, FEMA thinks this home is acceptable to live in, and so its homeowners are no longer eligible for assistance.
The Federal Emergency Management Agency has notified about 8,900 heads of households in Houston, representing more than 20,000 Katrina evacuees, that they will be ineligible for the cash assistance intended to replace a massive city voucher program that has paid their rent.

A common reason was that the evacuees' former homes were now habitable.
Homes like this one:
A team from Houston's Hurricane Housing Task Force, however, conducted a spot check of 43 New Orleans homes deemed "habitable" by FEMA and found 70 percent unfit for occupancy, White said Friday after a briefing by the team.

"Some of our worst fears were realized," White said. "Many of these notices were simply in error. The vast majority of the structures we inspected were not habitable by any standard."
Simply in error? I know FEMA is woefully incompetent but are you telling me that they couldn't tell that houses that have caved in, are missing roofs, and have no electricity or water, are suitable for occupancy? Does it take advanced skills to look at a wreck of a home and determine whether it is livable?
So, what is FEMA doing about this? They are looking into it.
FEMA spokesman Frank Mansell said the agency could not immediately respond to White's comments because its senior officials were still discussing the issues he raised. On Thursday, Mancell had said the agency was reviewing the list of evacuees denied further aid to ensure that it was accurate.

White said that FEMA reversed a small number of ineligibility determinations after learning about the city team's New Orleans visit. FEMA could not confirm that on Friday.
What makes this even worse, people in the poorer areas of NOLA and surrounding communities are having a hard time getting help to repair their homes. I have mentioned before that my ex is doing contruction in NOLA. To hear him tell it, nobody wants to work in the poor or minority communities because the powers that be (FEMA and the Corps of Engineers) make it impossible to do so. It's more common than not that work orders get lost and materials don't arrive. This is not a problem in the more affluent neighborhoods.
So, homes that have been destroyed are called livable and when the homeowner seeks assistance in repairing the home, they find it difficult, if not impossible, to do so.
This is not incompetence. This is no accident.
This is just one more example of the systematic obliteration of a community and its people.



Crossposted at MLW