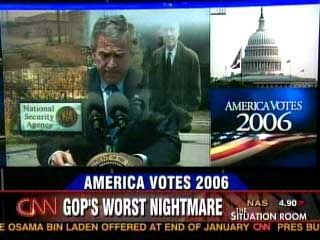 The Ghosts of Future Defeat!



Inside the Fold:

The Full Sunday Lineup

In the Comment Section:

(Video) Lieberman: "opposition to Dubai ports was bigotry"

(Video) RUN!! It's Radioactive MAN !!! Goopers hide from the Leak and Iron Harry calls them "incompetent!"

(Video) Boxer KOs all comers

(Video) Sunday Funnies (4 installments)

(Video) Mary J. is in da house!

(Photo Journal) One Baadasss Reporter

(Video) all this and your weekend candy



60 Minutes: A profile of panda killer Steven Colbert (aka Ted Hitler). Ed Bradley investigates the authenticity of "The Da Vinci Cod" (no, really!) It's sweeps weeks. And a look at leaking radioactivity (no not bush), the Hanford nuclear plant.

This Week: Complete Failure, Condo-liar Rice. Chuck Schumer debates gas prices with former Louisiana senator (and current petro-lobbyist) Bennett Johnston. And in a taped interview, George Clooney on the Darfur genocide.

Face the Nation: More Lies, I mean Rice. Then Maria Cantwell debates ANWR with baby Seal hunter, Lisa Murkowski

Meet the Press: Sec of Energy, Samuel Bodman (who??); Petroleum Pres, Red Cavaney, carnival barker, Jim Cramer; Dick Durbin, and Daniel Yergin, of the Pulitzer-winning book, "The Prize"

CNN: Lies, Lies, Lies, Rice...gonna getcha Then the president of the Strom Thurmond Society, Trent Lott vs Righteous Babe, Barbara Boxer.

Air America's Politically Direct: David Bender celebrates his 1st anniversary with clips and outtakes: Feingold, John Edwards, Hillary, Randi Rhodes, Janeane Garofalo, Al Franken, Whoopi Goldberg and Bobby Kennedy, Jr.

What's Facts got to do with it?? The Reich celebrates their 10th year. Brit Hume still insists he's not running a party organ and how can you argue with him? When he's right, he's right! Just look Sunday's guests: Josh Bolton and Tony Snow. See!!