Frank Zappa, rest his soul, is long in the grave but his words live on !
If you do one thing today or tomorrow, I'd suggest you watch this 30 minute uTube video segment of Frank Zappa, on "Crossfire", in 1986.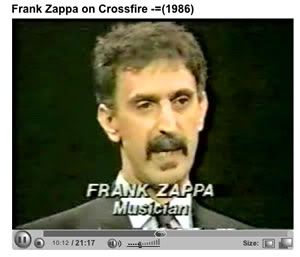 Plus ca change....
The issue then was the alleged harm of dirty rock lyrics. Zappa called the bluff when few supported his position. Bashing dirty rock lyrics, with an underlying allegation that those were "satanic" - was a bipartisan effort that in the end morphed into a minor national hysteria - over an alleged sweeping "satanic" conspiracy - that ruined a number of careers. Frank Zappa tried to draw the line when few were aware of where the line might lie.
The line was empiricism.
There were many on the "protect America's children !" bandwagon but, as you'll see if you watch the firing line video, the whole affair seems to have been in large part a Christian right initiative designed to advance specific talking points alleging that liberals were enabling - through their support of the First Amendment - attacks on the American family.
Twenty years have now passed. How little has changed. Except that twenty years ago Christian rock was almost an oxymoron. Now, we have Christian armageddon death metal bands prancing around onstage next to skulls atop spears and singing paeans to the "templars of doom"...
What would Frank Zappa say ?
The US Democratic Party has long realized that it has been getting clobbered by charges of being antireligious and of insensitivity to religion. That's nothing new. The DNC, under Bill Clinton, once turned to Rabbi Michael Lerner for advice on matters of faith.
Well, that didn't work out so well. In 1994, Newt Gingrich's "Contract With America" Republicans - powered largely by the electoral strategy and GOTV effort of Pat Robertson's Christian Coalition, swept in to take over majority control of Congress. Many on the American left, in their insulated dens of political hibernation, were roused from slumber for a brief moment of shock. Roll the film forward : now, the GOP controls Congress, the Senate, and the White House.
Obviously a new strategy is now in order. Democrats can agree on that...
But, look back to look forward. In one cultural tradition the spirit of that is Sankofa. Let's honor that spirit of remembrance.
Here's where Frank Zappa, in 1986 on Crossfire, said things were headed:
From "Firing Line", 1986

John Lofton: ....I consider this national defense, pal : our families are under attack from people like you with these [music] lyrics

....Zappa: Can I make a statement about national defense? [murmurs of general assent from "Firing Line" commentators]

Zappa: The biggest threat to America today is not communism, it's moving America toward a fascist theocracy, and everything that's happened during the Reagan administration is steering us right down that pipe.
OK, let's once again move forward 20 years :
Frederick Clarkson says that the Democratic Party has internalized key talking points and frames advanced by the Christian right:
Senator Barack Obama's big speech at an event sponsored by Call to Renewal, a group headed by Jim Wallis, author of God's Politics: Why the Religious Right Gets it Wrong, and Why the Left Doesn't Get It -- has received very mixed reviews and is the buzz of the blogosphere. There is much in Obama's speech that hits the right notes regarding the role of religion in a democratic pluralist society, but the speech is indelibly marred by propagating one of the central frames of the religious right.
Here's my question : are we witnessing a replay of the Democratic buy in, to bogus Christian right claims, as happened in the late 1980's ?
The stakes are much higher now. Do we demand that political rhetoric be grounded in empirical fact....
Or do we run away, to again bury our heads in the sand ?