In the 230 years that we have been a nation we have never known a more perilous time. We stand at the threshold of losing this great Republic to an internal enemy more insidious and more dangerous than any external threat we now or have ever faced. The noble dreams of our founding fathers and the struggles of our ancestors may soon come to naught if we don't do something to stop it. We may presently see all the blood, tears, and mortal sacrifice of millions upon millions of American patriots and heroes turned to dust and ashes.
A message for all true patriots after the jump...
We have done too little to restrain our government's excesses, we have failed to demand accountability from our representatives, and we have allowed our precious nation to fall into the hands of corrupt and evil men who are destroying the grand principles upon which she was founded.
I have sworn upon the altar of God eternal hostility against every form of tyranny over the mind of man. ~ Thomas Jefferson
We are guilty of timidity in the face of tyranny. When confronted by evil we blanched and turned away. We stood down when we should have stood up.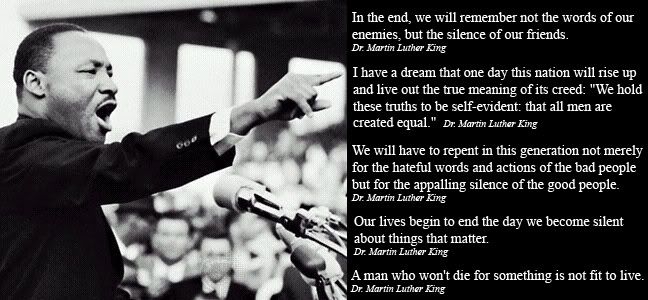 Great Americans are calling from our past for the preservation of freedom and democracy. Will we not hear them? Will we not heed their call?
It is up to us to wrest our country from the bloody grip of the greedheads, warmongers, and war profiteers who have hijacked our government, invaded foreign lands for empire, pillaged the U.S. Treasury, savaged the Constitution, and raped the American people.
The ultimate measure of a man is not where he stands in moments of convenience, but where he stands at times of challenge and controversy. ~ Martin Luther King
If you've had enough of the theft, corruption, torture, and violence - if you like me are fed-the-fuck-up and beside yourself with grief and frustration, take a moment to consider the courage and determination of which a small boy is capable.

DISCLAIMER: Please pretend you don't know the nationalities of these parties as it is beside the point of this diary. The photo is meant only to illustrate the courage of the small - NOTHING ELSE! Also the biblical quotation is not intended as a religious statement or endorsement of any kind. The Bible is also literature after all. Thank you for your cooperation. OPOL :-)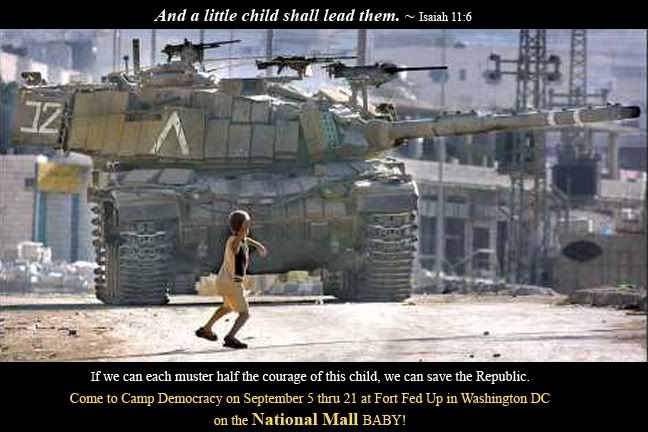 We can no longer afford to sit back in the comfort of our homes and watch the great American experiment perish from the pages of history. We can no longer sit anesthetized by the television, our easy chairs, or our daily struggles. There are some things worth fighting for in this life and our beloved nation is one of them.
Come to Camp Democracy and take a stand for America. History will record what we do here and now. Generations to come will marvel at our success or despair at our failure.
Cindy Sheehan to Move Camp to National Mall

Washington, D.C., September 5 to 21 (changed from 8th to 5th)
Camp Casey to Expand into Camp Democracy

Cindy Sheehan and activists in the growing peace movement plan to establish Camp Casey in Crawford, Texas, again this August 16 to September 2. They then plan to move the camp to the National Mall in Washington, D.C., beginning September 5.

The camp on the Mall will carry the name Camp Democracy at Fort Fed Up, and details are available at www.campdemocracy.org. Organizers intend the camp to bring together peace activists and activists for social justice, united in demanding a shift of public resources from war to the needs of people. Participants will lobby Congress to end all funding of the occupation of Iraq, and will demand that Congress hold the Bush Administration accountable for the falsehoods that launched the war and the abuses of power here at home that have accompanied it.
Let's seize this opportunity to stand up for our children, our grandchildren, and all future generations. Let us demand and procure justice for all. And let us stand up for the right of all people everywhere in this world to live securely in freedom and peace.
And so, my fellow Americans: ask not what your country can do for you - ask what you can do for your country. ~ John F. Kennedy
Let us answer the call of our last great President. Let his noble words pierce the tough scar tissue of our hearts and stir our slumbering souls. This is no time for playing it safe or for relying on others to do the heavy lifting. We must each come to our senses and answer the call of our nation, which is in distress. This is our time. This is our chance to prove ourselves worthy of all that is best in our heritage.
And for the support of this declaration, with a firm reliance on the protection of divine providence, we mutually pledge our lives, our fortunes, and our sacred honor. ~ Thomas Jefferson
This is not the time to take account of what we have to lose as individuals. This is the time to consider what we are about to lose for all posterity as a people and as a nation. We must look to our forefathers for the inspiration to do the right things - and the courage to do the hard things. History is calling us to put ourselves on the line, to risk all that we have to save our precious Republic.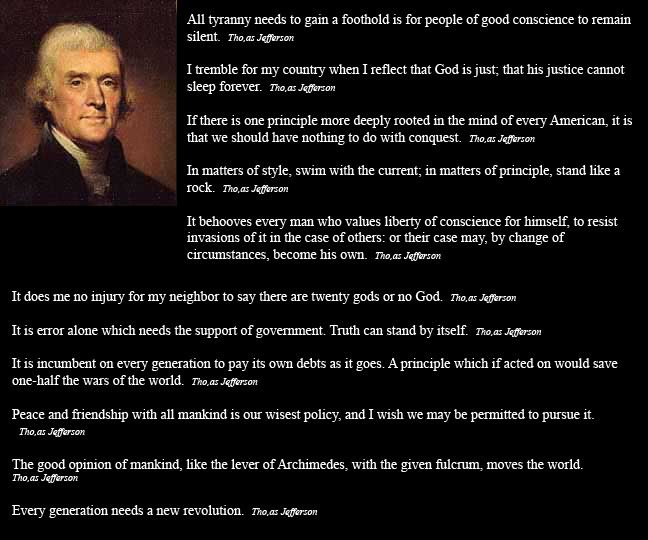 This is our moment brothers and sisters. History beckons but will not wait. Our time is now.
If you love this country, come do your part.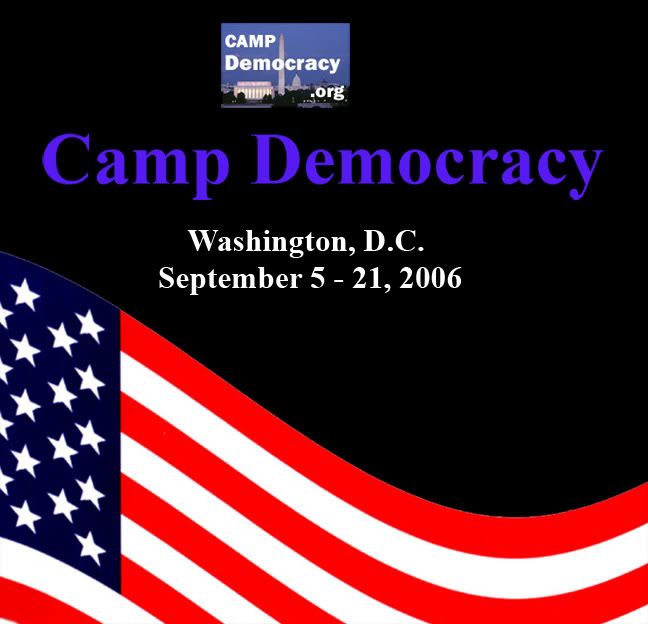 So mark your calendars brothers and sisters. September 5 - 21 in Washington, D.C. The American people are going to be there with a message for the future. Plan to tell your grandchildren that you were there.
Peace out.
OPOL