This is beyond pathetic.
One freeper published
the horrific pictures of those innocent children died in the Israel airstrike. It is no surprise that freepers are celebrating the death of those innocent kids.
Folks, this is the difference between us and those radicals including Hezbollah, bin laden, radical zionists and freepers. We treasure every innocent life, they are celebrating the death of every innoncent life...
After reading those freepers' comments, I am just speechless. Make no mistake, these radical beasts including Hezbollah and freepers are the enemies we're dealing with. They have no souls. They need to be defeated for the decency of humanity.
Horrific pictures...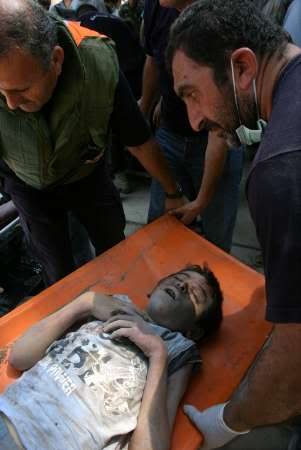 Selective comments from freepers, we need to expose those haters' real identities...
Again, the link to the free republic thread [One freeper published
1: NRA2BFree


It's very sad that those little ones died, but Hezbollah is 100% to blame. They are the ones who built missile silos in the middle of residential areas. I know this will sound tacky, but I'm gonna say it anyway. Those kids would have grown up to be hate filled Islamists whose one purpose in life is to kill Jews, Christians and Americans. Dying before they reach an age of accountability is the best thing that could happen to a Muslim's child. THAT is the only way they can escape the Judgment that is going to fall on their parents!!

30 posted on 07/30/2006 2:25:08 PM PDT by NRA2BFree (Only two defining forces have ever offered to die for you, Jesus Christ and the American G. I.)

2: Lady Jag.


keep talking about the value of innocent life. It's disgusting how they give it no value.
Societies who give life no value are composed of people who want to die. We should kill them.

62 posted on 07/30/2006 2:49:06 PM PDT by Lady Jag (True genius sees with the eyes of a child and thinks with the brain of a genie)

3.: Alouette('Christian' sick)


It's about taking just a moment to mourn the innocent.
How many moments did our GI's take during World War II to stop and mourn for the innocent children of Dresden and Hiroshima?

Everything has its time and its season. After victory, there will be a time to mourn. After a defeat, no mourning will be allowed.

70 posted on 07/30/2006 2:51:59 PM PDT by Alouette (Psalms of the Day: 29-34)

4. Shimmer128:


Forgive me for wondering if it would have been a sad thing if Hitler died as a child. I'm not arguing. I am feeling very philosophical about this. So help me out....would it have been tragic if Hitler had been killed as a child?
Or Sadaam. Or John Wayne Gacy.
Is the potential for terrorism and horror non existent until it occurs?

78 posted on 07/30/2006 2:56:06 PM PDT by Shimmer128 (A

5. caryatid

I am not unsympathetic; nor do I dislike children.
However ........ I would have to have the term "children" defined. The way "they" usually define it is "anyone under the age of 18".

How many of the "innocents" were truly children ... say, under the age of 10 or 11 ... and how many of them were older ... potential, if not actual, suicide bombers?

We must all beware of propaganda ... from outside sources as well as from our own news media.

123 posted on 07/30/2006 3:19:09 PM PDT by caryatid (Jolie Blonde, 'gardez donc, quoi t'as fait ...)

We should definitely track down the true identities of those freepers who advocate violence and glorify the death of innocent children. There is no difference between these beasts and Nazis, Bin Laden etc. We should hold freerepublic accountable for those comments full of hatred and violence... I suggest we should set up a team to monitor and record every freeper hater. Folks, don't underestimate them. I have no doubt if they can get away, they will have no problem killing every liberal.