by GreyHawk, luaptifer, Intranets, and wanderindiana
Cross posted at ePluribus Media
Ah, love is in the air.
While springtime is normally the time for lovers, the approach of the 2006 November elections amid the current political turmoil in the world has already made for some strange bedfellows. Politicians primp and preen, cutting deals and kissing babies -- and sometimes each other -- as they form new alliances and adopt new (old) strategies for staying afloat on the ever-changing seas of Fortune.
Now, perhaps, is a good time to pause for a moment and examine in detail one of the most ubiquitous symbols found throughout our culture -- the kiss -- particularly with regard to the various meanings it often conveys to the public in both physical and written expression. When taken in context of modern day politics, like the recently-failed primary bid of Joe Lieberman, such an examination can result in very enlightening -- and potentially sinister -- associations.
You must remember this
A kiss is still a kiss

-- Herman Hupfeld, "As Time Goes By" circa 1931
see Notes, below
The tradition, meaning and symbolism of a kiss spans thousands of years of human history. Culturally, deals between two parties have been "sealed with a kiss" while others have been betrayed by a kiss. "The kiss of death" and "a kiss, a lick and promise" hold vastly different connotations than a simple platonic kiss of greeting. The kiss between lovers differs substantially than the kiss between friends. Parents kiss their children in what can be interpreted as signs of affection and love, possibly mixed with a blessing and prayer of thanks to whatever benevolence granted them their little ones. In political circles, a kiss can be anything from a greeting to a promise, a welcoming sign of approval or a threat. It can also signify an ongoing, growing collaboration.
With all those potential meanings to choose from, then, what kind of kiss would you call this? let's compare one type of traditional greeting and acknowledge between two grown men to one that involves a kiss. First, take a look at this: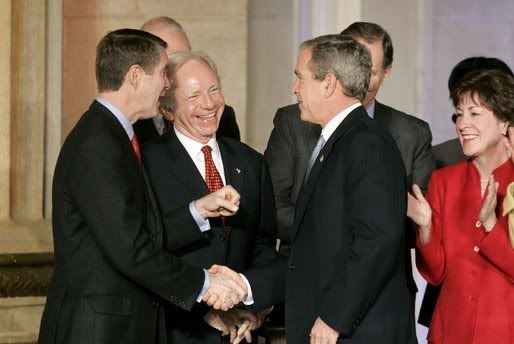 President George W. Bush talks with Senators Bill Frist, R-Tenn., right and Joe Lieberman, D-Conn., during the signing ceremony of S. 2845, The Intelligence Reform and Terrorism Prevention Act of 2004, in Washington, D.C., Dec. 17, 2004.
<==White House photo by Paul Morse
Photo by GERALD HERBERT/AP ==V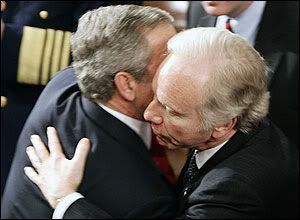 Now compare it to this one: Aren't those sweet?
Cute couple, aren't they?
A completely innocent interpretation of them may lead one to believe the hype coming from the GOP and the Lieberman camp that Joe -- poor Joe, who just lost his Democratic primary bid -- is actually just a sweet guy who honors and supports his president even though they are from different sides of the aisle. Joe, a "bipartisan" Democrat, and George, a "conservative" Republican. Now that Joe's suffered a defeat at the hands of Ned Lamont, wouldn't it be sweet of Karl to jump on the bandwagon and lavish Joe with a kisses too, and perhaps a website to help him in his bid for independence? A catchy domain name like "ISupportJoe" or something like that...
After all, it's all completely innocent and all done in good faith, isn't it?
Unfortunately, things are often not as they seem. Many people both in and outside of the Democratic Party point to Lieberman's record during the past five years and believe that Joe has compromised more of his principles than originally meet the eye. Those self-same critics perceive the kiss as something more than simple support and camaraderie.
What's worse, they might be on to something.
As the Tuesday primary race approached, and in particular while votes were being cast, Lieberman knew he was in for the fight of his political life. A few incidents arose that, frankly, smacked of typical Republican dirty tricks. Additionally, as the primary drew near, neoconservative pundits did whatever they could to cast Lieberman into a "good Democrat" light. Something fishy appeared to be going on, and many politically savvy progressives began to take a closer look at the situation.
To many, it began to look that Lieberman really was more of a puppet on a string for the GOP than a Democrat who strove to seek a bipartisan middle ground.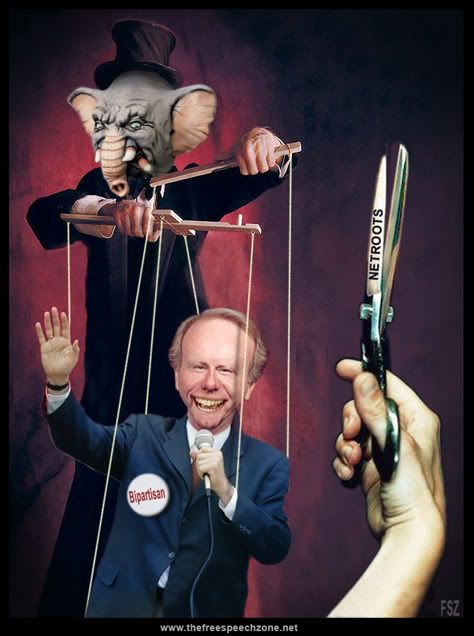 As the Connecticut Senate Primary got into full swing on Tuesday, folks in the Lieberman camp cried "foul!" and accused Lamont supporters of crashing their website. Accusations immediately flew that the capacity of the Lieberman camp to communicate with their "base" were hindered; email was apparently down in addition to the campaign website. The news media, forever complicit in their inability to fully investigate and cover a story with any degree of hard-hitting depth that we once cherished, immediately -- and blindly -- repeated the charges. As sites like TPMMuckraker, DailyKos and Wonkette began to investigate, a disturbing pattern began to emerge.
The Lieberman site was still responding to network requests. The email server was still processing requests. An email went out to all the supporters during the supposed outage, in fact, informing them of an after-event for that evening.
The progressive blogosphere began to unveil their findings. Even as Joe Lieberman called in the FBI to investigate the purported "hacking" of his campaign site, screenshots of evidence began to pile up that strongly suggested there was a more nefarious pattern to the events.
Could this all have been staged? Would this soon be proven to be nothing more than "another Republican plot" to stir the masses in preparation of some new strategy to control the upcoming November vote so that the GOP could try and retain control of at least one house of Congress?
You betcha.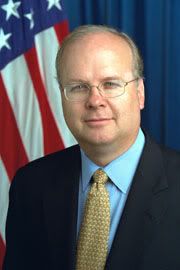 In the past few years, the pitch and tenure of "dirty politics" has reached new levels of insidiously deceptive practices. One of the "masters" of deception and chicanery now serves in an exceptionally powerful position under the highest office in the land: Karl Rove, Deputy Chief of Staff, Office of Political Affairs.
Some of Karl's "classics" include stealing letterhead from the campaign headquarters of one rival, then printing up and distributing official-looking documents alerting people of a non-existent party. Another example -- a bit more recent -- is staging the discovery of a "bug" in his office during George Bush's campaign for governor. It was quickly discovered that the bug's battery had to be changed every few hours, thus implicating Karl as the person who planted the bug in the first place -- investigators believed he staged the whole thing.
What lengths will Karl go to? Just about any.
Inside, Rove was talking to an aide about some political stratagem in some state that had gone awry and a political operative who had displeased him. I paid it no mind and reviewed a jotted list of questions I hoped to ask. But after a moment, it was like ignoring a tornado flinging parked cars. "We will fuck him. Do you hear me? We will fuck him. We will ruin him. Like no one has ever fucked him!" As a reporter, you get around--curse words, anger, passionate intensity are not notable events--but the ferocity, the bellicosity, the violent imputations were, well, shocking.

-- Karl Rove, as overheard by Ron Suskind and related in his article "Why Are These Men Laughing?" (Esquire, 1 January 2003)
That pretty much says "nothing is sacred" to me.
Karl's personal touch is rarely evident in any of the strategies that he implements, but he is -- and remains, even after information surfaced that implicated in the 2004 outing of an undercover CIA agent -- the driving force behind Republican strategies. In the [2000? 2004?] Presidential election cycle, the GOP funneled money through various avenues to bolster the bid of a Green candidate, knowing that this would chip away at the support for the Democratic candidate. It's a tried and true method, one which works.
And that is one reason why the curious case of Joe Lieberman's failed primary bid, and promise to run as an independent Democrat, all the more interesting.
"There is no precedent in any modern White House for what is going on in this one: a complete lack of a policy apparatus," says DiIulio. "What you've got is everything--and I mean everything--being run by the political arm. It's the reign of the Mayberry Machiavellis." -- John DiIulio, as relayed in Ron Suskind's article "Why Are These Men Laughing?" (Esquire, 1 January 2003)
"Mayberry Machiavellis" -- I like that. I just wish it was funnier, and not in the "What the hell are they doing to my country?" sort of way.
At this point, one might wonder how all of this ties together with Lieberman, and how strong those ties are. Don't worry, we're almost there.
This morning, in the face of the "stunning" defeat of dear old Joe, George Stephanopoulos of ABC News announced
According to a close Lieberman adviser, the President's political guru, Karl Rove, has reached out to the Lieberman camp with a message straight from the Oval Office: "The boss wants to help. Whatever we can do, we will do."
How nice of the White House to offer such assistance. In fact, according to The Hotline blog, others in the GOP announced that they, too, felt for Joe and would be willing to help him out:
GOPers Thinking Of Lieberman Support Following up: A senior Republican official in Washington confirms that the party might encourage Republicans and others to support Sen. Lieberman if he runs as an independent. There's no sense, just yet, about what those signs and signals might look like. Says the GOP official: "I just think there will be folks who want to support - regardless of what we think. And, we don't think that's a bad thing." And Kevin F. Rennie reports that some GOPers in CT are thinking about ways to financially support Lieberman's independent bid.... [MARC AMBINDER]
Doesn't this just give you the warm fuzzies?
...it shouldn't. In all likelihood, this is every bit as carefully choreographed and pre-planned as any of the George Bush photo-ops (remember those? -- like the "Mission Accomplished" carrier landing, or the survey of Katrina damage with 90 or so firefighters?).
Remember the accusations that Lieberman and his people made regarding his site being hacked? At one point, while investigating bogus reports of email services being down, SmokeyMonkey from DailyKos noticed that someone was changing the DNS / MX records for the Lieberman camp -- adjustments they were making themselves, not as a result of any hack attack. Added in the full functionality of the other sites that are based on and hosted from the same server, and the smoke begins to rise.
And then there's the little matter of a new web domain that was recently registered...
Keep your eye on ISupportJoe
Keep your eye out on ISupportJoe. Someone else is.
Just days ago, ISupportJoe was reserved by an anonymous someone for the key top-level domains dot com, dot org, and dot net. None host webpages when we last checked (possibly untrue by the time this goes public, the story has evolved rapidly since first draft).
Maybe it was someone in Joe Lieberman's campaign preparing to make a last-minute Internet pitch that would put Joe over the top against Ned? The primary was Tuesday, August 8, but there are still no webpages presented. So that makes little sense.
Who KNOWS? We don't for sure.
Events on the day of CT's primary along with Joe Lieberman's happy concession speech and inspired announcement for his run as an independent Democrat firm our speculation that operatives close to the Republican National Committee will have a hand in whatever webpages show up at these domains in the future. Faster moving events, today, move towards confirming what was speculation last night.
It's possible that this report, itself, may lead to changes in current plans but we considered that these domains could go live as Joe played out the faux hacking of his website on Tuesday. The ISupportJoe.com domain went live at the IP address 64.203.98.195 after results of the CT primary came in sometime overnight.
Why this assertion?
When you surf the Net and your browser loads the Wikipedia homepage from a recognizably plain-language website name Wikipedia.org, it's because you requested it by link-clicking or typing the URL. By the time you see Wikipedia, your click has been tranlsated by name servers that are part of the domain name system (DNS). Your request for pages from "Wikipedia.org" can be processed by its servers only after the request makes it there, helped by translation of Wikipedia.org/page.html to computer-understandable Internet Protocol address "207.142.131.202/page.html". A primary name server tells the rest of the world's computers, 'yeah, 207.142.131.202 is right here and is known as Wikipedia.org'. And organizations that run many websites will typically use the same DNS service for all of their domains which is frequently provided by the webhosting service provider. Likewise, the same IP address may host multiple domains and be provided service by multiple name servers.
Although it's a special organization in many ways, the RNC/operatives are typical in choosing to provide name service for many of their domains through the same DNS servers that were originally selected by whoever registered ISupportJoe.com, ISupportJoe.net, and ISupportJoe.org. Since first draft of this story, roughly 12 hours, all ISupportJoe domains have been reassigned from the SMARTECHCORP name servers to new name server systems.
ORIGINALLY
Domain Name: ISUPPORTJOE.COM
Domain Name: ISUPPORTJOE.ORG
Domain Name: ISUPPORTJOE.NET
Registrant:
Domains by Proxy, Inc.
DomainsByProxy.com
15111 N. Hayden Rd., Ste 160, PMB 353
Scottsdale, Arizona 85260
Registered through: GoDaddy.com, Inc. (http://www.godaddy.com)
Created on: 03-Aug-06
Expires on: 03-Aug-07
Domain servers in listed order:
NS1.CHA.SMARTECHCORP.NET
A.NS.TRESPASSERS-W.NET
-----
CURRENTLY
Domain Name: ISUPPORTJOE.COM
Domain Name: ISUPPORTJOE.ORG
Domain Name: ISUPPORTJOE.NET
Domain servers in listed order:
NS47.1AND1.COM
NS48.1AND1.COM

The ISupportJoe domains have been assigned to the same name servers that help web-surfers make their way to pages of such illustrious RNC favorites as get their Internets service from expert operative Becki Donatelli and Campaign Solutions:
campaignsolutions.com - ePM cite
committeeforjustice.org - ePM cite
counterclintonlibrary.com
deathtaxrepeal.com - ePM cite
frontpagemagonline.com - ePM cite
judgespac.org
judicialnetwork.com - ePM cite
reaganalumni.com
reagansrevolution.com
rememberronaldreagan.com
stophillarypac.com
whereisbobcasey.com
Domain Name: CAMPAIGNSOLUTIONS.COM
Registrant:
Campaign Solutions

Administrative Contact:
Donatelli, Becki
118 North Saint Asaph Street
Alexandria, VA 22314
703-684-3435 fax: 123 123 1234
Domain servers in listed order:
NS1.CHA.SMARTECHCORP.NET 65.172.162.66
A.NS.TRESPASSERS-W.NET 209.61.172.168

It may be that whoever purchased Joe's domain names on August 3, 2006 had some average Joe in mind. And we can't know who registered the domains because they used a proxy service to ensure their identity remains private. So, heck, the RNC may have nothing to do with this, thousands of sites use the same domain name servers.
But, in light of the occurrences of the last 24 hours and our experience of the RNC and Campaign Solutions Internets technologies it's increasingly likely that someone at the GOP maybe thinking that some special Joe somewhere may soon need some support.
Less than a week after those convenient domain registrations, we know of one particular Joe who just became a likely candidate for independent support:
Sorry, Joe. WeSupportNed, instead.
Update [2006-8-9 22:11:25 by wanderindiana]: Since this article has been written, the domain registration has been changed from a SmartechCorp webserver to 1&1 webserver. You can check NetCraft (netcraft.com) to verify the original IP address assigned was in fact originally Smartechcorp. It makes you wonder why move it to a generic 1&1 webhosting plan.
Domain Name: ISUPPORTJOE.COM Created on: 03-Aug-06 Expires on: 03-Aug-07 Last Updated on: 09-Aug-06 Domain servers in listed order: NS47.1AND1.COM NS48.1AND1.COM
Searching for isupportjoe.com A record at ns47.1and1.com. Domain Type Class TTL Answer isupportjoe.com. A IN 10800 82.165.205.169
Notes:
Full Lyrics to "As Time Goes By"

[This day and age we're living in Gives cause for apprehension With speed and new invention And things like fourth dimension.

Yet we get a trifle weary With Mr. Einstein's theory. So we must get down to earth at times Relax relieve the tension

And no matter what the progress Or what may yet be proved The simple facts of life are such They cannot be removed.]

You must remember this A kiss is still a kiss A sigh is still (just) a sigh The fundamental things apply As time goes by

And when two lovers woo They still say: "i love you" On that you can rely No matter what the future brings As time goes by

Moonlight and love songs - never out of date Hearts full of passion - jealousy and hate Woman needs man - and man must have his mate That no one can deny

It's still the same old story A fight for love and glory A case of do or die The world will always welcome lovers
As time goes by

Written by Herman Hupfeld, circa 1931