With the rapid growth and Islamization of its muslim citizens, many European nations realize today that the expected process of integration failed in the Muslim population. Negative immigration and natural growth of native Europeans raises a serious alarm : are Europe's culture and identity facing a Gaussian blur? Or even worse : is Europe on its way to become Bat-Ye'or's Eurabia? Part 1.
"Muslim integration in Britain has come to a standstill."
This is the conclusion that was reached after a most
extensive survey
conducted in Muslim Britain by UK's Channel 4 programme "Dispatches". The survey describes a frightening, but very real, situation: while other immigrant communities seem to progressively integrate with time, Britain's Muslims are disengaging themselves from their nations. 2nd and 3rd generation Muslim are more observant than their parents and have a stronger belief in the values of Islam than in the values of Britain. As many as three quarters of Britain's Muslims believe that Shari'ia law is preferable to the laws of the land, and about the same percentage believes that freedom of speech has to be limited in order to prevent any insult to their religion and their prophet. These trends aren't restricted to the uneducated and poor - many of Britain's educated Muslim agree with this and are even highly active in the matter, as demonstrated. ("Youtube" has the entire programme , accessible from the link attached.) Plus , a
link
to the programme's website for your convenience.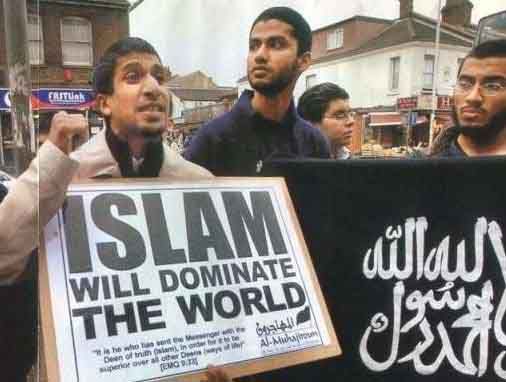 This worrisome trend is accompanied by A. : fierce Muslim immigration that threatens to tear the very foundations of some European societies. Britain is expected to recieve up to
250,000 immigrants
every year, whose vast majority are Muslim. Immigration control institutions raise the alarm:
Sir Andrew Green, the chairman of Migrationwatch, said the figures were "staggering." "They totally demolish the Government's claim that it has a `managed migration' policy. In fact they show that immigration into the UK is out of control." British citizenship has been granted to nearly one million foreign nationals since Labour and Tony Blair came to power in 1997. "Grants of citizenship have quadrupled under the present Government. This is a direct result of their `no limits' immigration policy." "Immigration on this scale is changing the nature of our society without public consent. It is no longer acceptable."
[Source : The Brusseles Journal : http://www.brusselsjournal.com/]
and B. : the
relocation
of native British to the suburbs and smaller towns, thus increasing the
segregation and minorization
.
Some Muslim enclaves in Britain have become "no-go" zones for non-muslims.
In oldham , "Asian youths" put up signs warning white people not to enter. (
source
)
In Bradford , Hindu immigrants are slowly being driven out by the local Muslim population. The local Hindu population describe the process the Bradford in undergoing as "Talibanization". (
source
)
In an online article , former Muslim dr. Patrick Sookhdeo warned that Muslims will soon be able to form a state within a state and live by Shari'ia law instead of local law. He said that the ICE (Islamic council of Europe) set this goal in 1980. The article was removed for "legal reasons". (
source
)
We must ask ourselves : is the formal establishment of Shari'ia law as some alternative to british Muslims the next step? (
story
: Polygamy in Muslim Society)