For the past couple of weeks, the drumbeat of war has been reverberating louder and louder here in the Cave of the Moonbat; tonight will find us moving the argument from the parlor to the field of battle.
Once-strong parties
have devolved into panderers and wafflers,
Compromises
have been made and abandoned, and moral certitude has somehow become the foe of literalist interpretations of the Constitution. In fact, by this point, all a country would need to spark a civil war would be a paralyzed government, a poor leader, and a tortured legal judgment or two.
Join me, if you will, in the Cave of the Moonbat, for a look at the second-worst presidency in our history - a chief executive so poor at his job that even today, a handful of court historians (in FauxNewspeak, "some people") still assert that he out-sucks George W. Bush. They're wrong, but the fact that they can even make the argument ought to tell you something...

Cross-posted at Progressive Historians
The violence, strife, and dissention of the 1850s called for a great leader, a person of strong conviction who had the imagination and the will to see the nation through one of the greatest-ever threats to its existence, but the voters delivered something else instead. It wasn't entirely their fault, as the political parties - one straightjacketed by the near-instinctual need to pander to the traditional power elite, the other rip-roaringly youthful and ardently sectional - the other had offered up some pretty lame candidates.
Both James Buchanan (old-school D-Pennsylvania) and John C. Fremont (neophyte R - Western frontier) had been chosen by their respective parties based primarily on the fact that neither had anything to do with Bleeding Kansas. Fremont had served only a couple of years as one of California's first duo of Senators, and "Old Buck" was safely distant as America's minister to England during the Pierce administration, so neither had ever had to take public stands on the extension-of-slavery question. It'd be like our contemporary parties running two people who had never expressed a public opinion on Iraq.
The Last Democrat
Buchanan did not achieve a majority of the popular vote - nearly a quarter of the electorate, mostly ex-Whigs, was siphoned off by the hardcore nativist American Party and their no-longer-Compromise-of-1850'n Millard Fillmore) - but he easily carried the Electoral College over Fremont, whose support did not extend very far south. All of the whopping six hundred votes "The Pathfinder" received from slave states came from Delaware and Maryland, but his support grew more strident with every mile that one traveled north. The Republicans claimed 1856 to be a "victorious defeat" with some justification: it was quite clear to all concerned that all it would take to seat a Republican in the White House in 1860 would be to get just one of the big northern states - maybe Illinois or Pennsylvania - to flip.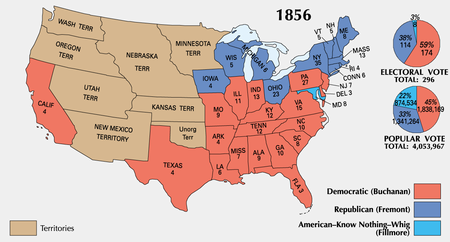 While the revamped Know-Nothings skirted the slavery issue by scapegoating recent immigrants and refugees from the Irish Potato Famine, and the Republicans openly preached abolition - "Free speech, free press, free soil, free men, Frémont and victory!" - Buchanan and future ski-town namesake John Cabell Breckenridge boldly deferred the question to the people of the territories, presumably because the whole popular sovereignty thing was working out so well in Kansas. Southerners, sensing defeat by any other name, got behind Old Buck, but they also sent dire warnings to the North about the make-or-break issue of electing a Republican president: do so, they intimated, and the South might have no other option but to secede.
There's a pretty good chance that the Civil War would have started in 1856, had Fremont (who was no Lincoln) gotten the nod, but that eventuality was deferred as president-elect James Buchanan prepared to take office early the next year. Eager to establish continued spinelessness as public policy, he sought out a couple of Supreme Court Justices, who were even then deliberating on a slavery case that much of the public was watching with great interest. They apparently reassured the incoming president, who afterwards felt confident enough that sectional balance could be maintained that he said in his inaugural address:
What a happy conception, then, was it for Congress to apply this simple rule, that the will of the majority shall govern, to the settlement of the question of domestic slavery in the Territories. Congress is neither "to legislate slavery into any Territory or State nor to exclude it therefrom, but to leave the people thereof perfectly free to form and regulate their domestic institutions in their own way, subject only to the Constitution of the United States."

As a natural consequence, Congress has also prescribed that when the Territory of Kansas shall be admitted as a State it "shall be received into the Union with or without slavery, as their constitution may prescribe at the time of their admission." A difference of opinion has arisen in regard to the point of time when the people of a Territory shall decide this question for themselves.

This is, happily, a matter of but little practical importance. Besides, it is a judicial question, which legitimately belongs to the Supreme Court of the United States, before whom it is now pending, and will, it is understood, be speedily and finally settled. To their decision, in common with all good citizens, I shall cheerfully submit, whatever this may be...

bartleby.com (emphasis mine - u.m.)

He said that stuff on Wednesday, March 4th.
The Shortest Honeymoon in Presidential History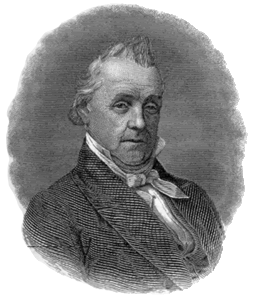 Until he achieved America's highest office, James Buchanan had had a pretty good, if quiet, run of a public career: He'd been in the House and the Senate for a decade each, and served as Polk's Secretary of State and Pierce's minister to England, but the political free ride came to a crashing halt two days after he took office. In the Friday news dump from hell, the Supreme Court on March 6, 1857, announced its ruling in the case of a guy named Dred Scott.
The case is a little complicated - the above link, which goes to the PBS site, has a succinct description - and had been going on a lot longer than people nowadays realize (the first trial in the case was in 1847 in a court in Missouri), but in the end it boiled down to just a couple of questions: #1. Are blacks citizens?, and #2. Does a slave become free if his master moves him to free territory?
In 1850s America, the answer to #1 was a Quayle-brainer: Absolutely not. This aspect of the ruling surprised few people. It was in answering #2 that Chief Justice Roger B. Taney, writing for the majority, got his Scalia on and determined that his own perverse interpretation of the Constitution was at least 3/5s more righteous than that of any abolitionist. An appointee of Andrew Jackson's, Taney had emancipated his own slaves back in 1819 - even paid pensions to those too old to work - but his attitudes about slavery grew meaner as the years passed. By the time of Scott v. Sandford, he was not averse to using the term "northern aggression" to refer to the opponents of slavery, and had adopted a decidedly neocon-looking-at-New-Orleans point of view. Taney appealed to history in justifying his ruling, by stating that the framers of the Constitution had viewed blacks as:
"beings of an inferior order, and altogether unfit to associate with the white race, either in social or political relations, and so far inferior that they had no rights which the white man was bound to respect."
For thinking this way, Senator Charles Sumner of Massachusetts (the guy who'd been beaten with a cane by a Representative Preston S. "Bully" Brooks of South Carolina in 1856) would later say of Taney:
I speak what cannot be denied when I declare that the opinion of the Chief Justice in the case of Dred Scott was more thoroughly abominable than anything of the kind in the history of courts. Judicial baseness reached its lowest point on that occasion. You have not forgotten that terrible decision where a most unrighteous judgment was sustained by a falsification of history. Of course, the Constitution of the United States and every principle of Liberty was falsified, but historical truth was falsified also. . .

ibid.; (emphasis mine - u.m.)

Historiorant: For all the scorn heaped upon him by his contemporaries - Lincoln may have tried to have him gitmo'd; CTers are welcome to Google "Taney Arrest Warrant" - judicial historians seem to be a little more forgiving of Chief Justice Taney, who might have been remembered among the great advocates of states' rights were it not for the penchant he developed for writing really intemperate things about slavery. Oh, and he was married to Francis Scott Key's sister.
OK, I Get It: It Was a Dumb Ruling. So What Did It Say?
Excellent question. It basically stated that no black man ever had been or would be a United States citizen, and that the 37-year-old Missouri Compromise had been unconstitutional all along. Turns out the dang thing was in violation of the 5th Amendment - can't deprive a man of his property without due process, y'know - and so every territory formed north of the 36°30' line should have been just as open to slavery as those formed in the south, ever since 1820. Surprise!
Six justices concurred, including one northerner named Grier who had endured a little arm-twisting from the president-elect in order to get a bi-sectional imperator of the otherwise obviously pro-southern judicial activism. Two others dissented, while one concurred with the ruling but not the reasoning. Thus, just as in the installation of the current resident of the White House, it was the twisted legalistic renderings of a handful of self-interested zealots, who way overstepped the bounds of their authority in order to "settle the matter once and for all," that set in motion a chain of events with an increasing tone of inevitability.
In the South, the Dred Scott decision was widely viewed as sensible and Constitutional: let the people decide on slavery extension through popular sovereignty, anywhere and everywhere, and not have their choices dictated to them by Compromises and back-room deals in Washington. In the North, where the repeal of the Missouri Compromise by the Kansas-Nebraska Act had not diminished the assumption that its spirit still held true, the swelling ranks of enraged abolitionists declared that SCOTUS had "sullied the ermine" by playing politics. They also began to scoff at the perception that the Court was scoffing at them - the meme shifted from banishing slavery from the territories to one of declaring that the opinion of the Court, given its current slavery-favoring majority, were of no more value or weight - nor were any more binding - than those of a "southern debating society."
Ever the Southern Appeaser
With the departure of John Brown from Kansas (oh, don't worry - our favorite spade-bearded, Bible-quotin', ass-kickin' abolitionist still has a part to play in all this), and a general leveling-off of the violence, attention in the territory turned to ratifying a state constitution that would be submitted to the federals as part of the impending application for statehood. Presidents Pierce and Buchanan both chose to recognize the fraudulently-elected pro-slavery government - the one that had been installed through the not-so-good offices of a lot of Missouri "border ruffians" crossing to vote as pro-slavery Kansans - over the "rebellious" anti-slavery option the free-soilers had set up. Kansas' proslavery government was based in Lecompton, and the referendum became known as the Lecompton Constitution. In it, voters were given a cynical "choice" of Rovian diabolicalness.
Historiorant: That's weird: I really thought "diabolicalness" was going to set off my spell checker. Ya try'n get all Dr. Suess, and find out Noah Webster beat ya' to it - sheesh. Anyway...
Here's a Moonbat-extrapolated ballot from the 1857 Kansas referendum as it might have appeared to a free-soiler wanting to vote slavery out of his new state

Ballot Issue

#1: Identity Check. You're not from Missouri, are you? (wink, wink).....No

#2: Do you want to vote for the "with slavery" constitution? .....Of course not

#3: Do you want to vote for the "without slavery" constitution? (see note).....hunh?

Note: By agreeing to the "without slavery" constitution, you also agree that what's ours is ours - by which we mean that we get to keep all the slaves that are already here.

#4: Review and answer Question #3.....Go Cheney yourself; I abstain
Abolitionist abstentions led to passage of the Lecompton Constitution, which President Buchanan tried to quickly shepherd through Congress. The bill stalled when it ran into the "steam engine in breeches," Steven A. Douglas, Senator from Illinois - who was a true drinker of the popular sovereignty Kool-Aid, regardless of how wussy-ish the position would be viewed by historioranters in the future. Nailing his colors to the mast in a way that my DINO Senator here in Colorado will never, ever, understand, Douglas alienated his considerable southern support for a presidential bid by flatly opposing any deal that didn't include an up-or-down vote on the entire constitution, which would have the effect of banning slavery and would not make provisions for a grandfather clause. The schism hopelessly split the Democratic Party along sectional lines, but when Douglas got the compromise he wanted, he counted it a victory as free-soil Kansans flocked to the polls and seized control of the issue through the ballot box.
The Economics of Poor Leadership (as if we didn't already know)
Starting with the collapse of the New York City branch of the Ohio Life Insurance & Trust Company (which had been gutted by massive embezzlement) in August, 1857, the economy took a Bush-style nosedive as the public increasingly - and justifiably - lost confidence in the President's ability to manage the economy. The fact that even a short depression had sectional overtones did not bode well for Old Buck or the nation, either: virtually every aspect of the Panic of 1857 was felt, perceived, and ridden out differently by factions in the North and South. To wit:
Gold - all Americans - the huge amount of gold pouring in from California led to massive inflation; loss of SS Central America, along with more than 400 souls and 30,000 pounds of gold, led to lack of confidence in US specie reserves by foreign governments and American citizens

Grain - North - producers, who had hoped the Crimean War would go on forever, found that the bottom fell out of the price when the war ended and Russia turned her fields from battle to wheat-growing - South - though Russian cotton merchants were undercutting their pricing, the fact that demand remained strong led more and more southerners to think that Cotton really was King, and that they might just be able to finance a secession via the same favorable foreign trade that was enabling them to ride a bubble through the Panic.

Business & Treasury - North - most of the 5000 business that failed within a year of the Panic were in the North; before the Panic, embarrassment at the large surplus in the Treasury (remember a couple of weeks ago, when I historioranted about how the 1800s are kinda like Bizarro World?), led to the lowest tariff since the War of 1812 - South - liked the low tariff, and continued support of it in the face of northern pleas for protectionist help handed the Republicans an important trade issue for use in the 1858 and 1860 elections.

Railroads & Speculators - North - as it had most of the railroads in the country, it stands to reason that business failures among railroad companies hit the North especially hard; rampant speculation had further messed things up - South - didn't seem to care much, as railroad-financing problems in the North weren't really affecting the price of cotton.

Homesteading - North - increasing numbers call for Washington to quit selling stolen Indian lands and just give it to anyone hardy enough to settle and live there; Some northern industrialists, fearful that the promise of free land would siphon off the wretched refuse from the teeming shores that worked their factories, opposed the idea of a homesteading act - South - was even more opposed, since the planned 160-acre parcels were way too small for slave labor to be properly employed. Though a bill to sell land at 25¢ an acre passed through Congress in 1860, southern interests got Buchanan to kill it with a veto.

Cue the Tall, Skinny Guy
Steven Douglas' Senatorial term was up in 1858, and Abraham Lincoln wanted his seat. At 49, Lincoln was only a recent convert to the Republican cause; he seems to have undergone an epiphany with the passage of the Kansas-Nebraska Act, and a scant four years later was a dyed-in-the-wool, ambitious leader in the upstart party. To prove that this was so, he, as the Republican nominee to replace Douglas, brashly challenged the greatest orator of his age to a series of debates. The Little Giant promptly picked up the gauntlet, and seven debates were held around the state in the summer and fall of 1858.
Back in those days, candidates were stupid. They didn't send small armies of lawyers to negotiate the temperature on the stage or the colors of the candidate's ties, they didn't script answers or ensure that certain topics would not be brought up, and - most stupidly of all - they didn't forbid attacks on one another, nor the direct questioning of the other guy. A modern conservo-fascist would quickly wither under such a lack of conditions, but incredibly, men of the mid-19th century somehow found a way to express their beliefs in long-winded, thoughtfully worded, highly logical, dangerously personal arguments, despite the clear threats the format presented to "message control."
Douglas, of course, argued for popular sovereignty. Lincoln's views were a bit more nuanced, and not entirely in keeping with what we generally think of as the Great Emancipator's legacy. He clearly did not believe in equality of the races, and often stated so when his opponent hinted that he did. Douglas, for example, repeatedly swiftboated Honest Abe on the subject of Dred Scott, prompting Lincoln to say during the 7th debate (Alton, Ill., 10/15/58):
I never have complained especially of the Dred Scott decision because it held that a negro could not be a citizen, and the Judge (Douglas) is always wrong when he says I ever did so complain of it. I have the speech here, and I will thank him or any of his friends to show where I said that a negro should be a citizen, and complained especially of the Dred Scott decision because it declared he could not be one. I have done no such thing, and Judge Douglas so persistently insisting that I have done so, has strongly impressed me with the belief of a predetermination on his part to misrepresent me.

National Park Service (emphasis mine - u.m.)

(Historiokossians should note that this is a really cool site, with a numbered map and the transcripts from all 7 debates)
Historiorant: It's almost impossible to imagine a modern Republican calling someone a liar that politely, isn't it?
Regarding the issue of racial equality, Lincoln was a bit more of the George Allen mode than that of Bill Clinton, at least when the public spotlight first shone on him:
Now, gentlemen, I don't want to read at any greater length, but this is the true complexion of all I have ever said in regard to the institution of slavery and the black race. This is the whole of it, and anything that argues me into his idea of perfect social and political equality with the negro, is but a specious and fantastic arrangement of words, by which a man can prove a horse-chestnut to be a chestnut horse. (Laughter) I will say here, while upon this subject, that I have no purpose, directly or indirectly, to interfere with the institution of slavery in the States where it exists. I believe I have no lawful right to do so, and I have no inclination to do so. I have no purpose to introduce political and social equality between the white and the black races. There is a physical difference between the two, which, in my judgment, will probably forever forbid their living together upon the footing of perfect equality, and inasmuch as it becomes a necessity that there must be a difference, I, as well as Judge Douglas, am in favor of the race to which I belong having the superior position. I have never said anything to the contrary, but I hold that, notwithstanding all this, there is no reason in the world why the negro is not entitled to all the natural rights enumerated in the Declaration of Independence, the right to life, liberty, and the pursuit of happiness. (Loud cheers) I hold that he is as much entitled to these as the white man. I agree with Judge Douglas he is not my equal in many respects-certainly not in color, perhaps not in moral or intellectual endowment. But in the right to eat the bread, without the leave of anybody else, which his own hand earns, he is my equal and the equal of Judge Douglas, and the equal of every living man. (Great applause.)

Ottawa, Ill., 8/21/58 (emphasis mine - u.m.)

The record shows that Lincoln was acutely aware of the failings his arguments exposed on his own side, as well as Douglas'. Here, Abe addresses the weaseliness of the popular sovereignty position:
"This declared indifference, but, as I must think, covert real zeal for the spread of slavery, I cannot but hate. I hate it because of the monstrous injustice of slavery itself. I hate it because it deprives our republican example of its just influence in the world-enables the enemies of free institutions, with plausibility, to taunt us as hypocrites-causes the real friends of freedom to doubt our sincerity, and especially because it forces so many really good men amongst ourselves into an open war with the very fundamental principles of civil liberty-criticizing the Declaration of Independence, and insisting that there is no right principle of action but self-interest.

Ottawa, Ill., 8/21/58 (emphasis mine - u.m.)

The Freeport Q&A
In their second debate (August 28, at Freeport), Lincoln pounded Douglas with some of the heavy artillery of abolitionist logic: he asked what would happen in the event a state were to vote against slavery in its own legislature - would the state's right to do so be upheld, or would the federal will reign supreme? Douglas again proved he was no Ken Salazar when he fired back an unequivocal and historically verifiable argument of his own.
Basically, Douglas said that if states didn't want slavery, then their legislatures simply wouldn't pass the laws necessary to protect it - the practice would never become established in those places where the will of the people was strongly enough opposed. He based his argument on pretty solid historical footing - he had studied how popular opposition to federal silliness had brought an end to Jefferson's "damnbargo," and we future-dwellers are lucky enough to have seen it further play out with the repeal of Prohibition and the current failed war on indigenous plants.
Steven's "Freeport Doctrine" went a long way toward securing enough votes for his Democratic supporters that he would be tapped to be Senator (this was before the 17th Amendment, remember), but it may well have cost him a run the presidency. In the South, now thoroughly-alienated Dems saw Douglas as just another Northerner willing to blow off the Supreme Court as he saw fit - even if he did seem to be the only one willing to raise the fear specter by conjuring up images of Frederick Douglass riding in a carriage with a white man's wife while the carriage's owner sits outside driving the team. (see Douglas' speech at Freeport, 8/28/58). Lincoln, of course, had ambled his lanky self into the national spotlight in such a manner that his defeat was another victorious one for the Republicans - he was positioned as a party leader for the presidential elections of 1860, even as Douglas would have to wrestle with the ethics of serving only two years of the term his hard-fought victory had earned him in order to go after an increasingly less-certain stab at the Oval Office.
Historiorant: Back in those days, politicians of principle resigned the seats they were holding when they ran for higher office. This was the established custom among upstanding men and women until megalomaniac Joe Lieberman showed us all in 2000 that it is indeed possible to keep your cake and lunge for more, too. UPDATE: I blew it on this particular historiorant; Joe was not nearly as unique as I half-remembered. Please see the comments by sardonyx for an historical breakdown of the practice.
Who the #@*% Planned This? Rummy?
Ever since his return in 1856 from helping Kansas bleed, John Brown had been making the abolitionist-fundraising circuit in New England. He was trying to drum up the cash for a guerilla army that would secretly invade the South, capturing weapons, freeing slaves, and establishing a reminds-me-of-South-Africa style autonomous homeland. He'd met with William Lloyd Garrison, Henry David Thoreau, and Ralph Waldo Emerson, among many others, but his efforts to raise support for the venture he had in mind were far less successful than he'd hoped; his yet-to-be-assembled army would have 200 Sharps carbines (located in a barn in Iowa) and an order for 1000 pikes as their armament.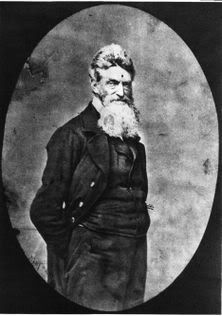 From the standpoint of doing what it would take to establish a little Emirate of Waziristan right here in America, Brown tried to get it right. He held a constitutional convention, formed a government, and generally smoothed the way for the spontaneous creation of a semi-autonomous free state right in the middle of the South. Things almost came apart on him a couple of times, most notably when Hugh Forbes - an English mercenary who'd fought with Garibaldi in Italy and who'd been hired (but not paid) by Brown to play Von Steuben to his still-nonexistent forces - tried to expose Brown to northern Senators, which forced him to postpone his still-premature plans until the summer of 1859. As it turned out, however, Brown's greatest deficiency probably - like a certain Secretary of Defense who shall remain nameless - came in the area of recruitment.
On June 3, Brown implemented his plan to invade the South by moving to a farm near Harper's Ferry and waiting for the volunteers to show up. The papers his secret Secretary of War and he had drawn up called for 200 riflemen and 950 pikers to be part of a 4500-man battalion that would sweep into the South like a force of abolitionist nature. Regrettably for the would-be emancipator, only 21 guys (16 white, 5 black; 12 of whom had fought with him in Kansas and including at least 3 of his own sons) were around for the great day of reckoning. Turns out that Frederick Douglass, whose support Brown dearly craved, had been actively spreading the word in the black community not to follow Brown's lunatic lead - tried to talk him out of it face-to-face, too.

So it was that John Brown (known aliases: "Nelson Hawkins," "Shubel Morgan," and "Isaac Smith"; printable nicknames: Osawatomie Brown, Old Man Brown, Captain Brown and Old Brown of Kansas) led only a handful of followers against the lightly-guarded but weaponry-rich arsenal at Harper's Ferry, Virginia on October 16, 1859. Though they were now in possession of 100,000 muskets and rifles, they quickly found that 21 guys can only pull so many triggers at a time. The anticipated army of rebels never did appear, and Brown and his diminishing forces found themselves penned in by the local militia.
Exit the Homegrown Terrorist
A company of Marines commanded by Army Lieutenant Colonel Robert E. Lee arrived, and by the morning of October 18, had Brown surrounded. Lieutenant J.E.B. Stuart was sent in to negotiate Brown's surrender, to which the abolitionist expressed a preference for dying on the spot. Unwilling to fulfill Brown's ambitions of martyrdom, Lee ordered the building stormed, and Brown was taken into custody after fierce hand-to-hand fighting. .
After a doctor was trotted in to find him competent to stand trial, he was brought before a judge on October 27. On November 2, after 45 minutes of deliberation, he was found guilty of everything and sentenced to death (of course). He was then incarcerated for a month, during which he was permitted visitors and saw his letters published in northern papers. His righteous tone and seeming moral clarity won ever more support for direct action among abolitionists - Emerson himself predicted that Brown's execution would "Make the gallows as glorious as the Cross."

By the time he finally dangled on December 2, Brown had polarized the nation. His composure while ascending the gallows steps is legendary, as are his last words: This is a beautiful country. Among Southerners, his name became a verb - abolitionists wanted to violently "Brown" them - but in the North, he approached savior status - Harriet Tubman said, "it was God in him." Abe Lincoln was a little more circumspect, and a whole lot more creepily prophetic:
"(The Brown) affair, in its philosophy, corresponds with the many attempts, related in history, at the assassination of kings and emperors. An enthusiast broods over the oppression of a people till he fancies himself commissioned by Heaven to liberate them. He ventures the attempt, which ends in little else than his own execution."

(excerpted from Kennedy, et al; The American Pageant, 12th ed.; Houghton-Mifflin Company; New York; 2002, pg. 422)
And since Lincoln is as good a man as any to quote on the eve of 9/11 remembrances (and a better one than anybody currently at 1600 Pennsylvania Avenue), your resident historiorantologist will now will now close this mercilessly-long diary with the promise of looking at the Election of 1860 when we return to the topic of American Politics after a brief hiatus - see note below.
Historiorant:
In local news, next week will mark a first for the staff (okay, me) here in the Cave of the Moonbat - I'm handing over the keys to historiorantrix aphra behn while I tackle an unavoidable mountain of grading. aphra has graciously agreed to conduct tours down some of the as-yet-unexplored tunnels branching from Women's History Cavern (they're reputed to lead to Seneca Falls), giving me a much-needed "weekend off" to read what 130 10th graders thought of Laurel Thatcher Ulrich's A Midwife's Tale. Please make sure you leave the place as deliciously cluttered as when you found it - and remember: There may be a pop quiz when I get back...