IOKIYAR? Not, thinks Michael Steele, Lieutenant Governor and Republican Senate candidate. Behind in the polls, thinking the only chance he has to pick up enough votes is to spread
blue
signs around which say "STEELE DEMOCRAT"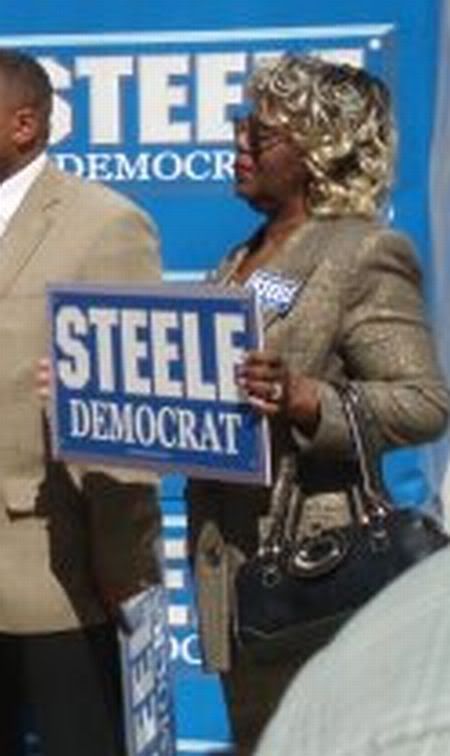 and make people think..."wow! here's a Democrat who's a brother - we need him in the Senate!"
Today's
Baltimore Sun
said,
in part:
The bright blue placards and bumper stickers made their debut yesterday in Baltimore during an event announcing a new coalition of Democrats supporting the lieutenant governor's U.S. Senate bid. Steele, of course, is the Republican nominee for Senate and a former chairman of the state Republican Party.

The group and accompanying signs appear to be the latest Steele effort to distance himself from an unpopular White House and a Republican Party struggling to maintain its hold on Congress. The state Democratic Party chairman immediately accused him of "identity theft."
Oh, no! say the Repukes...
Steele supporters said the term was akin to calling someone a "Reagan Democrat."
I don't think any Reagan supporters who were known as "Reagan Democrats" ever displayed a sign naming themselves as such, and certainly none that said "Reagan Democrat," like these Steele signs.
No Democratic officials were present, but William H. Murphy Jr., a Baltimore lawyer who has ties to Republican Gov. Robert L. Ehrlich Jr., was, and said,
"I'm sick and tired of being taken for granted by the Democratic Party," Murphy said.

"We don't embrace George Bush, we embrace Michael Steele," he said. "We don't embrace George Bush's vision of America, we embrace Michael Steele's vision of America."
"We just want people to think Michael's a Democrat, for the purpose of stealing votes from Ben Cardin," was what he didn't say. I added that here, for clarity.
I recognize that this diary's kind of thin...but I am sufficiently outraged by this tactic to try to bring some heat to bear on Mr. Steele's campaign as a response. We're the Democrats, and we don't want him crawling behind our skirts to hide from the Bush Boogeyman that haunts all Repub candidates this cycle.
Please add any action steps you can, below, as I'm a bit too rushed (and lame) to get that together.