Most of us here on MexiKos have had our attention riveted to what's been going on in Mexico since the presidential elections argued to have been tainted by fraud and manipulation -- most recently including
a citizen's convention in the downtown which 'elected' the liberal-left opposition's candidate as the "Legitimate President"
. But some of you might assume that it's just a nutty few diarists like us malcontents. Believe it or not, a few genuine edumacated folks find something of value in these activities as well.
Laura Carlsen, Mexico City director of the International Relations Center's Americas Program:

...one has to have power to leverage power. Most of the millions who voted a second time for Lopez Obrador on September 16 have, for the most part, only the two feet they stand on for leveraging power. They believe that Calderon's PAN is the party of the rich and powerful. The government-in-resistance is their bid for a voice in a political system that has systematically excluded them.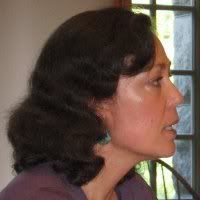 More from Carlsen's editorial, also my thanks to
CounterPunch
for bringing the editorial to my attention.
I think there are two very valuable things about Carlsen's editorial comments. One, a very simple yet significant thing, it's helpful for U.S. readers to realize that there are sane, smart, credentialed peoples who find much of value in what the hundreds of thousands or millions of protesters and often the leadership (including Lopez Obrador) have been aiming to do. A lot of times people (especially in the pundit and editorialist classes) attempt to dismiss all of their arguments with caricatures and slurs.
Two, she clearly situates a lot of what has happened in a context. It's a crucial thing, because you have to ask -- if you're curious at all -- why so many people have been spending so much energy on protests, encampments, and the like. Is it really solely because they're unreasonable? That they are paranoids? That they are the thoughtless followers of personality cult politicians? Carlsen finds that while the outcome of these mobilizations isn't clear, there is a clear logic to them.
These questions of reasonability are different than 'are they wrong' questions. These activist thousands could be entirely reasonable, and proceeding on their own calculations of their interests and methods, and yet still could be harming their own interests or that of the nation. That's a different argument, and it could apply to nearly any political movement.
Carlsen also helps to carry a discussion a bit further than focusing, like most articles naturally do, entirely upon the role of one or more political figures themselves -- i.e., Lopez Obrador.
[Edited] This is a highly contentious subject for many here. Some with opposing viewpoints have complained that their views have been silenced by the over-use of the troll button. In addition to suggesting restraint on its use, I would suggest to those who do not care for this viewpoint to not only comment negatively below, but to actively exercise one's rights at DailyKos to compose your own diaries -- perhaps the best way to present fully opposing viewpoints in the context which would most encourage their examination.
[Excerpted, follow link for full text. I would quote the whole article, especially where Carlsen discusses the electoral fraud arguments, but full text postings are discouraged.]
FPIF [Foreign Policy In Focus] Column
Mexico's Two Presidents
Laura Carlsen, September 20, 2006
Laura Carlsen is director of the IRC Americas Program in Mexico City, where she has worked as a writer and political analyst for the past two decades. The Americas Program is online at www.americaspolicy.org.

On September 16, over one million people raised their hands in a vote to recognize center-left leader Andres Manuel Lopez Obrador as the "legitimate president" of Mexico. Gathered in Mexico City's historic center, the delegates to the National Democratic Convention (NDC) agreed to inaugurate their president on November 21 -- nine days before the inauguration of the officially recognized candidate, Felipe Calderon. This act of civil resistance ushered in a new stage in an electoral conflict that has developed into an all-out battle for the country's future.

...No matter what the outcome, the convention will go down in history as a defining moment in the nation's political development...

...After months of protesting fraud, the convention represented a change in direction. Amid the morass of unexplained discrepancies and manipulated results that have characterized Mexico's presidential elections, the distinction between the demand for a fair vote count and the need to redress deeply felt social wrongs has been subsumed into a general movement for fundamental reforms.

It would be a mistake to write off Mexico's post-electoral conflict as a battle between legality and sore losers. Mexico's current political crisis developed out of the lack of public confidence in an exceedingly tight and contested presidential election. The Electoral Tribunal's declaration of Felipe Calderon as the official winner on September 5 failed to restore credibility in representative government for three fundamental reasons: a bad count, a lack of transparency, and the belief of poor Mexicans that the new government will not represent their interests.

...The vast majority of the poor -- the core of the over 15 million who voted for Lopez Obrador -- do not believe that Calderon will hear them, much less represent their interests.

Part of the problem is Mexico's major obstacle to democratic transition -- the power of the presidency. Once elected, Vicente Fox, like his predecessors in the Institutional Revolutionary Party (PRI), used presidential powers to force unpopular measures through the back door in the form of executive decrees. Instead of limiting this power, Fox used it to consolidate neoliberal [note: in Latin American context, "neoliberal" means basically an extremist supply side economics / "free market" orthodoxy ideology] reforms.

Another problem is that Mexico's political system has few mechanisms of accountability to constituents.

Under this system, one has to have power to leverage power. Most of the millions who voted a second time for Lopez Obrador on September 16 have, for the most part, only the two feet they stand on for leveraging power. They believe that Calderon's PAN is the party of the rich and powerful. The government- in- resistance is their bid for a voice in a political system that has systematically excluded them.

...The civil resistance plan approved at the convention calls for protests at every public appearance of the "spurious" president, but also incorporates campaigns against the privatization of petroleum and electricity, as well as in defense of public education. The program adopted for the parallel government includes battling poverty and inequality, defense of natural resources, the right to information, an end to the privileges of the few, and profound reforms in national institutions.

Mexico's constitution sanctions the right of the people to exercise sovereignty beyond the institutions of the government. Article 39 of the constitution suggests that altering the form of government is not only an inalienable right but also an obligation when the institutions no longer operate in the public interest. The government- in- resistance claims that the nation's institutions have been manipulated through pseudo-legal and illegal ways to benefit a very small minority of the population. The poor have been left out. And now they want back in.

... Mexico was the laboratory for the U.S. strategy of free trade agreements based on open access to markets, favorable terms for international investment, and intellectual property protection. The North American Free Trade Agreement (NAFTA) negotiated in the early 90s [note: begun under Carlos Salinas, who most certainly did steal the election] forced Mexico to compete with the world's wealthiest and most powerful nation and led to millions of jobs lost in national industry and small-scale agriculture.

Instead of examining the negative impact of NAFTA, the U.S. government has insisted on more of the same. It refused to renegotiate the agricultural chapter of NAFTA that calls for complete liberalization of corn and beans in 2008.

Calderon supports the liberalization, despite studies that predict a profound negative impact on approximately three million small-scale farmers.

Lopez Obrador has made the derogation of the NAFTA agricultural clause a constant, and much applauded, point in his recent speeches. While he supports NAFTA and open markets, he has also drawn up economic policies that reclaim the direct role of the state in generating employment, protecting strategic domestic markets, redistributing income by eliminating tax breaks for the wealthy, and guaranteeing a basic standard of living for those at risk--the elderly, single mothers, persons with disabilities, and small farmers.

The plan is far from radical, but it has drawn the fire of powerful business interests at home and abroad. The Bush administration would rather not have another defection from the ranks of economic orthodoxy at a time when much of Latin America shows signs of leaving the fold.

Following the official pronouncement of Calderon as president-elect, conservative analysts eagerly placed Mexico in the ranks of nations loyal to U.S.-style economic integration. With Mexico again assured as an unconditional economic and political ally, the "Pacific Axis" of Mexico, Central America, Colombia, Peru, and Chile seemed secured at its northern end.

But with the current divisions, the Mexican elections can hardly be hailed as a major ratification of neoliberal policies in the hemisphere. The political crisis also complicates the Bush agenda in areas of counter-terrorism, immigration, and drug trafficking, although the basic terms of cooperation will continue.

Even if Calderon were miraculously able to consolidate power over the coming months -- a scenario that looks increasingly unlikely -- a broad movement calling for major institutional reforms will be on the political scene for a long time to come. Whether as a parallel government, a grassroots social movement, a partisan opposition, or some combination, the movement will weaken the new presidency and strengthen hopes for a real and inclusive democratic transition.