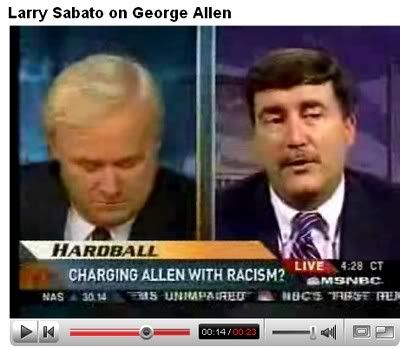 So you may have read about Virginia Republican George "Macaca" Allen allegedly using the word "N-word" in college.
Of course he denies it. (However, of course, the AP story forgets to remind us that Doug Jones, one of Allen's former teammates who says that he doesn't remember Allen using the phrase, also works for the Allen campaign and is a member of the Fairfax County Republican Committee.)
So it was a he-said/he-said kinda debate.
But now things just got very interesting.
On Hardball, Larry Sabato just confirmed SEVERAL TIMES that George Allen used the term in college.
TRANSCRIPT:
Larry Sabato on Hardball: "He did use the n-word, whether he's denying it or not."

PS: For those of you unfamiliar with Virginia politics, Larry Sabato is one of the most respected pundits in the nation. He's often referred to as the "most quoted professor in the world", and reporters rely on him for a candid take on the day's events. In other words: he's a reliable non-partisan source who just called George Allen a liar.
Now we must really examine the hate crime -- sticking a deer head in a black family's mailbox. That is the real meat, and the really devastating event.
It's one thing to use a term years ago and come clean about it. It is another thing to LIE about it. Another thing to commit a hate crime. Another thing for this to be yet another event in a long litany of Allen's demonstrable racism.
UPDATE Full interview here
UPDATE: And yet another person comes forward to say Allen used the term...