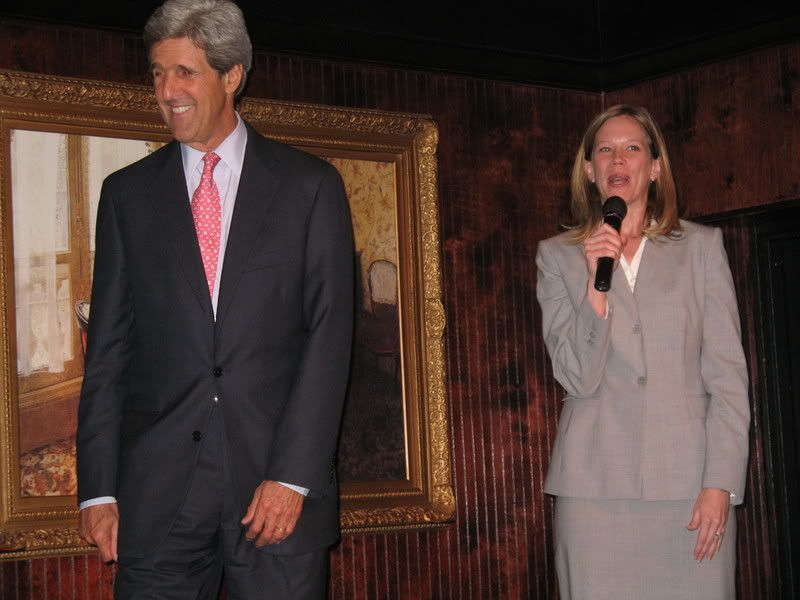 At her fundraiser Tuesday evening,
Tessa Hafen's
warmup remark, "Doesn't it feel good NOT to be a Republican?" cracked up Sen. John Kerry and everyone else gathered in the gilt and leather lounge of the posh Artisan Hotel, a refurbished Travelodge. Somewhere under his rock, the seldom seen
Jon Porter
must be frantically parsing his internal poll for encouraging signs. Nope. Same scary spread within the margin of error as Hafen's
poll
released last week. With a job approval rating of 36%, he is slightly less popular than Bush in Southern Nevada. The Rothenberg Political Report now handicaps the race as
"tossup, tilts R
, great movement for a race that started as "likely Republican." Please
donate
or volunteer if you can. With more air and phone time, Hafen can make this race one more boulder in the coming landslide.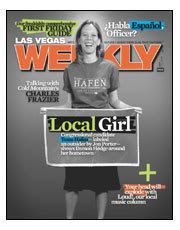 While Tessa Hafen's radiance and intelligence charm hundreds of her soon-to-be constituents daily, Porter has shut down contact with the world outside his bunker. He has not attended a public event since late August when he bolted after a short debate to avoid mingling with, er, the people whom he is constitutionally charged to represent. At a forum Monday in a huge ballroom at Ballys attended by dozens of candidates and over a thousand voters, his absence was conspicuous. After weeks of stalling, his handler Slanker agreed to a debate on Oct. 19, two days before early voting, in a clear ploy to run the clock and inflict maximum damage with his sleazy campaign of debunked lies about Hafen's Nevada residency. Damon Hodge of the
Las Vegas Weekly
hooked a great profile on the absurd claim that she isn't a local.
In the Cheney mode, Porter limits contact with anyone who is not a proven loyalist. The list of reporters and publications with whom he will not speak grows daily. The Foley scandal made Porter, who worked closely with Foley to write an anti-predator law and took money from a Foley-organized fundraiser in September, even more skittish. He now responds in writing only to questions submitted in writing by the Las Vegas Sun. He's also blacklisted The Las Vegas CityLife and hasn't returned a phone call from political columnist Erin Neff for the Las Vegas Review-Journal in three years. For journalistic contact, he's down to the far Libertarian-right odd-ball editors of the Las Vegas Review-Journal. Even worse, he's refused interviews about his views on the Iraq War, occupation, civil war or bloody, senseless carnage--choose one of the above--which prompted Neff to write:

I believe public officials, elected and otherwise, have an obligation to speak to the public about their policies, their visions and their work in general.
The working familes, seniors and veterans of this district deserve much better and Tessa Hafen's compassion and energy make her an excellent fit for this community. The Toyiabe Chapter of the Sierra Club endorsed her in recognition of her plans for expanded renewable energy, increased fuel economy and staunch opposition to the Yucca Mountain nuclear waste dump.
Imagine with me the excitement of sending Tessa, Jill Derby and Shelley Berkley to Congress from Nevada. We can sleep on Nov. 8. Now is the time to volunteer, donate and spread your candidate's message. Thank you!