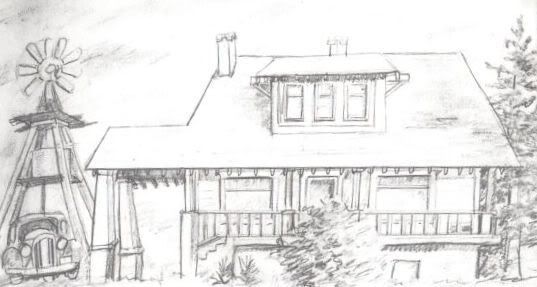 I grew up in an old farmhouse built with square nails. My uncle was so impressed by its pastoral charms that he drew this sketch of it. He did a pretty good job for a teenager. The house was on top of a hill overlooking the beautiful Willamette valley.
One of my earliest memories is of the incredible "Columbus Day Storm" that tore through the area on this day in the 1960s. My brother and I watched a big limb from a huge old oak tree come crashing down in front of the house. Shortly after that, my dad grabbed my brother and me and had us crouch beside the car out in the driveway. Evidently, he'd been in the kitchen when the giant oak in the back had fallen. He was worried that the fir tree would go next, and would crush half the house. Things were flying all over the place and I felt a lot better when mom convinced dad to let us go back into the house. It always felt safe at home in our lovely corner of the world.
My parents cleaned up after the storm and it all seemed pretty much forgotten until I attended college at OCE (Oregon College of Education, now called Western Oregon University). Almost two decades later, the effects of the Columbus Day storm were still evident there. People loved to tell of the bell tower falling, and would show the new students the scars on the old brick buildings on campus. A well-known photo (which might be copyrighted, see the
source of the photo
for details) was snapped just as the tower fell: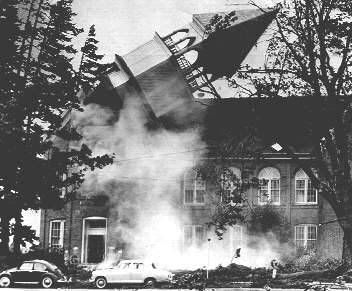 The much-loved grove of trees on campus had been flattened by the storm. The college administration was making plans to create a new grove.
Upon doing a little research, it seems that the storm that I so faintly remember was a true "perfect storm". We have heard that term a lot lately. A columnist for the Washington Post has written about a Perfect Storm for the Poor. An article at SFGate.com predicts a Perfect Storm for Republicans and so does Dr. Ernest Partridge in his article A Perfect Storm.
I truly believe that there is a perfect storm brewing for the Republicans in power. Previously, I was an example of a disinterested voter. Before seeing the extreme corruption of the Bush administration,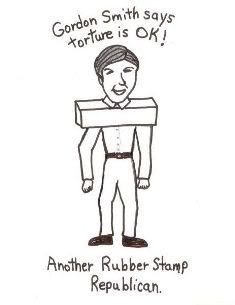 I was mostly indifferent to politics. I've always voted, because it is a duty of all good citizens, however many of the candidates seemed to be mediocre. Once I even chose a write-in vote for president since none of the choices seemed any good. There did not seem to be all that much difference between any of the political parties. I have voted at least twice for our Republican senator Gordon Smith in the past. He will never get my vote again. He has become a rubber stamp for the Bush administration. The very last straw was when he voted for torture. I am ashamed that such a person can claim to represent our state!
I never voted a straight ticket, but will be doing just that in the foreseeable future. I will not vote for any Republicans! The Republican party has become too corrupt to be worthy of support. Not only that, but I feel that most of the Republicans in power are not worthy to even be US citizens. I am deeply ashamed of them.
Let us hope that most of the other disinterested voters have gotten a clue. We need to all get out and vote these hypocritical Republicans out of office. Maybe once they have been thrown out of Congress the party will finally "clean house". Until then they will never be able to call themselves the "Party of Lincoln" without people snickering at them for saying it.