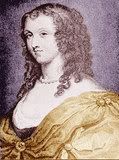 Spy. Poet. Playwright. Political commentator. Transatlantic traveller. Novelist. Advocate of sexual freedom. Woman of Wit. Sound like someone you'd like to meet? Unfortunately for us, the fabulous Ms. Aphra Behn died in 1689. But in tonight's episode of Supervixens, we'll take a leisurely ramble through her world of witty and wicked 17th century Supervixens: unconventional, unapologetic women, unafraid to speak their minds.
"Feminist Supervixens" of every sex and gender are invited to participate in this feminists' circle. Our goal is to build a vibrant community of feminists here on Daily Kos. The emphasis here is on camaraderie and support, so if you're looking for an argument, we suggest that you go instead to room 12A, just along the corridor.Previous "episodes" in this diary series have been written by hrh, with guest-host diaries from mem from somerville, Elise, righteousbabe, and irishwitch. Some more guest-hosts are waiting in the wings. Feminists who are interested in being a guest-host can email hrh at: feministsupervixens (AT) yahoo.com
An Unconventional Woman
Aphra Behn has been called the first professional English woman writer. By the time her first play was produced on the London stage in 1670, Behn was 30 years old and had already lived a life of adventure and intrigue.
Christened "Eaffrey Johnson," she was born the daughter of a barber-surgeon and a wet-nurse from Kent. Despite her common birth, young Aphra acquired a good grasp of reading and writing. In her 20s she traveled to Guiana (colonial Surinam) , where she witnessed firsthand the plantation system and its use of slave labour.
Around this time, she married "Mr Behn" (pronounced variously Bean, Ben, or Bane), a Dutch merchant. Behn's biogapher Janet Todd notes that Behn always wrote negatively about both merchants and marriages conducted for financial reasons, suggesting that her own, brief marriage may have been unhappy; for whatever reason, he was out of her life by 1666.
Take back that Heart, which you with such Caution give/ Take the fond valu'd trifle back;/ I hate Love-merchants that a trade would drive;/ And meanly cunning Bargains make.—Aphra Behn, "To Lysander"
After returning to England in the mid 1660s, Behn had an audience with King Charles II and set out to win the hearts and minds of literary London. She wrote a play and shopped it around fashionable circles, but before it was produced she was recruited to spy on the Dutch, under her code-name "Astrea." This adventure went badly, and she landed in debtor's prison because the crown neglected to pay her.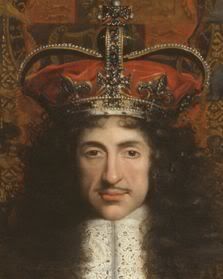 She wrote to Thomas Killigrew, theatre impressario:"I will send my mother to the King with a Pitition...if I have not the money to night you must send me some thing to keepe me in Prison for I will not starve." (Quoted in Kissing the Rod, an Anthology of Seventeenth Century Women's Verse, 241)
Probably with Killigrew's help, she managed to have her first play, The Forced Marriage produced anonymously. It was a smash hit, as was her next production.But her third play flopped, perhaps behcause the audience discovered her female identity:
I Here, and there, o'reheard a Coxscomb cry/ A Rott it—'tis a Womans Comedy/ One who because she lately chanc't to please us,/ With her Damn'd stuff, will never cease to teaze us...
It was unprecedented for a woman to write commercially in the 1670s, or at least to do so openly. But Behn persevered, and succeeded. How did she get away with it? The answer requires a short side-trip...
A Nation of Change and Novelty


A brave world, sir, full of religion, knavery, and change: we shall shortly see better days. --Aphra Behn, The Roundheads (1682)
.
England in the 1660s and 1670s was a world of infinite possibility, a society in the midst of re-inventing itself after years of
insurgency
Civil Wars. Consider this: In 1641, a Puritan-led elite rebelled against King Charles 1st (Chuck 2's father); in 1649, that same Charles the First, who claimed a "divine right" to rule, was executed by his own people.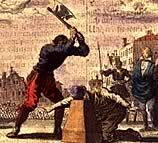 For 11 years England experimented with republicanism, having no king at all, but rather a
dictator
"Lord Protector," one General Oliver Cromwell.
Cromwell's supporters could say that "Freedom was on the March" all they wanted, but the republican experiment was a disaster. By 1660, powerful elites actually re-invited the monarchy into England. (Yeah, you got that right: Englishmen rebelled against a king, killed him, did without one...and then tried to pretend the whole thing never happened as if it were some long and regrettably boozy weekend.)
So in the 1660s and 1670s, no-one could quite agree on the proper order of society, political, authority, and the like. As political philosophers struggled to explain what the hell was gong on, English men and women tested social boundaries. And how.
The Merry Monarch Tall, dark, and handsome in a dissolute fashion, Charles II brought with him a sophistication born of years living on the Continent. He loved little spaniels. He loved pretty, witty women. But mostly, he loved not getting his head chopped off. This made him a very pragmatic man, and one who enjoyed life as much as he could.




He cultivated a court that attracted some of the finest scientific, literary and artistic minds of his day; it was also a court that rejected much of conventional morality and manners. Charles himself lived openly with his many mistresses (and his long-suffering wife, Catherine of Braganza).
Although he cultivated royal spectacle, he could also be incredibly informal, taking daily walks with his spaniels and often stopping to chat with commoner and courtier alike. In the circles of this enigmatic monarch, there grew up a peculiar political and social philosophy called libertinism, which Aphra Behn seems to have embraced wholeheartedly.
I will not purchase slavery/ At such a dangerous rate/ But glory at my liberty/ And laugh at love and fate/ –Aphra Behn, The Forc'd Marriage
Livin' La Vida...Libertine

"Libertinism" shares its root "liber" with both "libertarianism" and "liberalism," giving us a clue that it was about freedom. The men and women who embraced it rejected old social and political norms regarding sexuality, social relations, and sometimes even politics.
Some embraced elitism; other argued for social equality, dismissing class as an artificial and useless restriction. Many viewed libertinism as a sort of "don't trust anyone over 30" youth movement; only the young–those who can truly live life to its fullest, with all its vim and vigor–should have any real say in society.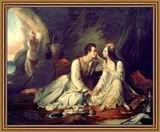 Behn's own libertinism:
--rejected conventional marriage and sexual double standards. (In Behn's play The Lucky Chance, her heroine ends the play with her lover, leaving her greedy husband for good. In an era where divorce was effectively impossible, such protests promoted women's rights to choose their own partners.)
--rejected commercialism and mercantilism. (Merchants are her favourite villains and the frequent butt of her jokes.)
--rejected at least some forms of racial discrimination. (In Behn's novel Oroonoko she celebrated a noble African prince who led a slave revolt in Surinam.)
Behn expressed her libertine opinions (and got paid to do so!) primarily by writing for the bawdy, rowdy theatres of Restoration London.
Staging Success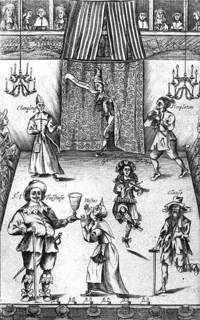 Now, when I say "theatre," please don't think THEA-TUH. Restoration theatres were anything but decorous and dull. They were noisy places where actors competed for the attention of the crowd as best they could; audience members were often more interested in catching the eye of other theatre-goers than in watching the show.
Or they might be more interested in flirting with the orange-sellers (sucking on oranges helped diminish the almost universal problem of bad breath—things could get pretty stinky in a crowded theatre). The audience fairly consistently talked back to the actors; they might begin singing songs of their own, or pelt the actors with fruits and vegetables, or, occasionally, riot. Prostitutes worked the crowd, their faces covered with masks. (Well-born women also wore masks to the theatre sometimes, to disguise themselves, making for some highly awkward social situations!)




In such an atmosphere, plays with spectacle, farce, and sex could most easily catch and hold the audience's attention. Aphra excelled at all three.
It didn't hurt that her plays made outstanding use of that new restoration invention: the actress, introduced to English theatre in the 1660s. (If you've seen Shakespeare in Love, then you know that boys played women's roles in the English theatre before that point.)
Being an actress was no easy chore. Typically paid less than male actors, they coped with suspicions that as "public women" they were little more than prostitutes. Curious theatre-goers could watch them dress in the "tiring rooms" and many an actress accepted the advances of a powerful lover who could protect her; it was easier (and more profitable) than facing the hassle of defending her already-suspect virtue.
Elizabeth Barry, Actress Extraordinaire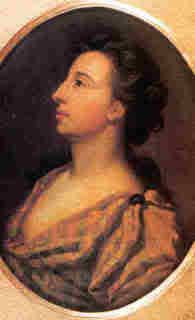 A few actresses managed to rise above the challenges and emerge as truly formidable professionals. Of these, Elizabeth Barry enjoyed a most lasting partnership with Aphra Behn.
Barry came to the stage as a young actress in the mid 1670s, just as Behn was hitting her stride as a writer. Authors had considerable hands in rehearsing and casting productions of their works, and Barry first succeeded with Behn's notable tragedy Abdeleazar. Their next collaborative effort came with Behn's signature comedy, The Rover.
The Rover is a funny tale of penniless English Cavaliers wandering through the Mediterranean, where they encounter a fabulous Mardi Gras Festival. The title character was the most rollicking rake of them all, an English captain named Wilmore, loosely based on the famous Restoration libertine and sometime colleague of Behn's John Wilmot, the Earl of Rochester (you may have seenJohnny Depp's take on him.)




Elizabeth Barry (sometime real-life lover of Wilmot's) starred as Hellena, a sassy young woman who refuses to go along with her family's plan that she become a nun. Disguised first as a gypsy and then as man, she woos the rakish Wilmore instead, pursuing him on her own terms and finally managing to win him over as much by her wit and intelligence as her physical charm.
Barry, famed for her ability to project true passion, also starred in Behn's sequel to The Rover, again playing an outspoken and unconventional woman: La Nuche. In the play's final moments, La Nuche dispenses with the bonds of marriage altogether, preferring to live freely with her lover.
As love is the most noble and divine passion

of the soul, so is it that to which we may justly

attribute all the real satisfactions of life...

Aphra Behn, The Fair Jilt (1688)
It was a fitting role for Barry, who also eschewed marriage; she preferred the jeers of those who disapproved of her extramarital affairs (and the two children she bore as a single mother) to being under the control of a husband. She achieved remarkable artistic and financial success, becoming one of the most highly paid actors–male or female–on the London stage in the 1690s, and founding her own company with two other actors.
Nell Gwynn, Charlie's Angel (and Aphra's too)




Unlike her male colleagues, Aphra Behn could not hope to turn her talents into a government post or sinecure, but she did enjoy special patronage from the King's circle of courtiers, including at least two of his mistresses.
"Pretty witty" Nell Gwynn is supposed to have been the daughter of a procuress; she entered the theatre as an orange-seller and ended up on stage. Famed for her tremendous comic gifts, she was an audience favorite and enjoyed the favours of many wealthy men. Samuel Pepys, the Restoration diarist and theatre addict, wrote of her:
...so great performance of a comical part was never, I believe, in the world before as Nell do this, both as a mad girl, then most and best of all when she comes in like a young gallant; and hath the notions and carriage of a spark the most that ever I saw any man have. It makes me, I confess, admire her.
I've never understood why some people have the idea that Gwynn was a bimbo. In her day, she was most celebrated for her ready wit. Stories of her self-deprecating humor are especially numerous.




Finding her carriageman fighting with another servant because the latter had called Gwynn a whore, she is supposed to have remarked: "I am a whore. Find something else to fight about."
Unlike most of Charles' other mistresses, Gwynn was rather popular with ordinary Englishmen and women; she was a sort of "pin-up" girl and an engraving of her posed as Cupid sold briskly in London. (Pepys owned one; it's pictured above.)
At court, Gwynn gathered a circle of unconventional wits and poets, and became a highly influential arbiter of taste. (Not bad for an orange girl!) Her patronage was priceless– a good thing for Behn, who enjoyed her friendship and favour.
Hortense Mancini, Cross-dresser, Abuse Survivor...and Swordswoman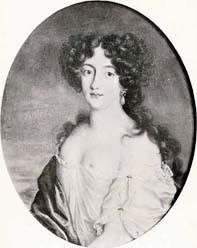 Another of Behn's patrons (and yet another of Charles II's witty mistresses) was the fabulous Hortense Mancini. Neice of the powerful Cardinal Mazarin of France, she had entered an unhappy marriage at the age of 15. In the words of Stephen Coote, author of Royal Survivor:
Her new husband forbade Hortense company, English company especially. He insisted that she spend the greater part of her time at prayer. He refused to allow her to eat in front of men. He searched their bedroom for evil spirits. Having failed to find them, he set out to reform the world. He told Louis XIV that he was an emissary from the angel Gabriel come to tell him to sever relations with his mistress. The King blandly informed him that the angel Gabriel had already told him that the Duc himself was mad....
After Hortense's husband attempted to put her in a convent, she escaped. Traveling dressed as a man, she eventually reached England where, in 1676, she published her memoirs and gained tremendous sympathy for her case. She continued to dress in men's garb and was known for her skill with firearms and at swordplay–and for her ongoing love affair with Charles II.




That Behn was not at all bothered by Mancini's unconventional sexuality is hardly surprising. Behn had a long-running love affair with bisexual lawyer John Hoyle. She also wrote at least one poem suggesting a sexual relationship with another woman, perhaps a transgendered person:




Fair lovely Maid, or if that Title be

Too weak, too Feminine for Nobler thee,

Permit a Name that more Approaches Truth:

And let me call thee, Lovely Charming Youth...

...In pity to our Sex sure thou wer't sent,

That we might Love, and yet be Innocent:

For sure no Crime with thee we can commit;

Or if we should--thy Form excuses it.

For who, that gathers fairest Flowers believes

A Snake lies hid beneath the Fragrant Leaves...

----Aphra Behn, To the Fair Clarinda, Who Made Love to Me, Imagined More than Woman


Mary Astell:"If All Men are Born equal, Why are All Women Born Slaves?"

Mancini's case attracted the attention of another outspoken 17th Century Supervixen, Mary Astrell, sometimes hailed as England's first feminist theorist.
Mary Astell was deeply concerned with women's education; as women were shut out of all opportunities for higher education in England, she proposed a sort of Protestant convent for young ladies as a way of improving their sex; further, she urged women to devote themselves to enlightenment principle of logic and reason in governing their lives.




In 1700, Astell published Some Considerations upon Marriage, which used the unhappy case of Hortense Mancini to argue that the marriage market, generally speaking, was not such a great deal for women; it was all too easy to end up, like Mancini, with a husband who might be abusive and financially wasteful.
Maybe that's why Astell herself never married, preferring to spend her time working at founding a girls' school and engaging in a long-running political and religious debate with Daniel Defoe and the Earl of Shaftesbury.
A Forced Semi-Retirement




But back to Aphra. In 1681, she found herself in some political hot water for writing a play epilogue that was critical of the Duke of Monmouth, Charles II's popular (but illegitimate) son. For the next few years she turned her attentions primarily to off-stage writing; not as lucrative, but less likely to land one in political hot water.
All I ask, is the privilege for my masculine part, the poet in me.... If I must not, because of my sex, have this freedom ... I lay down my quill and you shall hear no more of me.

--- Aphra Behn, preface to The Lucky Chance (1686)
Behn received considerable support from most of her male colleagues, who accepted her as one of their own and even helped her find work in many cases. A few (like Shadwell and the execrable Robert Gould) spurned her efforts as unworthy and she herself as a "punk"(that's 17th century language for a prostitute).
In general, though, they readily treated her as an equal, and she had many "brothers of the Pen," with whom she shared food, wine, and many a sociable evening.( She was known as a sparkling conversationalist, fond of her liquor and talented at playing the flute.) Her friends also helped her make money by publishing translations.




Translations were lucrative; Behn specialized in translating works from French. But Behn was crippled by her lack of Greek or Latin, almost exclusively male preserves. Here some of her male colleagues (such as Thomas Creech, who translated Lucretius) helped her by providing rough translations that she paraphrased into good verse.
In one of these elegant works (on the topic of trees) she broke off and spoke briefly in her own voice. Noting that the laurel tree had long been used as a crown for conquerors, she wrote:
Let me with Sappho and Orinda be

Oh ever sacred Nymph, adorn'd by thee;

And give my Verses Immortality
It was still not enough money. Behn tackled new territory: prose stories and novels. Her book Love-Letters between a Nobleman and his Sister (download it for free here) chronicled the scandalous real-life romance of Ford, Lord Grey, with his sister-in-law. (It didn't hurt that Grey was on the opposite side of the political fence from Behn.)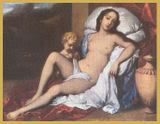 The book was a fictionalized (and highly erotic) novel that imagined scandalous letters between the two. (Think the Foley IMs, only actually sexy instead of just kinda pervy.) It sold well, but Behn's novel Oroonoko gave her even more lasting fame, serving as the basis for several popular 18th century plays, and selling well in French and German translations as well as in England. Her short stories ranged from dramatic tales of unhappy women in convents to bawdy romps through a Christmas tide celebration. Several of these stories also served as the basis for other playwright's works.
The "Pox of Poverty"


Pox of Poverty, it makes a Man a Slave, makes Wit and Honour sneak, my Soul grow lean and rusty for want of Credit.–Aphra Behn, The Rover (1677)
Although Behn enjoyed literary and theatrical successes in the late 1680s, her health was poor and her finances were worse. In April of 1689, Behn's medical problems overcame her and she passed away. Political discontent may have worsened her depression as well. The so-called "Glorious" Revolution of 1688 was not so glorious for Behn, who seems to have seen in it only the triumph of the Whig mercantile interests she so despised.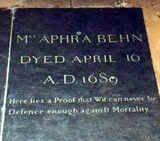 Behn was buried in Westminster Abbey, not in the famed Poet's corner, alas! She lies in a quiet corner of the choir, with these words
inscribed on her grave
: "Thus lies proof that wit can never be/ Defense Enough against mortality"
Mortality of the body, perhaps. But there's good news for all you unconventional women out there. Aphra's literary reputation, tarnished as "pornographic" by the Victorians, was resurrected in the 20th century. Today her works are enjoying a renaissance, as college drama and literature students rediscover this wickedly witty woman. Let's give Virginia Woolf the last word on her lasting legacy:
All women together ought to let flowers fall upon the tomb of Aphra Behn, which is, most scandalously but rather appropriately, in Westminster Abbey, for it was she who earned them the right to speak their minds. It is she—shady and amorous as she was.—who makes it not quite fantastic for me to say to you to–night: Earn five hundred a year by your wits.—Virginia Woolf, A Room of One's Own
Who's your favorite woman of wit?
What's on your mind?