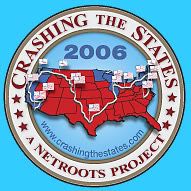 Welcome to another edition of Crashing the States--featuring Darcy Burner and her merry band of bloggers!
This entry comes to you from Berkeley, California, where we spent today conducting interviews with MoveOn.org founder Joan Blades; the king of the rabid lambs himself, Markos Moulitsas; and FireDogLake founder Jane Hamsher. We spent the previous day and a half with the Jerry McNerney campaign in CA-11, and that will be the subject of the report subsequent to this one.
Darcy Burner is running against freshman incumbent Dave Reichert in Washington's 8th District, which includes some suburbs of Seattle as pictured below:
You know the drill by now--follow below the fold for more!

Previous entries:
NC-08 (Larry Kissell)
;
VA-Sen (Jim Webb)
;
DC interviews
;
PA-07 and PA-08 (Joe Sestak and Patrick Murphy)
;
NJ-07 (Linda Stender)
; NYS-41:
1
and
2
(Brian Keeler);
CT-Sen (Ned Lamont)
;
NH-02 (Paul Hodes)
;
NY-29 (Eric Massa)
;
IN-06 (Barry Welsh)
;
IL-10 and IL-14 (Dan Seals and John Laesch)
;
TX-21 (John Courage)
;
CO-05 (Jay Fawcett)
;
CO-06 (Bill Winter)
;
MT-Sen (Jon Tester)
Our drive from Montana to Seattle was quite spectacular--we were in a little bit of a hurry to get out and over the pass because we heard that there was a heavier snowstorm on its way in, and we weren't all that eager to be stuck in it. As it turns out, the snow that did end up falling was just enough to add a beautiful wintry lustre to the scene and enhance the potential beauty of whatever scenes of this segment we end up using for the documentary :-)
There was one thing--and one alone--that disappointed me about the drive from Helena to Seattle--and that was that we barely missed running into Larry Grant, the Democratic Candidate on the netroots-endorsed list who's running in ID-01. If you look at a map, you can see that the path from Helena to Seattle along I-90 West takes you right through Coeur d'Alene, Idaho--and Larry happened to be campaigning in that part of his district that evening. Unfortunately, we missed him by a couple of hours as he ewas on his way to Spokane to fly back home.
The fact that Larry Grant would call me personally to try to arrange something at the last possible minute due to an accident of circumstance speaks volumes, I think, about who he is as a person and his willingness to reach out to the netroots. I feel really bad that we weren't able to meet up, but it turns out that Larry has had the opportunity to hang out with a blogger far more prominent than me recently, so that makes up for it--it's just too bad we couldn't incorporate him and his race into the documentary.
Our experience in Seattle ranks, in my opinion, as the "most unique" (hey, all you linguistic purists can pipe down now) of the trip--because we stayed on a frikkin' houseboat! How cool is that? We also had a nice view of the Seattle skyline from the park near to which the marina was situated:
LokiMom was kind enough to offer us her boat to use as our base of operations for our stay in Seattle, and it was great. Plenty of room, a nice, comfortable couch, and a high-speed wireless connection. Who could ask for more? Well, it turns out that there's a little bit of a local blogging community just within the marina as well! Pictured, from left to right, is Loki (has to be the best pet we've encountered on the trip--I love huskies!), LokiMom, Gary, SeattleLiberal, and our cinematographer Andy:
We were located within walking distance of Fremont, which is a part of town I very much enjoyed spending time in. Definitely fit my preconceptions of what I expected Seattle to be. What didn't fit in with my preconceptions, however, was the large statue of Lenin that's sitting there on one of the corners. Turns out that it was left over from the fall of communist Czechoslovakia and was lying face down in the street somewhere--I forget which city. And this guy fom the Seattle area saw it and mortgaged his house to be able to purchase it and bring it back to Fremont because of its artistic merits. Too bad I didn't take a picture of it--I definitely will when I return to Seattle.
Our first campaign stop with Darcy was a candidate forum at the public library in Kent. To my surprise, I happened to see one of my favorite radio personalities there--Dave Ross, who actually ran against Reichert in the previous election cycle and lost by a 52-47 margin. Dave was the host of the forum, He's the bearded gentleman in the suit, standing in between the speaker on the left and Darcy on the right:
Darcy's mannerisms are very gentle and softspoken, but still emotional and passionate, and that's what impressed me the most when I heard her speak for the first time--especially when it came to the subject of the occupation of Iraq. When Darcy spoke of a need to change the course in Iraq and figure out a way to bring our troops home, you could hear the concern and the worry in her voice. It's not just a talking point for her--as she explained to us in an interview after the candidate forum, Darcy comes from a military family. Her father served. Her brother is currently serving, as are her cousins. This isn't just some policy abstraction; they're real people. Her friends and relatives. And it's a large part of why she's running.
Darcy is also extremely technologically savvy, and that's a large part of why she knew the value of reaching out to the blogosphere--she calls it an "amplifier" for her campaign, and to tell you the truth, I can't think of a more appropriate analogy. Darcy used to work for Microsoft in the DotNet program/department/whatever you call it (because my tech savvy extends just about to the basic HTML I need to know to write posts like this). From an objective standpoint, I think that there would be a good deal of utility in having a professional computer programmer in Congress--perhaps as a way of countering Ted Stevens's "Series of Tubes."
But again, I have to say--Darcy is just such a wonderful human being. She described herself as a two-income suburban mom running for Congress, and when all is said and done, she acts like it. After our initial interview outside the candidate forum, she did everything in her power to convince us to attend a gathering she was hosting at her house in Redmond that night--not that we needed much convincing. But the thing about Darcy is that with many candidates, there's something that seems to separate you from them--something intangible that you can't quite identify. But with Darcy, that doesn't exist. She's a "regular person" who decided to do the one thing she knew how to do to help fix this country: run for office.
We got to meet the rest of the Burner family at the house. Here she is with her husband and son:
The next day, we did the sensible thing when you're staying in a marina: take a boat into the lake! The whole concept of boating is completely unfamiliar to me, as I could probably count on two hands at most the number of times I've been on a vessel of any sort.
We did a tour of union lake, and saw the heart of Seattle's industrial and fishing fleet. There were a lot of boats, and I definitely learned a lot about how commercial fishing is conducted--and it makes me wonder how there can be any fish left in the ocean at all, given the efficiency of the fishing methodologies used. Our "driver" (is that the right term?) is a native of Alaska, and certainly no stranger to the Alaskan salmon fishing industry. He was telling us about how the rise of major corporate fishing businesses and their enormous fleets has essentially put the small fishing boats out of business because there aren't enough fish to catch. No matter where you go, or which industry you're in, the message seems to be universally the same: small business is constantly under attack.
In the evening, we went to a blogger get-together that fellow Kossack erevann put together--and despite the fact that it cut into her family time--which is no doubt an extremely rare commodity for her--Darcy accepted an invitation to show up and meet some local bloggers (again).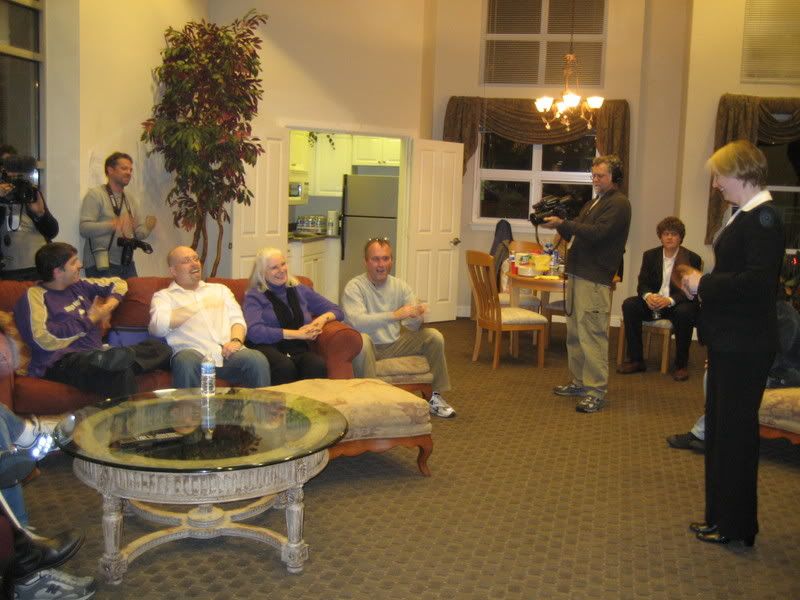 Among those who attended--in addition to our hosts SeattleLiberal and LokiMom--were Kossacks exmearden, RickEagle and NinSeattle, as well as Andrew Villeneuve, the founder of the Northwest Progressive Insitute, who blogs here on DailyKos as NWProgressive. Wanna see some more pictures of the event? erevann wrote a diary about it. Go check it out.
STATE OF THE RACE:
This race in WA-08 is a statistical dead heat, and Darcy told us that at this point, it's all about GOTV. kos made a post a couple of weeks ago after CQ changed its rating from Leans Republican to No Clear Favorite. At this point, it's just going to come down to who is more excited about getting out the vote their favorite candidate. And from what I've seen in Seattle and the 8th district, people love Darcy Burner--and I understand why.
Here's a little bit of a minor scandal for you: someone--and nobody knows for sure because the caller ID is blocked--is conducting push polling in the district. But this isn't just any push polling--this is exclusively for the purpose of spreading completely unfabricated slander and rumor. The way Darcy told it to me, there are three questions being asked:
1) Would you be less likely to vote for Darcy Burner if you knew that she had disenfranchised black voters?

2) Would you be less likely to vote for Darcy Burner if you knew that she were about to be indicted?

3) Would you be less likely to vote for Darcy Burner if you knew that her campaign is a sinking ship and she has no chance of winning?
Now, for the record: Darcy has never even held a position that would have even let her disenfranchise black voters; she definitely isn't about to be indicted for anything; and her campaign most certainly isn't a sinking ship, in large part thanks to all of you! The Reichert campaign is claiming that they aren't responsible--but someone has to be.
Lastly, as a personal note to erevann: the tauntaun has made it well past the third marker and is well on its way back home to Echo Base. /geek
I'll conclude by giving you guys a link (because I can't embed!) to some excerpts of our interview with Darcy Burner. Wanna see what happens when I ask Darcy whether the internet is a big truck or a series of tubes? FIND OUT!
That concludes the Seattle edition of CrashingTheStates--the next issue will feature Jerry McNerney, campaigning against Richard Pombo in CA-11.