Another update of the graphs I've been doing. This time, I've added a line tracking undecided votes.
For method, see This diary
in addition the black line tracks the undecided (read on the right axis)
RHODE ISLAND
[[
]]
if we don't get this one, we're cooked
MONTANA
[[
]]
This one also looks good. Not many undecided left. The trend is against us, but it's almost E-day
MISSOURI
[[
]]
Keep your fingers crossed, but this is starting to look a little better
VIRGINIA
[[
]]
For some reason, the right axis didn't print. But the race looks good.
MARYLAND
[[
]]
Also looking good. Notice how few undecided.
NEW JERSEY
[[
]]
Continues to improve; still lots of undecided; NJ history suggests undecided may go Dem.
ARIZONA
[[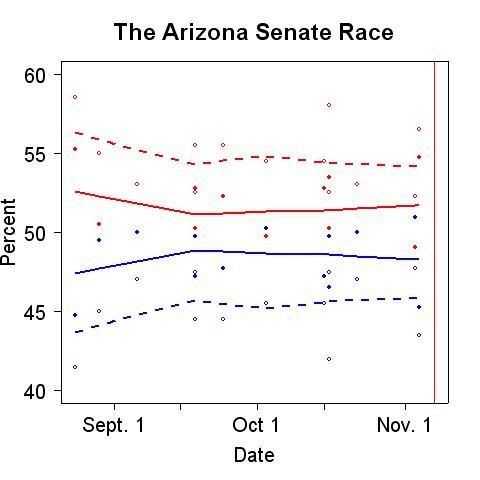 ]]
For some reason, when I went from one computer to the other, I lost the latest AZ update, which added the undecided line. But the bad outlook here is due to the SUSA poll showing Kyl with a 13 point lead