Feeling good about tomorrow
Folks, this is probably my last diary on this race, but, without knowing the outcome of the results in this Harrison-Fossella contest tomorrow, which all the conventional wisdom calls a lock for Fossella, I just want to express my feelings of elation and gratitude to all who have joined me in this fight. It's been quite a journey!
I have been a Democrat all my life and have always voted that way, but here, at age 61, I find myself for the first time, a participant in the process. The only other time in my life as a citizen I can remember being as angry towards those who have brought our great nation to such a pass was Vietnam. That must really be a testament to the condition this country is really in right now.
In late August, I was driving down Forest Ave. in Staten Island and saw that someone's campaign HQ had rented space in a vacant storefront. Trying not to cause an accident, I was able to discern: Harrison: Upbeat on America; Democrat for Congress. I had never heard of Steve at that point, nor knew anything about his policies or `political persona', but I turned to my wife in the car and said "Dear, let's go home and come back with a checkbook".
We returned, Al put us on the mailing list, and, as time passed, we finally got to meet Steve and hear him in action (the debates - oh, those debates!).
Now here it is 11/6/06. I've seen and done most of the stuff - lit drops, contributions, canvassing at the ferry terminal in the wee hours (I'm a musician and musicians will understand how "wee" 7 AM is for musicians), and I'll be poll watching tomorrow all day (even "wee-er": 6 AM call!), and I must relate here that the experience has been fantastic. I've met some wonderful colleagues in arms - Ali, Chris, Al, Roy, David, Sylvia, Bill, Nancy - I cant think of everyone by name here, but thank, you, thank you all for your camaraderie and commitment to the cause.
And also thank you all bloggers and diarists, DrSteveB, Gg, The puggle, David in NYC, Jonah in NYC, shellyshell, and others who have posted regularly to this tag/thread, keeping us all updated with the latest news and links on this remarkable campaign.
And finally, I want to thank candidate Harrison himself, who has inspired both my wife and I by running the most inspirational, down-to-earth, policy-oriented campaign that I have seen in a long time. You know, this morning, while distributing lit at the ferry and `hawking' with calls of "Election day tomorrow, please vote for a change!", etc., I would occasionally get responses from onrushers, like: "Don't remind me!", or "They're all crooks"! "How sad", I remember thinking. "If they only could have shared in this process, they would have learned that Steve doesn't fit that perception and that it is possible to make a difference".
And so, I am grateful to all. I have spent too many years and too many arm-chair-Wednesday-afters cursing the results in the past. Not this time. Win or lose tomorrow, this will be a genuine victory for me!
Update:
Here's a pic I'll always cherish:
Msirt & The Marathon Man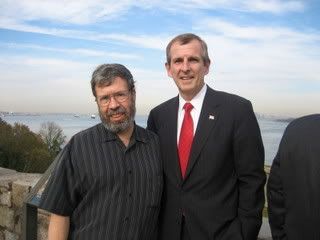 Steve Harrison for Congress!
Our Marathon Man!
Override Bush's VITO!!!!!!!