I was going to post this yesterday morning, but decided I hadn't had enough time to proof read it before leaving for Thanksgiving, so I decided to wait until after I got home.
Sure enough, by the time I got home someone had already posted at least part of what my post was about! See: Christian Coalition Continues to Implode: President-Elect Resigns.
I knew I should have put it up then - flaws and all!
Anyway, since my point was to write about the collage of evangelical crumblings and not just the one diaried yesterday (and recommended! mind you) , I decided to post my diary this morning. So here goes...
It's been a horrible year for the hate-mongers among us.
Evangelical leaders – insisting their followers focus on the things they say Jesus would truly want them to focus their energies on: gays and abortion – don't seem to be able to get their wayward flocks to listen as easily anymore.
More below the fold...
While millions are starving, dying from AIDS or being slaughtered in Africa, and millions live below the poverty level here in our own country, the handful of sociopaths running groups like Focus on the Family, American Family Associations and the Christian Coalition of America insist they maintain their status quo of hate and fear.
Fortunately for the rest of the civilized world, the status quo is ripping them apart.
Just before the elections, Pastor Ted Haggard's the New Life Church hate ministry, was rocked to its gay-bashing foundation when it was revealed that Pastor Ted (as he was called) was caught living a double life of homosexuality, male prostitution and hardcore drugs.
This is the same Pastor Ted recently seen pontificating said hatred in the delightful independent film, 'Jesus Camp'.
Then, as quickly as Don Wildmon's silly American Family Association's called for a boycott of Wal-Mart and Sam's Club for this Thanksgiving weekend - because of Wal-Mart's acceptance of all things gay - the boycott was called off and inexplicably called a victory by AFA, despite getting nothing they demanded from Wal-Mart.
Similar boycotts or threats of boycotts were made towards Ford, Disney and Microsoft – which were also unsuccessful.
The specific "grievances" AFA had with Wal-Mart (according to the AFA's email alert from earlier this week) include:
Wal-Mart giving $60,000 to homosexual group to support homosexual agenda in the workplace, made a generous donation to the Northwest Arkansas Gay, Lesbian, Bisexual, Transgender Community Center, sells pro-homosexual items from their website, asks for, and received, permission to join Gay & Lesbian Chamber of Commerce, invited homosexual ad agency to headquarters for 2-day seminar to indoctrinate employees and chose to promote "Brokeback Mountain" video over the top-selling family-oriented film, "The Chronicles of Narnia" which Wal-Mart did not promote.

Thanks to AmericaBlog for supplying the original post & list that I used.
According to the AP, it now seems Rev. Joel Hunter, senior pastor of Northland Church (a mega-church with 6,000 members in Orlando) and the President-elect of Pat Robertson's floundering Christian Coalition of America, resigned .
It seems Rev. Hunter had hoped to focus on real issues such as poverty and the environment, wanting to expand the organization's agenda beyond opposing abortion and gay marriage, but the national group would not let him.
"They pretty much said, 'These issues are fine, but they're not our issues, that's not our base,'" Hunter said. "To tell you the truth, I feel like there are literally millions of evangelical Christians that don't have a home right now."
As Mitt Romney runs around the country spewing hate through his Mormon brand of gay-bashing (here, here and here), one has to wonder how much longer this tactic can list?
With this century's final awakening of intolerance coming to an end, Mitt, like many of his fellow firebrands, seems dangerously unaware (for him) of his bases' recent (and succinct) election failures.
Hopefully the firebrand in his eyes will keep him blinded to that reality.
Now, if only there was a way to nip the wide-eyed students of the old hate masters in the bud.
They've already infiltrated companies like Disney, who has become hostage to a select few whack-jobs like 'The Path to 9/11' writer Cyrus Nowrasteh and it's director, David Cunningham of Youth With A Mission (YWAM) - both are card carrying religious zealots masquerading as independent film makers.
So, it seems the fight is moving from the pulpit to the board room and to be honest - unless every project these agenda-driven fails or is exposed prior to being integrated into society - the fight might actually be worse than when it came from an easily identified hate-preachers of the past.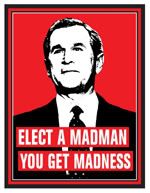 UPDATE: (Well, really a question): Has anyone (in the blogoshpere) ever taken a guy like James Dobson, Pat Robertson or Tony Perkins and really investigated them? You know, like the pros some of you are at finding out all the details?
I really have NO DOUBT these guys are exactly what they preach against. They aren't smart enough to have erased all the proof.
I guess that's a challenge of sorts. ;-) LOL
UPDATE II: Here's a list of the top evangelical hate-mongers (with links). Media Matters really keeps a great record of all their lunacies.
Pat Robertson and his 700 Club.

Tony Perkins and his Family Research Council.

Evangelical (just for good measure).

If you can think of anymore that should be on this list, give a holler!