Crossposted from MY LEFT WING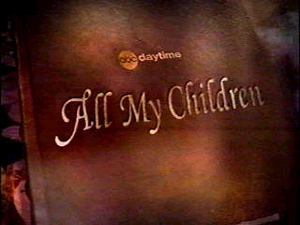 Well, THIS is certainly groundbreaking:
'AMC' Introducing Transgender Character
By DAVID BAUDER, AP Sun Nov 26

NEW YORK -

In a story unusual even for a soap opera and believed to be a television first, ABC's "All My Children" this week will introduce a transgender character who is beginning to make the transition from a man into a woman.

The character, a flamboyant rock star known as Zarf, kisses the lesbian character Bianca and much drama ensues. The storyline begins with Thursday's episode of the daytime drama.
Okay... ZARF?????
But let's just look past that, shall we? Moving on...


The actor playing the role:


Jeffrey Carlson
There have been a handful of post-surgical transgender characters in television shows, including a college professor in the 2001 prime-time CBS series "The Education of Max Bickford" and a model in the short-lived ABC soap opera "The City" in 1996, according to the Gay and Lesbian Alliance Against Defamation. Showtime's "The L Word" currently features a character changing from a woman into a man.

. . .

The show wasn't interested in doing something just to be sensational, she said. GLAAD and some transgenders were brought in as consultants in shaping the character, teaching the producers when it is appropriate to call a character "she" even before surgery, she said.

Damon Romine, a spokesman for GLAAD, said he hasn't seen the show yet but feels people involved were genuinely interested in telling the story with dignity. Emotions are so close to the surface in soap operas, and this story can serve a purpose by showing what transgenders go through, he said.

"I think it's groundbreaking and breakthrough television for daytime to put a spotlight on transgender people and tell their story," he said.

. . .

After Zarf establishes a bond with Bianca that leads to the kiss, an angry Bianca tells him she's a lesbian. It triggers something within Zarf about why it made such sense to be falling in love with a lesbian.

It's not clear, Carruthers said, whether "All My Children" will stick with the Zarf character through any surgery; one suspects the reaction of the soap's audience to the story will have a lot to do with it.

"She talks about peace so much," Carlson said of his character. "I hope that she finds some peace."
Please note the LACK of drama in the second paragraph as regards the lesbian -- because by now, the presence of homosexuals in television is de rigeur. Which I find MARVELOUS. Homosexuality is so accepted as a natural part of life that it no longer registers on the radars of the censors or the advertisers.
It's beautiful. As infuriated as I am whenever I think of the TRAVESTY of the persistent, nauseating denial of their civil rights when it comes to marriage equality, stuff like this just tickles me and reminds us all... we have come a long way, baby. And I say "we" because when it comes to homosexual men and women, well, I'll let Eugene V. Debs say it, he says it best:
... years ago I recognized my kinship with all living beings, and I made up my mind that I was not one bit better than the meanest on earth. I said then, and I say now, that while there is a lower class, I am in it, and while there is a criminal element I am of it, and while there is a soul in prison, I am not free.
Of course, Debs used "meanest" in the older sense of the word, rather than the one to which most of us are accustomed:
inferior in grade, quality, or character: "no mean reward."

low in status, rank, or dignity: mean servitors.

of little importance or consequence: mean little details.

unimposing or shabby: a mean abode.

small, humiliated, or ashamed: You should feel mean for being so stingy.

(Informal) in poor physical condition.
And if there's any group in our society that suffers more humiliation and degradation, mockery and shaming -- well, show it to me, because I'll argue it to my grave that there is none other than the transgendered community -- pre- and post-op.
Which is not to say that, hey, homosexuals have it MADE! now, by any means. They are still a savagely treated minority in many areas of this country; they still suffer discrimination and ill treatment, even if in "good" society, it's subtle and oftentimes unconscious.
But, like blacks in the 70s and 80s, homosexuals have broken down one of the more important barriers there are in this country: the popular culture (read: film and television) color bar, so to speak. Everybody knows a few gay people, and while they're still, absurdly, disgustingly happy to tell you how they don't think "the gays" deserve special treatment, and they'd be much more comfortable with them if they didn't have to "flaunt it" -- oh, god, don't get me started on that -- I have no trouble with HETEROSEXUALS, if only they didn't have to FLAUNT it, don't you know -- well, it's coming apart at the seams, this bigotry against gays. Finally -- and that last few feet before the finish line? Well, ask any African-American you know -- they haven't crossed that line, either. Seems like Amurka is more than happy to "let" y'all get THIIIIIS close to crossing into the end zone and spiking the football and doing your touchdown dance.
Ugh. I just murdered TWO metaphors...
Anyway. Back to our transgendered brothers and sisters... According to the article, there have been trangendered characters here and there on television, and they're right. I can remember more than one on Ally McBeal and another few on other David E. Kelley shows; Kelley, being a dyed-in-the-wool liberal of highest quality, has always had an affinity for the downtrodden, the outcast, the sexually suspect, the "freaks," if you will.
But that was here and there, a 3 episode chacter arc, at best. Last season, Nip/Tuck introduced a 6 episode character arc with a pre-op transsexual called Cherry Peck, played by an actor named Willam Belli -- and played very well, in my estimation. That entire season Nip/Tuck was wonderful for the secondary and tertiary storylines -- I wasn't thrilled with the main storyline, but that's a tale for another day.
So here we stand, on the threshhold of another big push from a soap opera, long the standard bearers of breaking barriers on television (first gay character on tv? Soap. First character with AIDS? Soap). It goeth on and on, and for that reason, I say BRAVO, you purveyors of drama in the daylight hours, you dealers of detergent, you temptresses of teenagers to dally abed with affected coughs and clammy palms á la Ferris Bueller...
I say it without a trace of irony, ladies and gentlemen: Soap operas serve a greater good than mere disinfectant -- they cleanse, to be sure, but in the case of the betterment of our social mores, they purify, they edulcorate.
And, where the products they sell would seek to deodorize, in instances of groundbreaking social change, they dredge, they purge. In dragging the taboos out of their respective closets and onto the telvision screens of America, soap operas manage to do what loftier, more "respectable" mechanisms (like those tedious, earnest pleas for attendance at functions purported to educate but more likely to enervate) so often fail to do: they create change.
Sure, it's overkill. Let's face it -- 97% of the time, soap operas are ONLY there to dish out the softsoap. But, oh, that remaining 3%. Hell, who knows if they're even more than nominally aware of the jackhammer of consciousness they rattle through their audience's collective cemented ideas... Certainly, after the fact, they're willing to lay claim to the results; and nowadays, having been proved so often right and righteous, any decent soap PR person will hopefully point to that role as being the "real" reason they do what they do. Ah, hell -- give it to 'em.
Disclaimer
I haven't watched a soap opera since my college days, when watching NBC's witty and therefore doomed was far preferable than attendance at some dreary required course in biology.
I blame soap operas for my subsequent failure to snag that degree. I also blame them for global warming and Anthony Geary's 30-year old hairdo.