I started a series called "Danse Macabre" to illustrate the dangerous signs and trends of the Bush Administration and their neoconservative ideology. The third installment to the series has now been posted on the ePluribus Media Journal. It's entitled "Danse Macabre: The Return of Ja(a)far [Donald Rumsfeld]."
This diary serves both as an invitation to check it out if you haven't seen it yet (it's long, bring coffee) as well as an opportunity to touch upon the various artists responsible for the images found within. Come on inside, and learn a little more about the artists and their works.
A Little About Art in General
Art -- what is it, and how important is it to our society? It's not one of the three "R's" ("r"eading, w"r"iting, a"r"ithmetic). Neither are science and literature, for that matter. The most basic education focuses on the ability to read simple instructions, "add subtract multiply divide" numbers, and communicate through writing. "Art" isn't hinted at; science doesn't enter the picture until one learns algebra and calculus, and literature spans depths far beyond "See Dick Run" or "Insert tab A into Slot B."
"Art" can be considered the first universal language, the first writing, the first form of communication between different tribes of early people. It communicated important, factual things of the day; "abstract" concepts came later. Early peoples dealt with topics of daily life -- death played a significant role. Through art, we catch a glimpse of their daily lives, enabling us to learn about those lives, rituals, mythology and beliefs.
We've learned that the concept of "dance" was woven just as intricately into the fabric of their existence as the concepts of life and death. Dancing is a living expression of art, engaging in ritual or celebration. Not surprisingly, life and death are also described as a "dance." "Le danse macabre" -- the "Dance of Death" -- serves as a stalwart, enduring allegory for this eternally interwoven circle.
I've coopted that theme for this series, feeling that it is all too appropriate. Each piece contains -- and will continue to contain -- images and artwork as a way to add depth, ideally bringing them to life for the readers.
Several of the images I use are by people who depend upon their work for their livelihood; to use their images without permission is not only an insult, it is also an act of theft. Hopefully, by requesting permission and providing explicit credit to the artists, I (and we) can set examples of due diligence and respect that can not only aid them in their careers, it will also establish a precedent to encourage proper respect of copyrighted material on the internet and in blogs.
Without further delay, therefore, I would like to introduce you all to "The Art of Danse Macabre 03" -- and to the artists who made it possible:


:: ::

Jose Guadalupe Posada, Mexican engraver and illustrator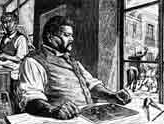 Image credit: Jose Guadalupe Posada, calavera del catrin
This is an excellent, brief description:
"When José Guadalupe Posada died in 1913 there were no mourners; he was eventually interred in a common grave. Throughout his career in Mexico City, he worked in seeming obscurity, producing vivid illustrations for penny sheets that sold on street corners and outdoor markets. The urban lower classes that bought his works had little idea who he was. He left behind neither descendants nor writings, yet today his fame is international. Mexicans regard him among their greatest artists, and his reputation is nearly as great in the United States."
It's from the University of Hawaii Art Gallery.
Here's a little more biographical info, from Wikipedia:
José Guadalupe Posada (2 February 1852 – 20 January 1913) was a Mexican engraver and illustrator.

He was born in the city of Aguascalientes, where he learned the art of lithography...[...] Much of his work was also published in sensationalistic broadsides depicting various current events. Posada's best known works are his calaveras, or skeletons, which often assume various costumes, such as the Calavera de la Catrina, the "Skeleton of the Female Dandy", which was meant to satirize the life of the upper classes during the reign of Porfirio Díaz. [...] Since his death, however, his images have become associated with the Mexican holiday Día de los Muertos, the "Day of the Dead". [...]
Posada's work is considered Public Domain. An excellent source of information regarding Posada can be found at the University of New Mexico's eLibrary, and of course the University of Hawaii's Art Gallery.

The picture of the artist is a crop from a portrait by Leopoldo Méndez.


:: ::

Roberto Parada, American artist and illustrator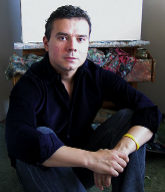 Image credit: Roberto Parada, "Eye on War"

Roberto is a dedicated artist -- so dedicated, in fact, that his chosen profession almost killed him. He was made very painfully aware of the problems of toxic chemicals in the workplace when he fell suddenly and mysteriously ill in 2003. Read about what happened from his website, and see what you can do to help others learn about potential hidden hazards in their own workplace.

I included a little more information from Roberto's site in an appendix to the Journal article; you can also learn more there. Regardless of where you read it, the information is important. Please help make others aware, and let Roberto know that you have checked out his site and his story.

A little more about Roberto, from his site:
I was born in 1969 and raised in northern New Jersey in a town called North Arlington, which was not a scenic place but it did have a great view of the New York City skyline. I eventually journeyed over that skyline to Brooklyn, New York to study fine arts and illustration at Pratt Institute. Upon graduating in 1991, I went head first into the editorial illustration market. My early clients ranged from The National Review to Playgirl magazine. At this time I was working in acrylics and repeatedly changed and updated my portfolio to target more portrait illustration assignments. Things dramatically changed for me and my career with a phone call to the great illustrator, Tim O'Brien. I felt the need to distinguish my work from what was out there and being an oil painter himself, he gave me the confidence to make the switch to oils instead of the water based mediums I had been working with. The work and the clients followed once I began refining my style with oils. These clients included Esquire, Playboy, Entertainment Weekly, Rolling Stone, and Time Magazine to name a few. Living in New York at this point, I entered the fast pace and demanding world of weeklies and monthlies and loved it.
Roberto has granted permission for the use of the Rumsfeld image and one other piece, scheduled for an upcoming installment of Danse Macabre.

The picture of Roberto Parada is taken from the "About" portion of his website.


:: ::

Deano Minton, American Caricature Artist and Illustrator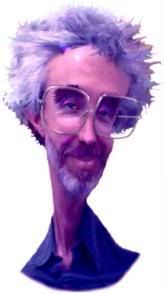 Image credit: Deano, "Donald Rumsfeld"
Deano and his wife Mary operate retail and digital studios on Florida's Emerald Coast. After learning the craft of caricature in Europe, Deano is now a freelance caricature artist with an eye toward capturing the essence of his objectives. Check out some of his work at his website, Cartoons by Deano -- particularly the political section.

I hope to be able to use more images in upcoming installments of the Danse Macabre series.

The image of Deano is taken from his site.


:: ::

The Works of Hans Holbein (The Younger)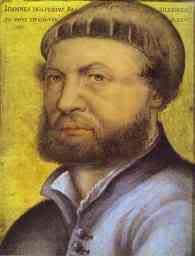 Image credit: taken from Hans Holbein's "Dance of Death" woodcut "The New-Married Lady."
Holbein's "Dance of Death" appears constantly in references to le danse macabre, and the various elements of his collection have surprising relevance even today.
From Wikipedia:
Holbein was born in Augsburg, Bavaria and learned painting from his father Hans Holbein the Elder. Later he went with his brother Ambrosius Holbein to Basel where he met many scholars, among them the Dutch humanist Erasmus. Holbein was asked by Erasmus to illustrate his satires. He also illustrated other books, and contributed to Martin Luther's translation of the Bible. Like his father, he designed stained glass windows and painted portraits.

:: ::

It's important to recognize the hard work and dedication that goes into the artwork that we sometimes take for granted. For those who choose to make art and illustration their profession, copyright infringement is a real issue, particularly in this day and age. Please remember to credit your images, and if they are not "public domain" in nature, either ask permission for their use (unless usage guidelines are provided by the artist) or use a different image. Bone up on "fair use" terms and conditions, too -- I know I need to.

As I progress with this series, I'll be crossposting little diaries like this one that introduce the artists behind the images. I hope you found it interesting, and enjoyed the Journal piece as well. The next installment is titled "Danse Macabre: Bang the Drum slowly."

Thank you for your time.

Crossposted at DailyKos, BooMan Tribune, European Tribune, My Left Wing, Progressive Historians, Political Cortex and OpEd News.