Yesterday, two American women died suddenly.  One you've heard about to the extreme. Apparently, we cared about her because:
"She was a celeb who always seemed on the verge of disaster," said Matthew Felling, media director at the Center for Media and Public Affairs in Washington, D.C. That was part of her appeal.---San Mateo Times
Without belittling Anna Nicole Smith, it seems somehow unjust that the public we will spend this much air time mourning someone whose fame came from ditziness, disaster and the miracles of silicon implants, while the death of this  young Marine goes almost unnoticed. Jennifer is on the front page of Daily Kos right now but she sure isn't on CNN. It's just another day of bread and media circuses in the Empire Americana.
"She was as always upbeat," said the brother, who is stationed in Cherry Point, N.C. "She was there to do a job, and she believed in what she was doing. None of us want to go to war, but when you see those people and what their lives are like, you want to help."While her brother is considering a military career, Jennifer Parcell planned to leave the Marines and attend college when her tour ended in 2009....Helping others was routine for the Marine corporal. She sponsored an African child through a mission charity. And when Pakistan was devastated by an earthquake last year, she and others in her unit were dispatched to the scene. She earned the Humanitarian Service Medal for her efforts.
----Baltimore Sun.(H/t to Attytood for the story.)

Jennifer Parcell, aged 20, of Bel Air Maryland. Number 3115 in OIF. Attytood has more---or at least as much as we are going to get.
Obsession over celebrity deaths is nothing new. Nor is the use of entertainment to distract from the sad realities of life. It was the Roman satirist Juvenal who coined the term panem et circenses to describe his disgust with the Roman practice of winning over the masses through grain subsidies and huge, state-sponsored entertainments.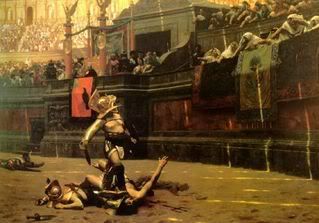 It wasn't a practice restricted to emperors; Caius Gracchus curried favor with the masses by destroying the elite seating around the gladiatorial ring that obscured the view of ordinary spectators. Julius Caesar won over the plebs by investing huge amounts of his personal money into games---money well spent when it came time for his to seize political power. Perhaps Juvenal was thinking of the excess in 107 CE, when Trajan, celebrating his victory against the Dacians, sponsored over 10,000 gladiators in a 123 day festival in which 11,000 wild animals were slaughtered for the entertainment of Rome.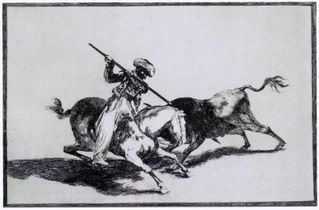 Of course, Trajan's rule was a relatively prosperous one, so for a better example of "panem et circenses" we might turn to late 18th century Spain. The "bread and bullfights" of that era were decried as a distraction from social justice; Francisco Asenjo Barbieri's 1864 opera, Pan y toros articulated an artistic protest against the continuing problem of entertainment-as-distraction. The opera contrasts the patriotism of the artist Goya with the machinations of politicians who will turn Spain into little more than a French colony. The crowds, poor and undernourished, will support anyone who can provide them entertainment. Gaining the support of the entertainers, Goya and his allies are successful in promoting the cause of the people and thwarting injustice. The opera (itself a magnificent piece of entertainment) makes a passionate case for the power of celebrity...when given to the right cause.
Perhaps that is why I find our era's merger of news and distraction, its 'info-tainment,' particularly obscene. There is nothing wrong with providing an escape from reality. I just hate to see escapism labeled "news." And I don't buy for a minute that reporting reality is somehow unpalatable, impossible to "sell."
I've recently been re-reading Amy Srebnick's wonderful book The Mysterious Death of Mary Rogers. In 1841, Mary Rogers, a salesclerk at a cigar shop, was found dead, her body floating in the Hudson River. At first blamed on urban gangs or a jealous murderer, the case was eventually deemed to be the result of a botched abortion.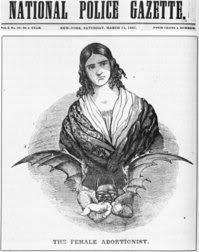 Srebnick's book lays bare the way newspapers created their own celebrity cases in the mid-19th century, and the way that the death of a seemingly ordinary New York woman suddenly became a focus for the public discussion of many social anxieties: abortion and contraception, immigration, and the social disruption of the city itself.
Mary Rogers' death, first a matter of news,  prompted many fictions and "entertainments"-most famously, Edgar Allen Poe's detective story The Mystery of Marie Roget. We might  decry the media circus of her death, the unseemly intrusion of the word's eye into the very private matters of a young woman who never sought fame, who died trying to maintain her public respectability. It still seems a more proper order of things to me that she became a celebrity because her death spoke to genuine social concerns, rather than simply being news because she was famous for being famous...
Imagine, if you will, if every one of those 3118 OIF deaths received the attention given an Anna Nicole Smith-or even a Mary Rogers. What current social and political problems would be revealed by that attention? Of course, we would ask why we are (still) in Iraq. We would ask why  so many  people can only afford college through military service . (We might ask why even that is falling short.) We might wonder how many veterans of this generation will be
crippled by wounds and what our social obligations to them will be.


We might question the casualty counts themselves, because they do not include the soldiers, sailors, airmen and Marines who are dying more gradually, from their  invisible scars:
When she first saw it in December 2005, Ellen thought it was a Christmas list from her son Josh, who had just walked out the front door. Then she read the words:"Don't think this is because of you," it said. "You did the best you could with me. The faces and the voices just won't go away."...By the time Ellen realized what the note was about, she ran outside. Josh was getting in his truck. She grabbed the side mirror, yelling hysterically that he would have to run her over before driving away. He yelled back, about a friend who had been killed in Iraq.

"Your battle buddy would not want you to die," she screamed.

"Mom, you don't understand," he said. "I've been dead ever since I left Iraq."

Josh shot himself in the head a few seconds later, as a police officer - and close friend - pulled up. -McClatchey Newpapers
Like Jennifer Parcell, Josh Omvig was 20 years old.
One of my favorite scenes in Good Morning Vietnam comes when Robin William's character realizes that his popular Armed Forces radio show, while meaningful to his fellow servicemen, makes him part of the censorship of the news. He is complicit in the cover-up of the escalation of hostilities, the attempt to soothe Americans into a false sense of security about Vietnam. After personally witnessing a cafe being firebombed, he is prevented from reporting the event  by his commanding officer. He responds:

  It's the truth. I just want to report the truth. It'd be a nice change of pace.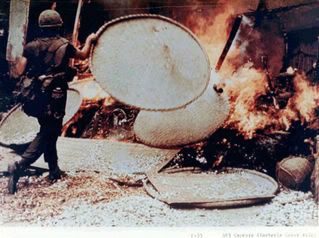 There are no military censors (as far as I know) standing over the desks of CNN, CBS, ABC, NBC, and the rest. Yet reporting the truth seems to be outside the bounds of our current media circus, as closely managed by Caesar as they are.
The truth. It would be a nice change of pace these days. Forgive me if I can't join in the discussion about Anna Nicole. I'm a little busy saying a prayer for Jennifer, and for all her comrades fallen this day, yesterday, last week and beyond. For my friends still serving in what  we can finally call a civil war. For all the kids just now  heading off to the deadly sandbox that is Mr. Bush's folly, and for those who are finally returning.
Caveat orator, CNN and company. You never know when America will tire of your obsession with the American Idols, the Brangelinas, and the Anna Nicoles. The circus is deafening. But the bread? It's getting pretty damned thin.
Crossposted to Progressive Historians.
Image credits:Photographs are in the public domain in the United States because they are works of the United States Federal Government under the terms of Title 17, Chapter 1, Section 105 of the US Code.  Goya sketch and all paintings are in the public domain in the United States because they have reached the limit of author's life plus 70 years for copyright.