Good evening, all. Tonight in honor of Valentine's Day, cronesense and I have collaborated to bring a bit of romance to DKos for the evening. We hope you enjoy the tales we will each share. Both of us will stay around tonight for conversation and we will post a pair of tip jars. The anticipation of this evening's stories has been a real treat for the both of us. We hope you find some measure of our pleasure in the sharing. May your evening be as romantic as you hope.
STORYTIME: First Date/Blind Date
The year was 1960 and I was a sophomore in a brand-new high school. That in itself was an unusual situation as students had come from several overcrowded high schools in that quarter of the city and as such there was no real sense of traditions or built-in hierarchy. The upper grades were just as confused in the social order as the newly-minted sophomores.
Just the year before I had really started to notice boys and have crushes. You know the type - when you gaze across the room or gawk while walking down the hall. They are princes, unattainable and aloof. But you look your fill and spin you fantasies nonetheless.
I was befriended by a young girl who was a junior. In the course of our friendship which started in a classroom was further cemented with an invitation to sit at her table during lunch. This was a rare treat for a neophyte high schooler. It came to pass that she had been dating a fellow for over a year and she would impart the mysteries of the opposite sex to me. I must have hung on her every word like an acolyte. What were the rules? What were the clues to understanding this thing called dating. One day she asked her boyfriend to give me a ride home from school in his wonderful 53 Ford Coupe. I didn't realize what the purpose of the ride was all about.
Unknowingly, I must have passed muster for the next week she suggested that we double date. That's right, my first date was a blind date. Her boyfriend had a friend and so on. As I had already been in school a couple of months with no prospects and I was very curious about this thing called dating so I said, "Sure!" She didn't give me a whole lot of detail about who this blind date was going to be, but she did say he was a junior. Her boyfriend had apparently pointed me out to my prospective date before the offer for the double date and got his okay to proceed with the negotiations, but I wasn't given the same chance.
The activity was planned for the following Saturday in the late afternoon. I was told to dress casually in slacks. As I went about my toilette in preparation for this big event I became more and more nervous. What if he didn't like me? What if I didn't like him? What was I going to say? Being a shy and quiet child felt like a real drawback in this situation. I tried to run imaginary conversations through my head, but since I didn't know anything about him other than he was a junior and which high school he had attended before, I was at a loss to come up with anything in the way of clever possibilities. I decided to fall back on a tried and true ask-him-questions-about-himself approach.
Finally, the hour arrived and I was unfashionably ready to fly out the door and get this ordeal over with. I opened the door and was pleasantly surprised to see a nice looking fellow that seemed a terrified as I felt. He introduced himself and I introduced myself and off we went. We sat in the back seat and tried to converse. I found out he was co-captain of the swimming team. He was pretty soft spoken and about as shy as I was.
It was a this point the the afternoon's activity was revealed to me. Now please, remember the time and place. We are talking 50 years ago. These were those innocent dorky sort of years and this blind date was going for a cliche if there ever was one. We were going on a hay rack ride out in the country. I was actually kind of pleased as I had never been on one and thought it would be fun. It was some sort of package deal in that you got a ride and a cup of hot cider afterwards.
It was a bit of a gray afternoon with the nip of fall in the air as we drove out to the farm that had the rides. I had always loved horses and these were big wagon-pulling fellows. And the wagon was full of loose hay. What I didn't know was how hard it was to sit without sliding around as the wagon jerked along the rutted road. The couple we were with solved the problem by snuggling together while leaning on the side of the wagon, but we hardly knew each other so that wasn't going to happen. We were left to flop around in the middle since neither one of us knew enough to head to the side before all the places were taken.
The driver of the wagon was a crusty old fellow that gave the impression that he wasn't much in the mood to be driving a wagon full of kids around to augment his income. Conversation between my date and I was at a minimum as the noise of the wagon and the shrieks and giggles of all the other passengers made that nearly impossible, so we settled for weak smiles at awkward intervals. Finally the wagon made it back to the barn and paper cups of lukewarm cider were thrust into our hands as we were given the bums rush off the premises as the owners prepared for the next group of fun-loving participants.
The fresh air and anxiety had made us hungry so we headed for a local pre-McDonalds hamburger joint. We dined on cheeseburgers and thick chocolate malts. It was a bit awkward as the couple we were with were so very into each other and so much farther along in the dating thing. Soon the evening was over and I was deposited on my door step saying goodnight to this near stranger. The nice thing about dating back in that era was that the rules of saying goodnight were very clear. I didn't have to worry if he was going to kiss me as that was strictly off limits before the third date at the very earliest.
The whole doorstep scene couldn't have taken more than 30 seconds with thankyouverymuchforthenicetime from me and yourwelcomeitwasnicetomeetyouseeyouatschool from him.
If your wondering what happened afterwards I will tell you that it was a sweet, innocent romance that developed. We had simple dates, one of which included a movie downtown that his mother drove us too and picked us up. That was the first time a boy had ever held my hand in the dark. I felt that tingle of excitement that said he liked me and nearly lost the thread of the movie while I marveled in the sensation. Outside of one school dance, most of our dates involved me watching him compete in one sport or another.
Then a rather traumatic thing happened. A girl that I thought was a friend 'stole' him from me. We rode the bus home everyday and she had befriended me - or so I thought. She pumped me for information about my steady and naive fool that I was I talked. She was a junior that shared classes with him and she used that information at first to flatter him and then later to falsely accuse me of not speaking kindly of him. Suddenly, I found myself 'dropped' like a hot stone by both of them as they were now together. It hurt that he believed her and not me, but such are the lessons of relationships. I think the romance was coming to a close anyway. It was by no means a grand passion, just a comfortable thing.
So there you have it. The story of my first and only blind date. Of lessons learned the hard way and an innocence of trust that was never the same.
DOWN HOME: First Date
Growing up as a shy and nerdy kid made for some more or less interesting times along the way. The first time taking a girl to any place outside the home was one of those times. We all had a first time of one sort or another. Get in the car as we go down the lane and over the hill for another of the possum's tales.
At age 14 I was so shy that asking a girl to do anything was just about beyond my reach. At last I found the strength to at least consider the possibility. A girl from my church group was also a member of the high school band (more tales in there for a later time). She seemed like a personable young woman at was at least friendly enough for me to consider our spending time together. Going to a movie together required a driver since neither of us was old enough to have driver's license. Hurdle number one was asking Mother for a ride. The asking came in two parts—first asking for permission to go to the movie and second asking to take a girl. Even asking about a girl was tough and started with asking to take someone along and going on to explain the someone was a girl. Mother did not even miss a beat. She just said, "Yes." She didn't even drop the dish she was drying at the time. Amazing composure I'd say.
Then came another hurdle. I had to call the young lady and seek her cooperation. Shaking and sweating with a mixture of fear and anticipation I managed to finish the telephone conversation without dropping the phone or fainting. We were confirmed for a night on the following weekend.
Having only one theater in town made some choices pretty easy. Unfortunately that also meant unseen complications in the form of two younger brothers. Seems all of a sudden they both wished to go to the movie at the same time my friend and I were set to see. That worked just fine for Mother as she had no wish to drive too many times, and the later show was too late for any of us anyway. The only person with an issue was me.
Anyway, off we went, the two brothers, Mother, and me. Mother had the foresight to seat me in the rear so at least my date and I could sit on the same seat in the car. We arrived at the young lady's home and I went to the door. She was ready and waiting so we spent almost no time at all at her house. Those were the days of ponytails, white socks, and saddle oxfords. My date bounced down the driveway in typical teen dress and with a real spring in her step. That was just typical of her exuberant personality. She took her place in the middle of the back seat between youngest brother and me. From the moment of her arrival the silence in the car was deafening. At last Mother and the young woman started a conversation. We boys were too embarrassed or too nervous or both to say much more than a grunted word or two. Lucky for all of us the movie was only about 3 minutes away (one beauty of small town America is that no place is far away. My home town was about 2 miles across at the wide point).
The brothers had already promised with only a little coercion on my part not to sit near us in the movie. In an effort to avoid the other two my date and I went down the right hand aisle as we boys always sat on the left whenever we went to the show together. The two of us found seats down toward the front and settled in with our sodas and popcorn. The movie was a really sorry affair about a werewolf in London. Really not high class fare, but I was too nervous to even notice the show. At some point in the movie I did lean somewhat toward my date without coming close enough to actually brush or touch any part of her body or clothing.
The movie ended at last. The four of us gathered outside for Mother to retrieve. We sat in the same order in the car once again. I remember distinctly being on the passenger side by the rear door. Once again the silence was funeral in its depth. We arrived at the home of my date, I opened the door, and she sprang from the car as though spring loaded. She marched herself off to the door without an apparent thought to me. I shouted a goodbye and "See you later" at her retreating form. Mother thought I should have been more gentlemanly in seeing her to the door. I was frozen with embarrassment at the time and was not able to explain my distress for the failure.
Many days later one brother and I were sharing times and he related his story of the movie. Seems the brothers had the same idea my date and I had and entered the theater on the right side. They ended up a few rows behind us and spent time observing and discussing the pair down front instead of really watching the movie. They thought my leaning over was just about the most romantic thing they knew. Embarrassment reigned once again for my hearing their side of the story.
Seems both the brothers learned from my trials and tribulations that night. Experience is one fine teacher. When they each had their very first dates they managed to find ways to avoid having other family members along for the ride. Many times in more recent years we have managed to laugh at that first date, but lots of years had to pass before any such could happen for me.
The young woman and I remained friends and off and went out on dates for several more months. At last she drifted her own way, found a new boyfriend, and later married him. Today they are the parents of several children while I went on to father a son with a different young woman. Even today in so many ways I remain that same shy young man who had his first date.
For your very own early Valentine's present we present these roses for each and every one of you: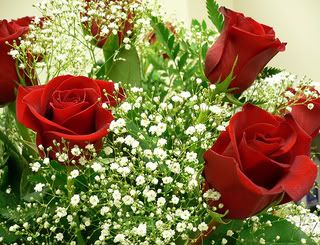 liltree, flickr, Creative Commons