I was bored one day last week and emailed MSNBC my thoughts of some "dream shows" I have for their network. You could also say I wasn't pleased with their 24 hour, all Anna Nicole, all the time news coverage, to say the least. It's that displeasure that really got me thinking about my fantasy shows. It's that same frustration which is forcing me to write this diary!!
I've included the list from that letter as it got me thinking it might make a good diary on it's own.
Well anyway, CNN used to be my choice for news until I started watching Keith Olbermann on Countdown. He and he alone is why I gave MSNBC a shot.
More below the fold...
My TV is on all day long and now that I don't watch ABC daytime (given up when I gave up watching ABC after the 9/11 movie fiasco) I would have normally had CNN on in the background instead, not any more. MSNBC can thank Keith for that.
To be honest though, their daytime news coverage leaves MUCH to be desired. I can't be the only one's who thinks this (or this diary really makes me look batty). I choose to believe the former! Let me live that even if you disagree, please! ;-)
Anyway, I have to turn off MSNBC at various times during the day (is Anna Nicole still dead?) or like when Tucker or Hardball starts. It's an automatic reflex now grabbing the remote and changing to Ellen (at 4pm EST in NYC).
:
Tucker Carlson . Carlsonis a putz. I refuse to watch him. He's vile. MSNBC should dump this twit of all twits - the Rona Barrett of conservatives. They'd really cement their legitimacy in my mind if they just made that only move. Get rid of him! There has to be another Republican (a real Republican, not the version we see now in Congress) to turn to for a full one hour show, no? Not some whiny little girl who calls people nasty names and considers that reporting. He's a blithering coward.

Chris Matthews - At this point Chris Matthews does the best Chris Matthews impersonation. He's a caricature all unto himself, of himself. I rarely, if ever watched Hardball. I had to stop completely after I tried too again the other night, but couldn't for more than a minute. He's got some bug up his ass about Hillary Clinton and while I'm no fan of her (even though she is my Senator), he's disgusting when it comes to her (and women in general). If there was ever anyone who's picture could be used in the dictionary next the the phrase politically incorrect, it's Chris Matthews.

Charlie's Angels - That's what I call the three main daytime anchors (Chris Jansing, Alex Witt & Contessa Brewer). They spend more time cackling about entertainment foibles, dishing about what politicians are wearing and saying about each other (and joining in when political pundits inevitably become nasty about them as well) as if this was "The Gossip Network" – as opposed to a real news network, with real world consequences.

This isn't a high school lunch room where the cheerleaders get to gossip and rip to shreds the smarter, less shallow kids who don't know how to dress or do back-flips. It's fucking a NEWS CHANNEL. Regular guest, Brad Blakeman isn't a story, an expert or an intellect. He's a vindictive hack with nothing to offer ANY story. He the closeted gay friend to the mean-spirited hosts that riles them up with his bitchiness and catty rhetoric. They should be treating scum like him with suspicion, not awe and should be shocked, not tickled when he answers a serious question with one of his racist, homophobic, chauvinistic and self loathing comments.

There's nothing wrong with fluff by the way, but not mixed into the news. I feel like it gives the illusion that the fluff is on the same level of importance as hard news. It's not. I wish they'd just read the damn prompter, stop editorializing or making snide comments about the stories they're reporting on and start focusing on being anchors, as opposed to hosts. It's really hard to watch a lot of the times.

Norah O'Donnell - Gag. Puke. Who is her stylist? Duran Duran? (I know, I just pulled a Brad Blakeman. Sue me.) Besides the fact that her wardrobe and make up are circa 1984, she's horrendous as a host! She's more Entertainment Tonight than hard news. I wish someone would pull her aside (with a glob of Ponds Cream), slap her across her face (the ponds should dull the blow) and shut her up (on her un-inspired, un-invited commentary at least). She's fine if she sticks to reading the prompter, but for God's sake, keep her from straying off! She has this uncanny ability to report the most horrendous news with this wide-eyd, over painted smirk. It's so not right.

Before anyone points it out to me, yes I've noticed that I don't like any of the prom queens on MSNBC daytime. It's not that they don't have something to offer, but either they need to do a full hour of fluff or a full hour of real news. They don't, they can't switch back and forth. It's frighteningly surreal and definitively off-putting. They're hosts, not anchors. And, it shows.

**Joe Scarborough - Technically, he shouldn't be on this list but, he didn't fit at all anywhere else! I don't particularly like him or dislike him. I just don't like to watch Scarborough Country (much), but I will say this: When he's not taking pot shots at peoples looks (his obsession with Rosie O'Donnell is just weird); when he is dealing with real up-to-the-minute news issues, focusing solely on a crisis or something, he's actually pretty good.

The way he's taken on the attacks on NBC and MSNBC by FOX & O'Reilly has been something for him to be proud of. How he honestly talks about the failure that is Iraq (finally), despite how much it's bothering him to do so, is admirable. Now if only he stopped using the same right-wing sources as Bill O does for his talking points, "inside" news sources and newsletters, perhaps he'd see the real story of issues he often knows so little about. But, I can live with him.
:
"MSNBC Daily News" (at 12 pm, 5 pm & 10 pm) – Straight news, NO FLUFF, from around the country and the world. With Reporters reporting the news and anchors reading it. No opinion, no sarcasm. Just Reporting.

"The Congressional Report" - A Daily show dedicated to reviewing EXACTLY what congress is working on at the moment, who the players are – what the bills and debates are about (specifically) – the pros & cons and who is helping or hurting the legislation's chance and who's really pushing it and why. A civics lesson on the move, as it's happening – with not just pundits, but civics and legal experts explaining why it matters. David Shuster should have his own show. (Hint Hint).

"Outside the Beltway" or "Real America" – What WE THE PEOPLE are thinking about real world issues. Enough of the inside the beltway punditry and propaganda. A show that looks at different cities or states or even towns that are coming up with real solutions the real problems that everyday Americans are faced with.

"Media Matters" hosted by Keith Olbermann – It's exactly what it sounds like. A show dedicated to pointing out the lies and misleading information – whether from other media itself, the hate mongers of talk radio or in corporate spin. http://mediamatters.org/...

"Today ReDux" – The Today Show is 3 hours long (possibly going to 4). There has to be and hours worth of stuff from the morning show that can be made into a compilation show for your MSNBC viewers. Not everyone watches the Today Show, for many different reasons, but a 1 hour version might really work on MSNBC, editing the crap out. This show is almost a free be in terms of cost! Liken it to HBO repeating the same episode 10 times a week at various time of the day. There are plenty of people who would watch "Today" if it were on later or was shorter or was more focused. This is a way to do it.

"Blog This!" - A show DEDICATED to what is really going on in the online and grassroots communities. NOT THE RUMORS or the hate speech stuff, THE REAL, INDEPTH researching that is being done by some of the best and brightest, right and left. A daily recap of the biggest issues being tackled on the political, military, technology, entertainment & international blogs, etc.

"Hardball" with ??? - Keep that show and dump the host. Chris Matthews is a pig. The truth is the CONCEPT of "Hardball" is great, but he's not "hard" he's a jackass. A classless, chauvinistic, throwback to the 1970s whose time has long since past. Despite the fact that he's so anti-war, I still can't watch him. I stopped a few ago.

"Foreign Relations" – If this country is to survive, let alone thrive, we must start taking into account what the rest world thinks about us and how our actions affect others. It's time to start seeing what the rest of the world looks like.

"The Most"- Keep it as is - I truly enjoy it. It succeeds as a pop culture show.
As, I've mentioned, I switched from CNN to MSNBC for one reason and one reason only: Keith Olbermann & "Countdown."
NBC probably has the best news divisions of all four major networks and there is no reason why MSNBC shouldn't be equal too, if not better than CNN when it comes to 24 hour news. Unfortunately, a lot of their daytime "hard news" schedule leaves much to be desired (in substance & talent).
:
(1) David Gregory - This guy knows his stuff. He's make the perfect replacement for Tim Russert on Meet the Press (now that we all know he's be compromised). I stopped watching soon after the election when it became apparent that Holy Joe Lieberman and Non-maverick John McCain were going to be regular voices used repeatedly rammed down our throats as bi-partisan representatives of the Congress. (I actually gagged while typing that).

(2) David Shuster - David should have his own show. He's brilliant not just in his research and reporting, but in his delivery. He's succinct and hard hitting on subkect that others would mangle while trying to explain to middle America (The Libby Trial comes to mind). Not David. And his turning down a job from FOX shows he's got backbone, courage and integrity. Whether David is a Democrat or Republican, I don't care. The fact I can't really tell is another reason I like him. He asks the questions that the MSM is supposed to be asked - and he's not afraid to ask them.

(2) Terry Moran - Yeah, yeah. I know. But before you all go crazy, he is a good news guys despite his leanings of late and could easily be a valid "right leaning" host to replace F*&*%er Carlson. He's completely professional and not to bad on the eyes. ;-) (Okay, so maybe my judgment is clouded for that reason, which I'm sure some of you out there will gladly point out in detail.) However, ditto (for me) on asking the questions that need to be asked. Like David Gregory, I think Terry does that. Maybe I'm wrong (I'm sure someone will point out why) ;-)

(3) Christiane Amanpour - Someone pointed out in my Keith Olbermann diary yesterday, that they would love to see MSNBC steal "Christiane Amanpour from CNN ASAP and make her the anchor". I couldn't agree more.

(4) Bill Hemmer - Even though he recently moved from CNN to FOX, he's a real news guys, he can't possibly be happy at FOX. He'd make a great host. One of CNN's biggest mistakes was firing him. The big one of FOX's, is being FOX. STEAL HIM AWAY FROM FOX!!!!

And, last but not least.... drum roll please...

(5) Bill Maher - Do I really need to go into why? (see: Real Time with Bill Maher returning TONIGHT with all new and live episodes on HBO)!
So, give a shout out to to MSNBC & NBC with your thoughts on their news coverage, their host, hostesses & flight attendants (I know another cheap sexist shot) - along with the types of shows you'd like to see them to air and who knows, maybe someone's actually listening! It's the only way things change!
feedback@msnbc.com; letters@msnbc.com; viewerservices@msnbc.com; Nightly@nbc.com; feedback@nbcuni.com; emailnews@wnbc.com
And, don't forget to tell us about them in the comments below!
If you have other email address you think should be on this list, let me know & I'll add them (NBC President, etc).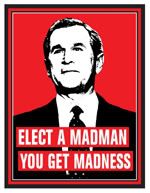 I also have permission to use this picture. The artist gave everyone permission during the 2004 elections. I actually turned it into a 4' x 6' banner and flew it from a flag pole (at the Gay & Lesbian store I was working at at the time) for the Republican National Convention here in NY. The artist, who was marching up 8th avenue during the big protest saw it, loved it! He eventually gave me a signed print (lithograph I think)!