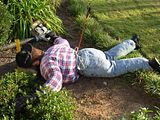 The 9/11 conspiracy theories are a coward's cult.

By George Monbiot

03/02/07 "Guardian" -- -- "You did this hit piece because your corporate masters instructed you to. You are a controlled asset of the New World Order ... bought and paid for."(1) "Everyone has some skeleton in the cupboard. How else would MI5 and the Special Branch recruit agents?"(2) "Shill, traitor, sleeper", "leftwing gatekeeper", "accessory after the fact", "political whore of the biggest conspiracy of them all."

snip..
So go the comments his last piece debunking 9/11 theories received.
Monbiot spends the next paragraph listing only enough of his lefty bona fides to convince those who have been in a hole for 20 years of the absurdity of it all before laying the best smack down I've read on this issue.
Not only does he clearly articulate why tossing in with this crowd makes us look like idiots, but he goes on to beautifully explain why PURGING those who insist on repeating 9/11 nonsense is vital to the advancement of progressive ideas and values.
Ok, for the fair use crew, I'll assume that the above is an extended title and start blocking now.
After listing some of his credentials and a few of the most common theories he starts with..
In other words, you must believe that Bush, Cheney, Rumsfeld and their pals are all-knowing, all-seeing and all-powerful, despite the fact that they were incapable of faking either weapons of mass destruction or any evidence at Ground Zero that Saddam Hussein was responsible. You must believe that the impression of cackhandedness and incompetence they have managed to project since taking office is a front. Otherwise you are a traitor and a spy.
Sounds kinda like the purity wars of late, but I digress.
Now to the meat of his point..
Why do I bother with these morons? Because they are destroying the movements which some of us have spent a long time trying to build. Those of us who believe that the crucial global issues – climate change, the Iraq war, nuclear proliferation, inequality – are insufficiently debated in parliament or congress; that corporate power stands too heavily on democracy; that war criminals, cheats and liars are not being held to account, have invested our efforts in movements outside the mainstream political process. These, we are now discovering, are peculiarly susceptible to this epidemic of gibberish.
The obvious corollorary to the belief that the Bush administration is all-powerful is that the rest of us are completely powerless. In fact it seems to me that the purpose of the "9/11 truth movement" is to be powerless. The omnipotence of the Bush regime is the coward's fantasy, an excuse for inaction used by those who don't have the stomach to engage in real political fights.

Let me give you an example. The column I wrote about Loose Change two weeks ago The column I wrote about Loose Change two weeks ago generated 777 posts on Comment is Free, which is almost a record. Most of them were furious.. The response from a producer of the film, published last week, attracted 467(2). On the same day I published an article about a genuine, demonstrable conspiracy: a spy network feeding confidential information from an arms control campaign to Britain's biggest weapons manufacturer, BAE. It drew 60 responses(3). The members of the 9/11 cult weren't interested. If they were, they might have had to do something. The great virtue of a fake conspiracy is that it calls on you to do nothing.
While more follows this last clip, I think this sums it up nicely without getting as nasty as I think Monbiot and others deservedly should get.
The 9/11 conspiracy theories are a displacement activity. A displacement activity is something you do because you feel incapable of doing what you ought to do. A squirrel sees a larger squirrel stealing its hoard of nuts. Instead of attacking its rival, it sinks its teeth into a tree and starts ripping it to pieces. Faced with the mountainous challenge of the real issues we must confront, the chickens in the "truth" movement focus instead on a fairytale, knowing that nothing they do or say will count, knowing that because the perpetrators don't exist, they can't fight back. They demonstrate their courage by repeatedly bayoneting a scarecrow.