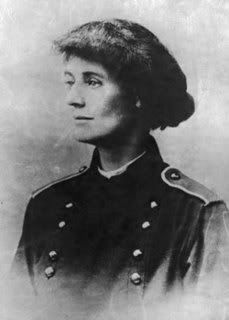 You might be spending some time in Irish pubs this weekend, where it's not uncommon to see photos and drawings of Irish notables, usually heavily weighted towards the heroes of the Anglo-Irish war. You might even play the North American Irish Pub Drinking Game: Take a drink every time you see a picture of W.B. Yeats or Michael Collins or Eamon de Valera. Take two drinks every time you see a photo of Padraig Pearse or James Connolly. Take three drinks if you see any pictures of Protestants (yes, Bono counts). And if you see Brendan Behan's picture, don't bother. His ghost has finished your drink already.
But special drinks all around if you see a picture of this lady: Constance, Countess Markiewicz. Street fighter, crack shot, suffragist, imprudent politician, organizer, aristocrat, and passionate socialist—but if you're living on the North American side of the Big Pond, she's probably the most interesting Irish Republican you've never heard of. Follow me below the fold for an introduction to this remarkable woman
(Cross-posted at Progressive Historians and The Next Agenda.
Born in England as Constance Gore-Booth in 1868, she grew up in Sligo, the daughter of an aristocratic landlord deeply troubled by the plight of Ireland's poor.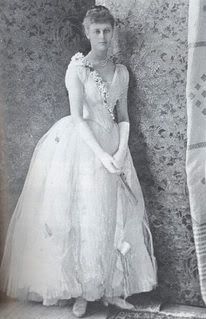 In 1887 she and her sister Eva were presented at the court of Queen Victoria. Constance was not interested in a society marriage, however, and in 1893 she went to London to study at the Slade School in order to become an artist, and in 1898, she moved to Paris to further her studies at the Julian School.
There she met her husband: Count Casimir Markowiecz, whose family owned extensive estates in the Ukraine. Previously married, he had a son and with Constance, a daughter. In 1901, the family settled in Dublin, where Constance's pursued landscape painting. She was deeply involved in the arts scene, founding the United Arts Club.
In 1906, her life took a dramatic turn. She rented a vacation cottage, and found in it old copies of the revolutionary publications The Peasant and Sinn Féin. Reading them inspired Constance to embrace the Irish Republican cause, and with it, the cause of women's and workers' rights. She joined Sinn Fein and Inghinidhe na hÉireann ('Daughters of Ireland'), a nationalist women's movement.
Women taking up the nationalist cause sometimes found themselves looked at askance; asserting nationalist rights in the 19th century had been written of largely as a masculine prerogative, of "true men," in one poet's words, reclaiming their nation and their manhood.
We drink the memory of the brave,
The faithful and the few:
Some lie far off beyond the wave,
Some sleep in Ireland, too;
All, all are gone—but still lives on
The fame of those who died:
All true men, like you, men,
Remember them with pride.
... Then here 's their memory—may it be
For us a guiding light,
To cheer our strife for liberty,
And teach us to unite!
Through good and ill, be Ireland's still,
Though sad as theirs your fate;
And true men be you, men,
Like those of Ninety-Eight. ----'The Memory of the Dead,' by
John Kells Ingram (b. 1820)
But in the heady early years of the 20th century, a new era seemed to be dawning in European politics. The suffrage movement linked women's political empowerment with a variety of other progressive causes, and for Markiewicz, Irish nationalism was tied to the rejection of gender and class restraints as well.


She continued to pursue artistic pursuits, now often openly Republican in nature, performing several times with Republican actress Maud Gonne at the Abbey Theatre. In 1908 she formally entered the political arena. Even though women were not allowed to vote in Ireland or England, she stood for Parliament in Manchester, England, aided by her sister, poet and suffragist Eva Gore-Booth. Up against Winston Churchill, she was not successful in her run, but it gave her a taste for politics that would never be extinguished; as she once put it, "Life is politics."
A tireless campaigner for the poor, particularly poor children, she lobbied to extend the 1906 Provision of School Meals Act and working on other initiatives to feed Dublin's poor.
She also founded Fianna Na hEireann, (Young Warriors of Ireland) as a response of Lord Baden-Powell's founding of the Boy Scouts. While we tend to see the Scouts as a benevolent youth organization today, in the early 20th century Scouting carried definite proto-military implications.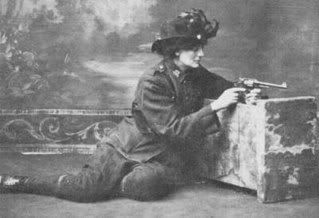 Markiewicz intended her organization as an alternative for Irish youth, where she personally instructed young men in drill, horseback riding, firearms and other military and survival skills.
Today we shudder at her enthusiastic militarization of boys and teens, but it can best be contextualized in light of both her republicanism and her class awareness. Raised in privilege to ride and shoot, she felt obliged to share her knowledge and skills with those not born to enjoy those advantages in what she believed would ultimately be a violent struggle for national liberation.
In 1911, she was jailed for protesting the visit of King George V; the experience did nothing to dampen her interest in radical causes. A massive labour dispute in 1913 drew her support for Irish workers. Locked out of Dublin's railroad and factory works, laborers quickly found themselves impoverished and desperate.
Markowiecz organized the Liberty Hall Soup Kitchen, which in many cases was all that stood between the locked-out workers and starvation. She personally spent long hours preparing and serving soup in the kitchen. She was also active in the Irish Citizen's army, organized to defend workers against the police, the military, and the private security forces hired by rail and factory owners. One of only two women commissioned as an officer, she served as a trainer and a front line fighter.
I have seen Maeve of the Battles wandering over the hill,
And I know that the deed that is in my heart is her deed,
And my soul is blown about by the wild wind of her will,
For always the living must follow whither the dead would lead--
I have seen Maeve of the Battles wandering over the hill.—Eva Gore-Booth
In an era when female combat soldiers were almost unheard of, Markiewicz demonstrated a remarkable physical courage and skill that seemed to evoke the legendary heroes of Ireland's Dark Age past.

But it is important to note she was note the only one. Cumann na mBan (the "Women's League" was a female paramilitary organization founded in 1914 that played an active role in the Easter Rising of 1916. On 23 April 1916, the Military Council of the Irish Republican Brotherhood integrated Cumann na mBan and other nationalist militias into the 'Army of the Irish Republic.' In the main, their roles were understood to be those of intelligence and support, but some took up arms in the bloody fighting of those days.
This was consistent with the principles of the 1916 declaration, which guaranteed equal rights for both Irish men and women as one of the aims of the Rising. Not all Republicans favored such a declaration; Eamon de Valera refused to allow women at his Boland's Mill garrison, and was never an enthusiastic supporter of suffrage or other rights for women. Other republicans were more sympathetic.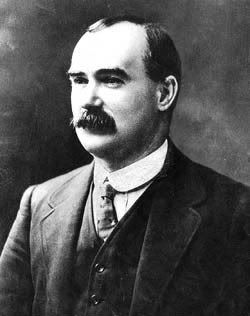 James Connolly was perhaps the most ardent male supporter of women's rights among the leadership, stating,'Of what use to such sufferers can be the re-establishment of any form of Irish State if it does not embody the emancipation of womanhood. As we have shown, the whole spirit and practice of modern Ireland, as it expresses itself through its pastors and masters, bear socially and politically hardly upon women.'
Not surprisingly, Constance was a friend and admirer of James Connolly, and her actions in the Easter rising certainly bore out his faith in Revolutionary women. Serving as second-in-command to Michael Mallin at Stephen's Green, Lt. Markievicz was credited with killing three British soldiers, although she always protested indignantly that her total was much higher. There is a story that she comforted a wounded female comrade undergoing surgery by asking where the shots had come from, leaving the room for a few minutes before returning announcing "Don't worry, Margaret, my dear, I got the wretched blighter for you."
Her unit held out for six days, retreating from the Green to the Royal College of Surgeons before surrendering. Tried and convicted of treason, her death sentence was commuted to lifetime penal servitude on account of her sex; she is said to have protested, "I do wish you lot would have the decency to shoot me."

Irish Republicans mourned the many martyrs of the rising; Constance seems to have developed a certain sense of guilt that she was not among them, feeling the loss of Connolly especially deeply.
Too long a sacrifice
Can make a stone of the heart.
O when may it suffice?
....We know their dream; enough
To know they dreamed and are dead;
And what if excess of love
Bewildered them till they died?
I write it out in a verse -
MacDonagh and MacBride
And Connolly and Pearse
Now and in time to be,
Wherever green is worn,
Are changed, changed utterly:
A terrible beauty is born.----W.B. Yeats, 'Easter 1916'
Released from jail in 1917, Constance threw herself again into Republican activities. She helped re-organize Cumann na mBan and served as its leader, organizing relief for Irish political prisoners and conscription protests. Jailed for these activities, Countess Markiewicz nevertheless was elected was elected as a Sinn Fein candidate to the UK Parliament in 1918, making her the first woman to be so elected.

In line with Sinn Fein policy, however, she did not take her seat and instead served in the Dáil Éireann, the parliament of the Irish Republic as declared by Republicans. There she was appointed Minister for Labour, making her Ireland's (and Western Europe's) first female cabinet minister.
Her economic and labour ideas she described as "James Connolly's socialism," arguing that workers should take control of their own factories, farms, and political organs. She looked with great suspicion on more centralized forms of socialist economics, viewing co-operative movements as an essentially Irish characteristic. As a politician, Markiewicz's economic and political theories were not always consistent nor well- articulated, but on worker's rights, feminism, and nationalism, she never wavered. Her fiery style was perhaps not well suited to the delicate "art of the possible," but her talents as an organizer were unsurpassed.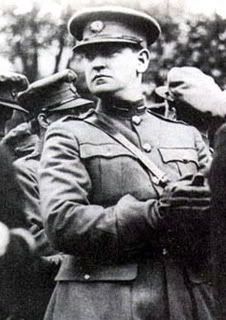 Fatefully, she opposed the Peace Treaty which partitioned Ireland and gave the South Dominion status, siding with de Valera against the Provisional Government. In a loud dispute with Michael Collins, she accused him of treason for accepting the compromise deal rather than holding out for full Irish independence. He in turn threw her birthplace back at her, calling her an Englishwoman. She never forgave him or those who sided with him. At the age of 54, the Countess was once again in the front lines of fighting as Ireland erupted into Civil War. She took up arms in defend Moran's Hotel in Dublin, and is credited with personally wiping out an entire machine gun nest via her careful sniping. Although she opposed surrender, she laid down her arms under orders.
Loyal to de Valera and her uncompromising vision, she alienated more moderate fellows from earlier years. Yeats, once a close colleague, viewed her as too radical, dragged down to "conspiring among the ignorant." He looked back with regret on their idealistic younger years:
The light of evening, Lissadell,
Great windows open to the south,
Two girls in silk kimonos,both
Beautiful, one a gazelle.
But a raving Autumn shears
Blossom from the Summer's wreath;
The older is condemned to death,
Pardoned, drags out lonely years
Conspiring among the ignorant.
--- W.B. Yeats, 'In Memory of Eva Gore-Booth and Con Markiewicz'
Undaunted by her critics, after the war Constance toured Europe and America after the war in order to raise funds and support for the Republican cause. Elected to the Dail in 1923 as a Republican representative for Dublin South, she did not take her seat because of her Treaty opposition. She switched parties in 1926, joining Fianna Fáil. She was elected to the 5th Dail in 1927, but became ill (possibly appendicitis or consumption).Refusing elaborate medical treatment, she demanded to be treated as one of the poor. She died in a charity hospital, at the age of 59, her estranged husband and daughter and beloved stepson by her side.Eamon de Valera was one of many notables who served as pallbearers at her funeral, which drew crowds in the hundreds of thousands.
Inflammatory, controversial, passionate, and highly courageous, Markiewicz wasn't everyone's cup of tea (or Guinness), then or now. But she is certainly one of the most fascinating and controversial women to stride across the political and military scene of the early 20th century.
If your sympathies are such that you raise a glass to "Mick" and "Dev" and all "the boyos" in your celebrations today, then don't forget to raise another toast to the fiery Rebel Countess, and celebrate Women's History Month alongside St. Paddy's Day.
Dear shadows, now you know it all,
All the folly of a fight
With a common wrong or right.
The innocent and the beautiful
Have no enemy but time;
Arise and bid me strike a match
And strike another till time catch;
Should the conflagration climb,
Run till all the sages know.
We the great gazebo built,
They convicted us of guilt;
Bid me strike a match and blow.
---—W.B. Yeats, 'In Memory of Eva Gore-Booth and Con Markiewicz'
Further Reading
To learn more about Constance Markiewicz, you might enjoy the biography The Rebel Countess by Anne Marreco. And check out No Ordinary Women: Irish Female Activists in the Revolutionary Years 1900 - 1923 by Sinead McCoole, for a look at the role of women in early Irish Republicanism.
Easter 1916: The Irish Rebellion by Charles Townshend offers a detailed look at the 1916 rising which includes a good discussion of the Countess's participation.