This blurb comes from a relative in the Houston area about a small bunch of people protesting the Palestinian occupation and any attack on Iran on a bridge. This is just for people in the Houston area to join in if you are against these actions.
D I S T R I B U T E W I D E L Y , the announcement goes about a Planned Houston Freeway Protest Against Israel. The pictures show past protests.

FREEWAY BLOGGING (PROTESTS WITH SIGNS) IN HOUSTON, TEXAS ON MANDELL BRIDGE (NOT WOODHEAD) OVER HWY. 59 (SOUTHWEST FREEWAY) ALL INVITED. Photos of previous Wednesday protests show the site.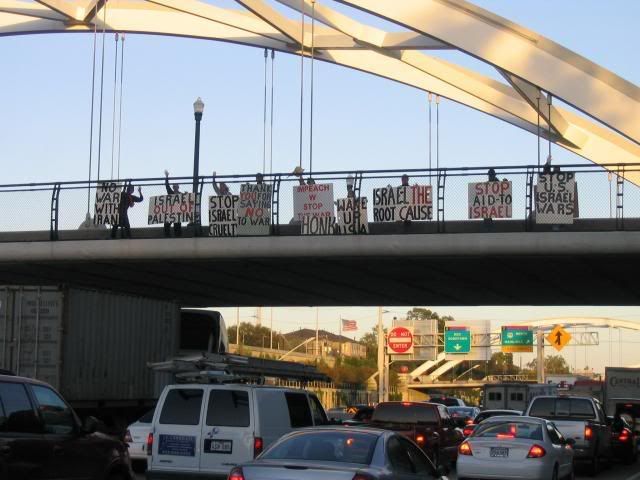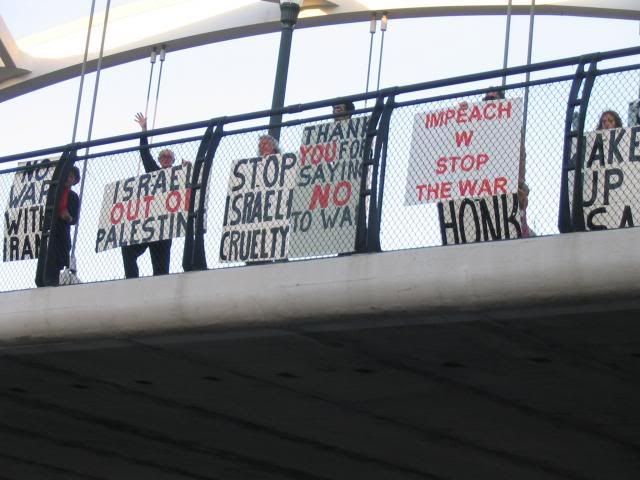 WHEN: Every Wednesday until further notice (starting Wed. 4-04-07)
TIME: 5:00 to 6:15pm
THEME: ISRAEL OUT OF PALESTINE--STOP ISRAELI CRUELTY--NO WAR WITH IRAN.
THE RESPONSES TO OUR SIGNS FROM THE CARS ON THE FREEWAY HAVE ALWAYS BEEN OVERWHELMINGLY POSITIVE AND GROWING, BUT WITH PATIENCE, IT WILL TAKE TIME TO PUT A DENT IN THE 4 DECADES OF SKEWED PRO-ISRAELI MEDIA COVERAGE OF THE ISRAEL/PALESTINE CONFLICT WHERE A MINIMUM OF 3 PALESTINIANS HAVE BEEN KILLED TO 1 ISRAELI, BUT IN TIME,THE PALESTINIANS WILL BE FREE SOMEDAY.
The SIGNS:
STOP U.S./ISRAEL WARS

STOP ISRAELI CRUELTY

PALESTINE SUFFERS

FREE PALESTINE

ISRAEL OUT OF PALESTINE

U.S. STOP FUNDING ISRAEL

THANK YOU FOR SAYING NO TO WAR

NO WAR WITH IRAN

READ CARTER'S BOOK ON PALESTINE

HANDS OFF THE PEOPLE OF IRAN
It reads on....
Why are we on the bridge protesting the U. S. unconditional political and economic support (approx. 10 million per day) to the Israeli Government when they continue the oppression, war crimes, and atrocities against the Palestinian people?

The average American doesn't know the extent of the suffering of the Palestinians and that this oppression is a predominant cause of radical Muslim terrorists, anti-Semitism, and anti-Americanism. When our government and Congressmen are unwilling to tell the truth about this conflict, and with the corporate media, which is highly biased in favor of Israel, this gross injustice is effectively kept under cover to "protect and defend" our twin brother, Israel. Even KPFT cooperates in this cover-up, inadvertently or intentionally, by canceling Flashpoints, which boldly attacks injustice where it exists, in Haiti, Darfur, or in Palestine. With our (US) phony "defense and protection" policies for our friend Israel, rather than defending and protecting, would not it be ironic if we contribute to its demise.

Injustices cannot last forever. History and inviolate laws inform us that the oppressor may become the oppressed. The Palestinian people are not going away.

Our efforts on the bridge may be slight but with malice toward none we would attempt to strike at the root of evil rather than hack at the branches and create a dialog for honest discussion to balance biased media coverage.
So if you're in the Huston area, drop over on Wednesday afternoons and join in.