To criticise another diary is never easy. It is almost impossible when you are a lesser known member of the Dkos community and the diarist has a passionate and admiring following. Yet it would be dishonest if I did not express the strength of my feelings. Feelings as a European.
I was appalled and angered yesterday by the diary that took the words of one of the Democratic candidates and juxtaposed them with neocon language to discredit that person.
It would be interesting to do something similar to the statements made by Sarkozy and Royal in the run up to the final poll in France in a few days time. To do so would be just a game, an exercise as intellectually dishonest as that played on Barack Obama.
I am not writing, however, in defence of Barack Obama here. To me, he is one of an excellent field of Democratic candidates and I would not want any of them to be attacked in this way. In any case, this defence was done admirably by others – and not just by those who support him. I am writing here as a European in defence of the America people, because it was they who were also being attacked by the diary, even if the diarist did not understand that this occurred because of the second language problem.
Barack Obama is quoted by the diarist as saying:
But if the next President can restore the American people's trust – if they know that he or she is acting with their best interests at heart, with prudence and wisdom and some measure of humility – then I believe the American people will be ready to see America lead again.
They will be ready to show the world that we are not a country that ships prisoners in the dead of night to be tortured in far off countries. That we are not a country that runs prisons which lock people away without ever telling them why they are there or what they are charged with. That we are not a country which preaches compassion and justice to others while we allow bodies to float down the streets of a major American city.
That is not who we are.
This was the response of the diarist: "The problem is that yes, this is precisely who America is today in the eyes of most of the world ".
I have some news for the diarist. No, that is not so. That is not who America is today; it is what this Bush administration is and what its policies are "in the eyes of most of the world."
A substantial majority of American people have shown that they have rejected this administration and these policies, or did the November elections pass unnoticed in that particular corner of Europe from which the diarist writes?
Obama was not talking about some dehumanised nation; his remarks were about the American people and what they are and how they can be seen again in the eyes of the world.
Perhaps the diarist had in mind the Pew Research findings: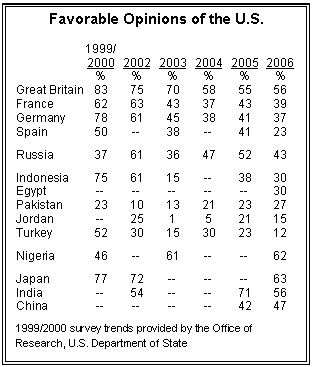 If that is the case, then the diarist is interpreting the data far too widely. He would only have evidence that this is how the current American administration and its current policies are seen. Without being too unkind, the diarist may be too clouded in his opinion by coming from a country that is unique in Europe in the intensity of it wanting to distance itself from the US. This is an extraordinary phenomenon that began with de Gaulle before the US and allied forces landed at Normandy to free his country, it was the motivation for the creation of the EU and has grown ever since, particularly on the left. In 2005, Pew recorded that 73% sought greater distance from the United States, way ahead of the 59% of its nearest neighbour Germany, even with the Iraq war.
Worse still, the diarist offers the American people little hope in the foreseeable future, no matter that a Democratic president will take over leadership. He writes:
Finally stopping the most atrocious behaviour will not eliminate the fact that it took place, that it took place for a long time, and that it was supported by a surprisingly high proportion of the population

.....And yet America will not be in a position to lead until it has atoned. You don't eliminate such a stain, such a loud precedent (which many others will be all too happy to use as an excuse for their own abuses for a long time) just by not doing it anymore. The credibility to talk about values, about democracy, about cooperation, about peace - just isn't there. And talking about a stronger military, more interventionism in other countries (even of the humanitarian or modest kind), and bringing the American model back to the world is not going to work, because it is yet more meddling
I would like to see the evidence that "the most atrocious behaviour" was so widely supported by the American people. Is this just erroneously conflating the original support for the invasion of Iraq with all that has subsequently emerged?
I dislike the implied dismissal of hope that the United States can regain in reasonable time its position by changing its policies to that of a Democratic leadership. Nor do I like the bald statement that "The credibility to talk about values, about democracy, about cooperation, about peace - just isn't there ". I can only refer back to Pew again. They write:
Our surveys have brought home to Americans and their leaders the challenges the United States faces in restoring our country's image and its influence overseas. The U.S. continues to meet with widespread antipathy in many parts of the world, and in particular it faces strong and growing opposition to key aspects of its foreign policy. Nonetheless, our polling has also uncovered some hopeful signs, even in Muslim countries where the U.S. faces some of its most daunting challenges.

One frequently cited example of the U.S. turning around its image in a difficult environment is Indonesia, where U.S. humanitarian assistance following the horrific December 2004 tsunami helped improve America's image in the world's largest Muslim country. Prior to the tsunami, favorable attitudes toward the U.S. had plummeted in reaction to the Iraq war, however after the tragedy and the influx of American aid favorable views of the U.S. more than doubled, jumping from 15% to 38%. Recently, we have seen a similar, although more limited, pattern in Pakistan where American aid following the October 2005 earthquake helped drive favorable opinions of the U.S. up slightly, from 23% in 2005 to 27% in 2006.
Pew does not under-estimate the difficulties of restoring the leadership role of the United States but its quantitative measure contrasts with the airily expressed and unsupported opinions of the diarist. It gives the following example of the immediate effect that the generosity of the American people can have on world opinion: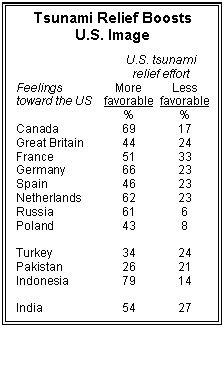 My greatest anger arose about the comments by the diarist when I read this statement about Americans:
Getting out of Iraq is not a proof of sanity, it's just an absence of proof that you are insane or deluded or both
More than 200 people on Daily Kos awarded mojo to this diary making these allegations about a Democratic candidate and about the future of American leadership of the free world.
I have tried to understand, and perhaps can, the reasons for this award to the diarist for these comments. We are all tired to the bottom of our souls as to what America has been for these last six years, how it has acted and how it has conducted itself both in foreign and domestic policy. So it is all too easy to share the emotional response of someone from France, whose elegant writing has captured so many on here. I utterly and completely oppose the comments, however, as representative of Europe.
Well, I doubt if this diary of mine gets recommended, let alone gets the same mojo. It is out of tune with the sentiment of the times on here and the exhaustion felt by many. It does not play to your current sense of despair of your country but touches upon the proper pride that I want to recall about its great achievements.
I state my view, however , and will do so defiantly even though different from that of the diarist. It is the view of a European just as much as the one that you applauded so heavily yesterday, even if my only audience today consists of the sheep in the Welsh hills around me.
America is still a great country and, however much most of Europe has despaired these last few years, the majority of its people still love Americans. Yes, "love" Americans. It goes beyond simply affection for your warmth as a people, your music and your culture. In Europe, old Europe, there will not be lost a sense of gratitude for the help that you gave us when we were faced with an enemy greater than any that the world has ever seen. In the UK we stood alone, perhaps just half a dozen Spitfires away from defeat through exhaustion. Mainland Europe was in the control of an evil dictator that brought death and destruction to millions. Does six years of Bush undo this history and the gratitude that is felt to your country?
Then followed an equally threatening Soviet dictatorship, with ambitions that went beyond its icy grip of the control of many European countries and had ambitions for an ideological and military dominance of world proportions. Through steadfast defence, at great risk to its own people, the United States faced down that threat that could have destroyed the world. You can travel across Europe, across the destroyed Berlin Wall and through Poland and on to the newly freed Eastern bloc and you will find gratitude to the United States. Does six years of Bush undo this history and the gratitude that is felt to your country?
Like many of you, I spend my time on Daily Kos criticising American policy and expressing anger and indignation at what I see. This is not the knee-jerk anti-Americanism such as one constantly used to see from the far left in the UK and still see in pockets of the European extreme left who are a small minority in their own country. It is specific to this time and to this current administration.
With your efforts, backed by the courage and determination that you have shown over the last six years, America will regain the role that is rightfully hers and will find a greater wisdom and a truer path to leadership of the free world. Make absolutely no mistake, and let diarist purporting to speak on behalf of Europe persuade you otherwise, the world is eager to accept, and needs, the United States back in its proper leadership position. For all the wrongs and evils that Bush has committed, that is the mantle that you, as the American people, will need to be ready to assume when you get your country back. We will love you for it.
When many of you think that what you read on here is "Europe" speaking, then I have to ask you, as I do in the title, "What the h*ll is this 'European' view on here?" Sometimes it is not something that I recognise, nor want to recognise.